Better Call Saul Season 5 Marks the Return of TV's Most Moral Show
The penultimate season continues the devolution of our favorite "criminal" lawyer.
Photo Courtesy of AMC
TV
Reviews
better call saul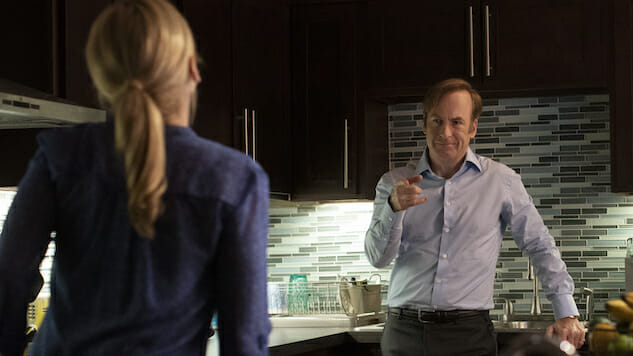 It was only recently announced that Better Call Saul would be ending with its sixth season, though it wasn't necessarily shocking news, given that with each passing year it's been harder for one of TV's best shows to ignore the future it's been creeping towards. Season 5 (four episodes of which were made available to critics before the show's return on February 23), is smart about how it acknowledges that, specifically in regard to increasing the Breaking Bad prequel's engagement with what came canonically before but narratively after.
The ongoing evolution of struggling lawyer Jimmy McGill (Bob Odenkirk) into Walter White's future accomplice doesn't feature too much in the way of surprises (certainly nothing that can be spoiled in advance, per AMC's do-not-reveal guidelines). But while the early seasons of Saul felt at times like they had a need to prove that the show could stand on its own merits, separate from what came before, the later years have witnessed the increasing encroachment of Breaking Bad events and characters, and that's to the show's benefit.
It's impossible to imagine Saul now without the electrifying presence of Gus (Giancarlo Esposito) in the early days of building his empire—a choice that only came in Season 3—and Season 5 expands on that further, in surprisingly welcome ways. (Some returning characters have been revealed already to the press—if you want to know, it shouldn't be hard to Google it, but no spoilers here.)
The final 13-episode season will mean that Saul will have run for 63 episodes, one more than Breaking Bad. Like everything else about this show, that was a deliberate choice. That said, Season 5 of Saul doesn't necessarily feel like the beginning of the end. Instead, it's more like the end of the beginning, given that after the events of the Season 4 finale, Jimmy McGill has now officially embraced the Saul Goodman identity—legally and professionally, at least.
Saul is the first persona we ever saw Bob Odenkirk wear in this universe, but thanks to the four seasons that have come before, we recognize it for the mask that it is. However, Jimmy seems to be getting more comfortable with wearing it, especially when this season pushes him to make some choices that prove reminiscent of his original introduction: In the words of Jesse Pinkman, "You don't want a criminal lawyer… you want a 'criminal' lawyer."
That's an observation born of inference, though, as this season in particular (so far) features a commitment to leaving a lot unsaid, with Jimmy holding his cards pretty close to the chest. And that's what makes Better Call Saul so fascinating in comparison to its predecessor: rather than watching a man self-destruct in slow motion, we're watching him cave in from the inside.
Odenkirk, as always, continues to find new things to explore about this character he's now been playing for 11 years, with a notable addition to his repertoire in these early episodes: We've seen this man angry, scared, happy, and heartbroken—but there's a new potential in him to be legitimately scary, which Odenkirk plays here with a sort of raw quiet that brings with it a new kind of terror.
With any prequel series, there are a number of ticking clocks and looming questions floating in the ether, and with each passing season of Saul, "what happened to Kim?" becomes the biggest and most terrifying one. With only occasional exceptions, Saul's core romance has had an almost courtly elegance to it, but that surface-level chasteness hasn't kept Jimmy and Kim's bond from growing in importance. Knowing that something bad must be on the horizon for these two is perhaps the most stressful aspect of watching, made all the worse by Odenkirk and Seehorn's top-notch chemistry. It's never been depicted as a storybook romance, but that doesn't make me want a happily-ever-after any less, despite knowing full well that it's not coming.
It can be easy to take for granted just how consistently good Better Call Saul is, a legacy of the show's spin-off origins from arguably one of the TV's greatest series. But of course that same creative crew would find it easy to achieve a similar level of excellence. The real surprise is the way in which that team, working with a different tone and scale, create moments of drama which can transcend what Breaking Bad achieved during its run.
That's because, at times, it was easy to forget Breaking Bad was fundamentally about a not-great man doing some not-great things; the trap of crime dramas like this is that it's fun to watch the action, but less fun to think about who it might be hurting or what kind of damage it might do. We root for Walt and Jesse to get away with what they're doing; it's no fun to think about the fact they shouldn't be doing it.
But Better Call Saul is a show whose fundamental foundation is built on the idea that every action has consequences, seen or unseen. In comparison to The Good Place, a show all about ethical debate, Better Call Saul isn't searching for answers: The characters might debate ideas of moral relativism, but the sure and steady hand of creators Peter Gould and Vince Gilligan knows what is right and what is wrong—and it is never afraid to reveal what can happen when that line gets crossed.
Better Call Saul Season 5 premieres on Sunday, February 23 at 10:00 p.m. on AMC.
[This review was first published on February 5th, 2020]
---
Liz Shannon Miller is a Los Angeles-based writer and editor, and has been talking about television on the Internet since the very beginnings of the Internet. She recently spent five years as TV Editor at Indiewire, and her work has also been published by The New York Times, Vulture, Variety, the AV Club, the Hollywood Reporter, IGN, The Verge, and Thought Catalog. She is also a produced playwright, a host of podcasts, and a repository of "X-Files" trivia. Follow her on Twitter at @lizlet.
For all the latest TV news, reviews, lists and features, follow @Paste_TV.