Dudes, Here Are the 21 Best Broad City Guest Appearances
Photos: Comedy Central
TV
Lists
Broad City
Abbi Jacobson and Ilana Glazer's Broad City says goodbye Thursday night, so we're running out of time to pay tribute to the beloved Comedy Central series, which celebrated everything from Bed, Bath & Beyond and trash to pegging, vaping and Jacobson's grade-A tush—plus, of course, friendship and the importance of community when you're a struggling young person in New York City.
But the show also excelled at making the most of its (often extremely famous) guest stars. Susie Essman and Bob Balaban were perfectly cast as Glazer's native New Yorker parents (see this season's "Shenanigans," in which they effortlessly sneak Chinese take-out into a Broadway play). So was her actual brother, Eliot Glazer, as her character's sibling. Janeane Garofalo's recurring bit as a veterinarian was a nice tribute to her very best movie role, as were the leads' myriad of bosses and co-workers at their low-paying jobs (shout-out to now-superstar D'Arcy Carden and her role as Gemma, the trainer who worked with Jacobson's character at swanky gym Soulstice).
Because of this, we rounded up 21 of our favorite Broad City guest stars and cameos (sadly for Glazer, none of them include Lil Wayne). Keeping with the vibe of the show, we'll be referring to Jacobson and Glazer by their first names instead of their characters' names—Abbi Abrams and Ilana Wexler—and as "girls" instead of women from here on out.
Fred Armisen
Role: David the Baby
Episode: "What a Wonderful World" (1.01)

In the very first episode, the Saturday Night Live fan favorite dons a creepy Clark Gable-esque mustache, a long sweater, and a diaper, then convinces Abbi and Ilana to clean his apartment in their underwear in exchange for the $200 they need to buy Lil Wayne concert tickets. After leering at them from behind curtains, a blanket, and a coat rack, he admits that he can't pay because he's a "whittle baby" who just wants them to be his friend. The girls turn down the offer, but they do take his liquor.
Amy Sedaris
Role: Pam
Episode: "Apartment Hunting" (1.09)

The Strangers with Candy star and co-creator has played plenty of wacky characters. So who better than her to play a scam artist of a real estate agent who tries to sell Abbi what is essentially a hallway with no toilet? (One who also apparently makes dolls out of human hair in her spare time.) Fans got to check in with Pam in this season's episode "Shenanigans," learning that she's traded her Smart car for a pedicab—though she still seems to have the neck injury.
Seth Morris and Amy Poehler
Roles: Waiter and Chef
Episode: "The Last Supper" (1.10)

That server, John (Morris), may seem pretty classy and cultured to Abbi, Ilana, and other diners at his restaurant. But behind kitchen doors? He's just another human prone to spats with his significant other (in this case, the restaurant's chef, played by series exec producer Poehler).
Seth Rogen
Role: Male Stacey
Episode: "In Heat" (2.01)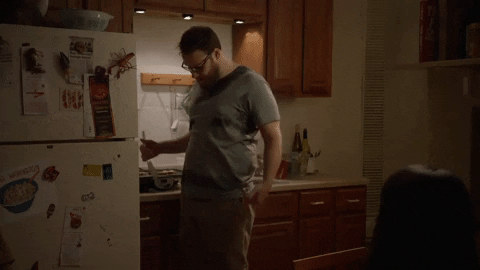 New York City heat waves are no joke, dude. But somehow this episode managed to find humor in the question of consent: Guest star Rogen plays a guy named Stacey who passes out from heat exhaustion mid-coitus with Abbi, making her wonder if those seconds that transpired before she realizes this makes her guilty of rape. The episode has other great parts, too. There's Kumail Nanjiani as a GoPro-obsessed slime who hires the girls to help him move so that they can afford to buy an air conditioner and Raviv Ullman as the guy who currently inhabits Ilana's old dorm room (and is therefore the owner of her previous air conditioner). But, best of all, the episode lets Abbi celebrate her love of Bed, Bath & Beyond.
Amy Ryan
Role: Heidi Strand
Episode: "Kirk Steele" (2.08)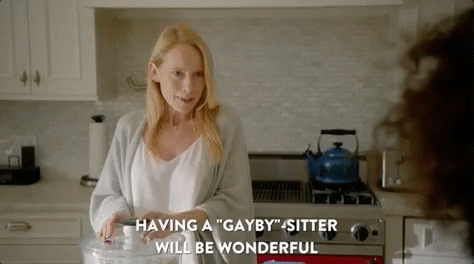 "Ilana, do the homeless like Prada?" A valid question from this aristocratic mother, played by Amy Ryan, who hires Ilana to babysit her son, Oliver (and, unbeknownst to her, teach the young man about the real world). Turns out Oliver's quick to the con game: He gets his mom to give her designer clothes to Ilana for a "clothing drive" that is really Abbi, who is in need of some quick cash after breaking a mirror at work and has to rush the wares to a consignment shop. (Orange is the New Black's Kimiko Glenn plays the intimidatingly well-coiffed shop worker.)
Kelly Ripa
Role: Herself
Episode: "Coat Check" (2.09)

Things were going so well for Abbi and her new BFF, Kelly Ripa. They both love Bed, Bath & Beyond and pranks. Plus, Kelly's down to smoke up, drink wine and shoot moonshine. But Abbi's not so cool with having a four-way hookup with Ripa and two randos, even if the talk-show host did order "Dominos for after."
Other fun bits about this episode: This is the one where Ilana and Search Party's Alia Shawkat (guest starring as herself) start a thing mostly because they're doppelgängers and David Wain takes home the jacket the girls lose while working the titular coat check. Plus—if we fast-forward to Season Five—we'll eventually see Ripa's real-life husband, Mark Consuelos, play an ex of Ilana's who lets her cash in on some Bitcoin.
Patricia Clarkson
Role: Timothy's Mother
Episode: "St. Marks" (2.10)

How would you handle it if your 34-year-old spoiled brat (Leo Fitzpatrick) stole a stranger's bag and was chased into your Manhattan brownstone, interrupting what appears to be a lovely dinner party? If you're Clarkson's wine-toting therapist, not very well. "I'm sorry your son sucks so hard," Ilana tells her, speaking for us all.
More fun in this episode: Aidy Bryant and her now-husband, Connor O'Malley, play an extremely on theater couple who insist on reenacting a comedy (?) routine and kind of put a damper on Ilana's birthday dinner, while Bianca Castro plays a drag queen working at a wig store (she'll appear again later in the series).
Har Mar Superstar
Role: Himself
Episode: "Two Chainz" (3.01)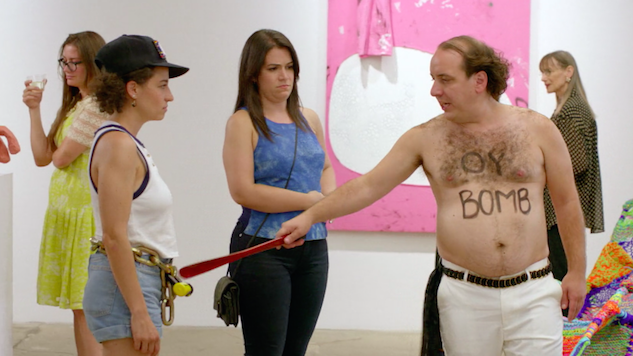 It's a blink-and-you'll-miss-it moment, but the first person to greet Abbi and Ilana at Abbi's college friend's art opening (and also compliment Ilana's accessory choice of, well, a bike chain around her waist) is the oft-shirtless musician and actor. In this case, he's got the words "Oy Bomb" written across his chest. As others have already pointed out, this is an obscure reference to the time artist Michael Portnoy quit grooving to Bob Dylan's 1998 Grammy Awards performance to rip off his shirt and show that he'd written the words "SOY BOMB" across his chest. (Another casting of note: The Leftovers actress Emily Meade plays Abbi's exhibiting friend).
Whoopi Goldberg
Role: Herself
Episode: "Game Over" (3.03)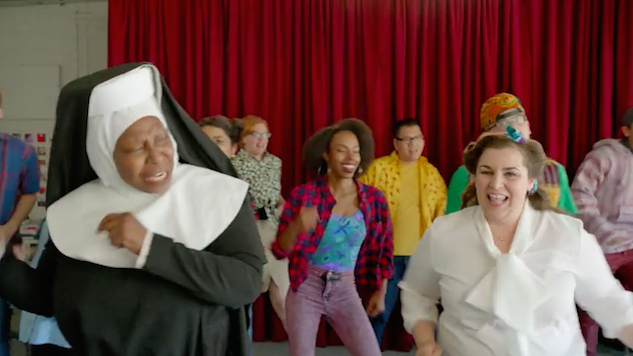 Sometimes all it takes is a button at the end of an episode to make a cameo work. As Ilana exits her gig at Deals, Deals, Deals, the nemesis she never knew she had—her deskmate, Nicole (Nicole Drespel)—celebrates in her mind with a gospel choir-style celebration similar to the end scene of Sister Act 2 that features the EGOT in her nun's habit. We'd be remiss if we didn't mention another star appearance in this episode: Vanessa Williams plays a Deals, Deals, Deals investor.
Hillary Clinton
Role: Herself
Episode: "2016" (3.05)

Although Clinton's cameo isn't particularly long—just a couple minutes at the end of the episode, after Ilana gets what she thinks is a "job" campaigning for her presidency—it is extremely significant. The episode aired in March 2016, as it seemed younger Democrats wanted Bernie Sanders to be their candidate, and the hip show's endorsement of Clinton was a coup for all involved. It probably came together thanks to executive producer Poehler having played Clinton on Saturday Night Live for so long—a press photo promoting the episode included all four women—and that it was written by soon-to-be SNL co-head writer, Chris Kelly.
Other important guest stars in this episode include Alan Alda as Abbi's chiropractor and eventual New York gubernatorial candidate Cynthia Nixon as a Clinton campaign coordinator.

Mara Wilson
Role: Waitress
Episode: "Burning Bridges" (3.08)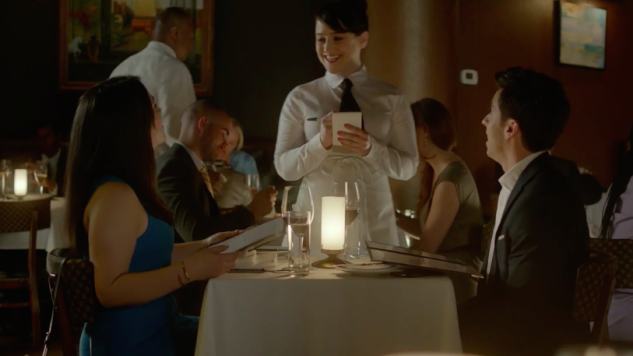 What better way to pay homage to the infamous duel-dining scene in Mrs. Doubtfire— here, Abbi attempts to have both a date with coworker Trey (Paul W. Downs) and join Ilana's family for dinner—than to cast an actor from Mrs. Doubtfire in the scene. Actress and author Mara Wilson, who played the youngest child in the Robin Williams movie, guest stars as a waitress at the restaurant where this hilarity ensues.
Seth Green, Adam Levine, Tymberlee Hill, Tracee Ellis Ross
Roles: Jews and/or people involved with airline travel
Episode: "Jews on a Plane" (3.10)

There is so much meta in this bottle episode, which finds Abbi and Ilana on a mad hunt for a tampon while flying to Israel as part of the "Birthmark" program. (It promotes the "reproductive future" of the Jewish community, down to seat assignments designated by chances of procreation.) Green plays Jared, the group's tour director, complete with a blue-and-white yarmulke and long red ponytail. Hill and Ellis Ross play eavesdropping flight attendants who mistake the girls' strategy to seek out some proper feminine hygiene for a terrorism plot. And Levine? Check the seatbacks to see him singing the airline's in-flight safety video. As a graduate of the actual Birthright program, which takes Jewish young adults to the Holy Land à la what Abbi calls "Africa for Jews," I feel seen.
Constance Shulman
Role: Oda
Episode: "Sliding Doors" (4.01)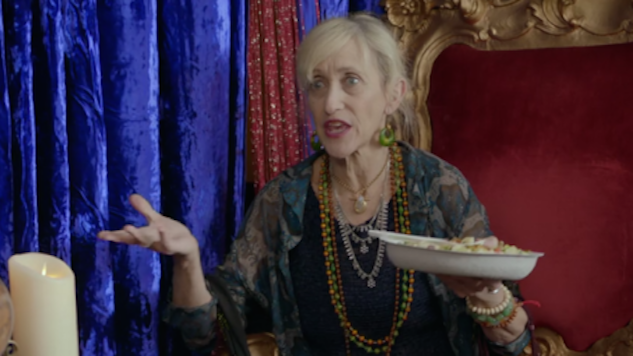 The Season Four premiere of Broad City also served as an Abbi and Ilana origin story, going back to 2011 and the innocent times of the Obama administration. (The series' fourth season was its first to air since President Trump's election, and inaugurated the practice of bleeping his name like a curse word.) The episode also plays on the "what-if" idea popularized by the Gwyneth Paltrow movie that inspired the episode title. In an alternate world, the girls see a psychic played by Orange is the New Black actress Shulman on the day they meet. She tells them that they may be new friends, but that they're both going to die that day.
Shania Twain
Role: Herself
Episode: "Twaining Day" (4.02)

Sometimes you tell a lie for so long that it's bound to come true. Or at least that's what happened with Abbi, who leaves her new sounds-good-on-paper job as an assistant at a graphic design firm (and a boss played by Wanda Sykes!) to pick up a package at her former employer, Soulstice. That's when she gets to live out her life-long dream of training the incomparable Twain (an event she'd been telling people had already happened).
Meanwhile, Ilana gets a waiting job at one of those restaurants that's successful simply because it's good at making guests feel like they're not really cool enough to be there. Naturally, RuPaul plays the maître d', Marcel, and Sandra Bernhard plays her judgmental coworker, Brenda.
Peri Gilpin
Role: Joanne
Episode: "Abbi's Mom" (4.05)

As if Tony Danza guest-starring as Abbi's dad in the third season wasn't a big enough get, here's Fraiser alum Gilpin as her smokin' mom who's looking for a "naughty girls night out" after a cancer scare. It's actually a great episode about mortality and seeing your parents as human beings (plus, RuPaul gets more screen time as Ilana's boss).
Jane Curtin
Role: Margo
Episode: "Witches" (4.06)

Abbi may be feeling old after finding a gray hair, but a fellow street artist outside the Met eventually teaches her to embrace aging even as she seems to transform before Abbi's very eyes. There's no denying that Margo and Abbi share a love for the same type of Tupperware, rolling carts, soup Thermoses—but as it turns out, they also like dancing by the light of the moon.
Steve Buscemi
Role: Mugger
Episode: "Bedbugs" (4.09)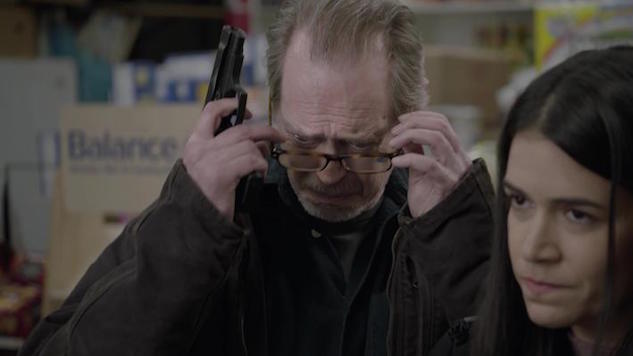 Sure, Buscemi's unnamed mugger may be forcing Abbi to the bodega ATM at gunpoint, but he'll have you know that he has a license to carry. He also offers her some solid financial advice about living within her means. You know, in case she's ever in an emergency situation… like a mugging.
Other important roles in this episode: Widows actress Cynthia Erivo as Lisa, Abbi's new boss at Anthropologie, and Zephyr Ingle as Massouma, the convenience store employee who scares away the mugger even if Abbi hasn't bothered to learn her name no matter how much she frequents her shop.
Denis O'Hare
Role: Terry Hudson
Episode: "Friendiversary" (4.10)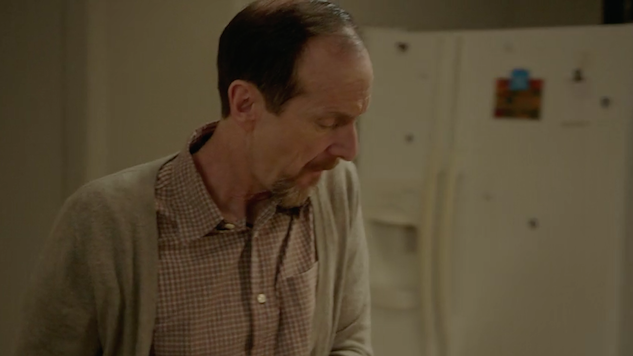 Can't a man take his sex doll to get repaired after some balcony lovemaking gone awry without the whole of New York finding out? Apparently not when Abbi and Ilana and their thirsts for danger spot him. At least he got to enjoy some birthday cake!
Clea DuVall
Role: Lesley Marnel
Episode: "Artsy Fartsy" (5.05)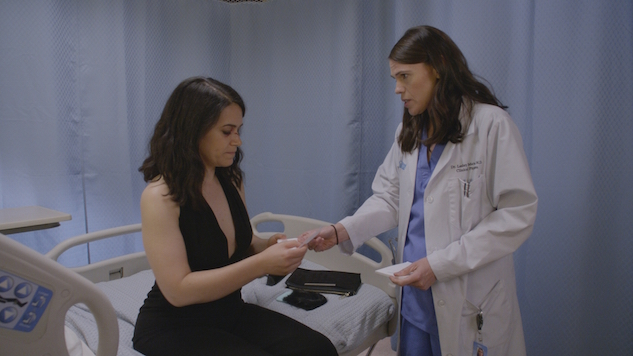 This episode was a major turning point for Abbi. Not only did she conquer her imposter syndrome and explore the posh art world that she'd only previously experienced from behind a caterer's passed cheese platter. But just like real-life Jacobson, Abbi also surprises herself and realizes she might have feelings for another woman—in this case, an ER doctor played by Veep's Clea DuVall.
Another fun appearance in this episode: Frequent Broad City writer-director Lucia Aniello as Abbi's art-school friend, "Smelly Pussy" Donna Donatachi.
Jerry Adler
Role: Saul Borowitz
Episode: "Lost and Found" (5.06)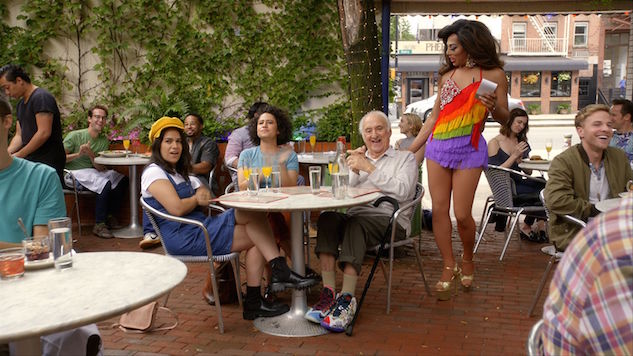 As Ilana's distant cousin who also happens to be a Holocaust survivor, the Sopranos alum offers this bit of advice to Jews of a younger generation: "Never forget. But also, don't remind me." Other well-placed cameos in this episode include Alan Cumming, who emceed at the drag brunch where the girls drag Saul, plus D.J. 'Shangela' Pierce, Sasha Velour and Bianca Castro, who work the brunch.
Yamaneika Saunders
Role: Yamaneika
Episode: "Sleep No More" (5.08)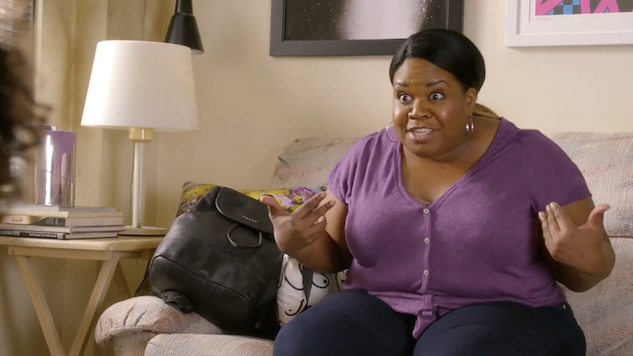 Who better than this up-and-coming comedian to be Ilana's first choice for a new roommate? (and by first choice, we mean first choice after Abbi turns her down). Bonus points that her Great Danes are named Beyoncé and Jay-Z.
The series finale of Broad City airs Thursday, March 28 at 10 p.m. on Comedy Central.