Starz Unveils Counterpart Season Two Trailer, Premiere Date
Image courtesy of Starz
TV
News
Counterpart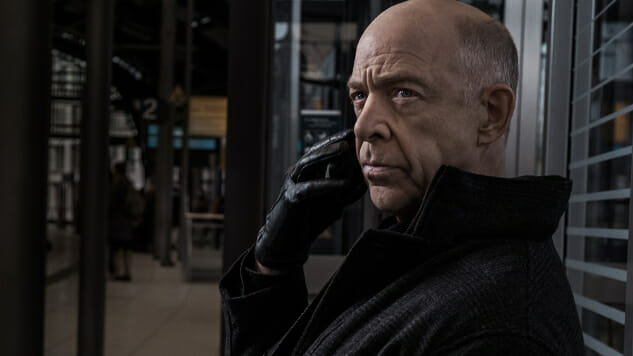 Starz has unveiled the trailer and premiere date for season two of its critically acclaimed science-fiction spy-thriller series Counterpart, which follows Oscar winner J.K. Simmons in a dual role as a U.N. agent and his "counterpart" in a parallel dimension.
Simmons joined Counterpart following the veteran actor's 2015 Oscar win for Best Supporting Actor in Whiplash, and the forthcoming season also welcomes two exciting new additions to the cast.
Get Out breakout Betty Gabriel is joining the Counterpart cast as a series regular, in the role of Naya Temple, and Emmy-winning film and television veteran James Cromwell will also appear in a recurring role, playing Yanek.
Along with Simmons, Olivia Williams, Harry Lloyd, Nicholas Pinnock, Nazanin Boniadi and Sara Serraiocco will return as series regulars.
Series creator Justin Marks will make his directorial debut on the series this season, and will continue to serve as executive producer, along with Gary Gilbert (La La Land) with Gilbert Films, Jordan Horowitz (La La Land) and Morten Tyldum (The Imitation Game), as well as Keith Redmon (The Revenant) and Bard Dorros (Spotlight) with Anonymous Content.
The trailer teases some more serious spycraft, and also features appearances from newcomers Gabriel and Cromwell.
Starz shared the following synopsis for the second season:
At The Office of Interchange, those who have high enough access safeguard a crossing into a parallel dimension not unlike our own. And if their world is like ours, who are we over there? Are we better? Are we different? Season Two finds Howard (J.K. Simmons) and his counterpart living out these questions. With the Crossing closed and each of them stranded in the other's world, they have to adapt for survival. Howard Prime takes on his other's life: going to his job, living in his home… with his wife. Howard Alpha is locked in a mysterious black site known as Echo, cut off from everyone he knows. As a cold war escalates between worlds deepening a fickle divide, both men find themselves growing increasingly like their other.
Counterpart returns on Sunday, Dec. 9, at 9 p.m. ET, when it will premiere on Starz in the U.S. and exclusively on STARZPLAY via Prime Video Channels in the U.K. and Germany.
Watch the trailer below and check out the show's new key art further down.