Greg Is (Kind of, Sort of) Coming Back to Crazy Ex-Girlfriend
Photos by Alberto E. Rodriguez/Getty, Dimitrios Kambouris/Getty
TV
News
Crazy Ex-Girlfriend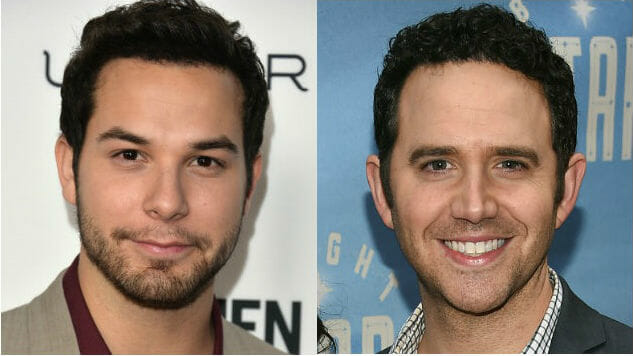 The last time we saw Greg on Crazy Ex-Girlfriend, he was boarding a plane for Atlanta en route to Emory—"It's the Harvard of the south!"—in what looked like a permanent exit from the show. Now, the character, originally played by Broadway actor and Frozen voice contributor Santino Fontana, is being rewritten into the show, with Skylar Astin (Pitch Perfect) set to step into the role.
The CW show is heading into its fourth and final season this fall. Fontana's character was written off the show early in the second season at Fontana's request so he could pursue Broadway roles in New York; the actor will appear in a stage adaptation of Tootsie in 2019.
As THR reports, Fontana was consulted before the show revived the character, but, respectfully, was not asked to come back; Crazy Ex-Girlfriend star and co-creator Rachel Bloom described the re-introduction of the character as a fun opportunity to experiment with themes of how we remember people. "When you haven't seen someone in a long time, they seem really different," said Bloom during a press panel at the Television Critics Association. "Because our show is a first-person show in a lot of ways, we are playing with perceptual issues of what someone seems like when they come back."
If that feels like a cop-out, Bloom also addressed fans unconvinced by the efforts to recast the character: "It's not a Becky on Roseanne situation," she said. "Rebecca's going to call it out and be like, 'This person is different, what the fuck?'"
Bringing back Astin as Greg is less of an attempt to pull the wool over the audience's eyes and more a way to gauge Rebecca's growth as a character. As a character, Greg largely left West Covina to abandon his destructive relationship with Rebecca, but now, according to Bloom, his return will mark Rebecca's redemption of her more problematic behavior and help Crazy Ex-Girlfriend return to its romantic comedy roots.
The final season of Crazy Ex-Girlfriend premieres Oct. 12. Read Paste's take on why the show's third season was so remarkable right here.