Though Disney+ entered the streaming service game with a splash, it took it a while to build its library of original TV shows. While its Marvel and Star Wars series have certainly dominated the schedule and reignited the cause for the weekly release of episodes, rather than the binge model, there's more to the platform than just expanded universe content. And though many of those other series are geared towards kids, in true Disney fashion, almost all are engineered to have four-quadrant appeal.
The list below features the best of Disney+'s current scripted original series (which also means no shows that aired on other Disney platforms in the past, like Disney Channel, ABC, or others). So even though we're focusing on the best series for adult viewers (kids have plenty to choose from on the platform), if you're looking for entertaining and probably pretty wholesome TV series—especially those featuring puppets—you're in the right place:

12. Loki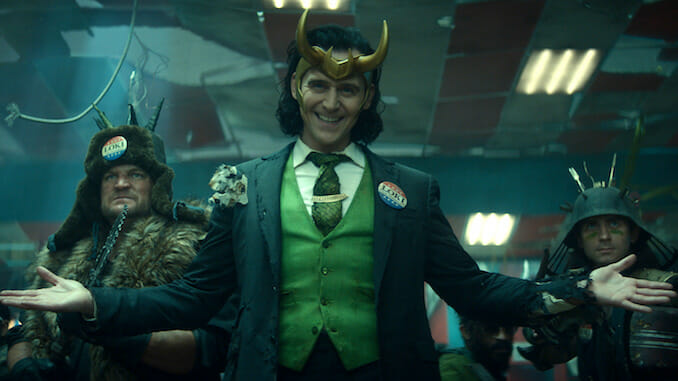 Of all of the Marvel TV series on Disney+, Loki was the most highly anticipated. An OG associate of the Avengers universe, Loki remains the brightest spot of any movie he's in. Tom Hiddleston has made the character iconic, and his portrayal—be it in Thor movies or Avengers get-togethers—is off-the-charts charming. It's also the reason Loki has been the only truly successful Marvel villain to date, one who not only has a fully-realized backstory and emotional connection to the heroes, but who just keeps gloriously popping up (as the God of Mischief is wont to do). He's not a one-off rushed through 120 minutes of storytelling, he's a dynamic presence who has earned his own fandom.
And now, at last, he has his own show. In Loki, our Asgardian prince starts off in 2012 where he deviates from the "sacred timeline" of events by snatching the Tesseract and zipping away from imprisonment. He's quickly apprehended by agents of the TVA (Time Variant Authority), who are charged with keeping the multiverse down to just one stream of approved reality. This Loki, now a "variant," is essentially marked for extermination, until an agent named Mobius (Owen Wilson) advocates for him to help the TVA investigate a series of crimes suited to his unique skill set.
From there, Loki turns into a kind of buddy-cop procedural before morphing into a potentially universe-collapsing meditation on self. Sure it takes a lot of convincing to get Loki on board at first, and no you can never tell whether or not he's lying or what his ultimate game is, but that's all part of the fun (and when the show is at its best). The key to Loki—both the character and the show—is always Tom Hiddleston. He is the king of arrogant grandstanding, withering looks, and the ability to turn on a dime and make you feel overwhelming pathos for him. All of this to say: If you like Loki, the character, you'll probably like Loki, the show. It's not as groundbreakingly bonkers as WandaVision, but it's also not as dourly macho as The Falcon and the Winter Soldier. One perhaps wishes for more when it comes to Loki. Then again, he's known for not living up to his own expectations at times. "For a guy born to rule, you sure do lose a lot," Mobius notes. But by Odin, he sure is a charmer. —Allison Keene
---
11. High School Musical: The Musical: The Series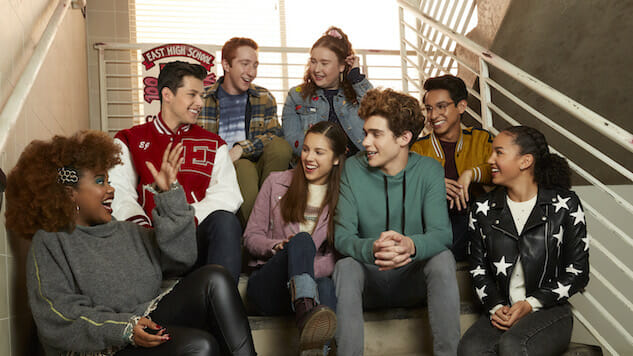 High School Musical: The Musical: The Series is a delight. To crib the rhythm of a waning TikTok trend: Does it flaunt the platform's corporate reach(™)? Yes. Is it unwieldy as hell? YES. Who's ready to crown it a self-aware heavyweight champ? Me! Is that because this Disney+ defining teen series came out of the gate so extremely self-aware that it blazes right past the meta event horizon that would incinerate all other attempts at such a vertically integrated creative experiment, rolling instead to a victorious stop in the land of what I am, of this moment, going to be calling post-cringe? Ah! (Translation: Yes.)
High School Musical: The Musical: The Series follows the fictional students of the fictional version of the real Salt Lake area high school where the real High School Musical was filmed, as they embark on staging the first production of the fictional High School Musical: The Musical at the real (that is, fictional) East High—if your brain's not broken yet, then I suspect you're already doubled over with how chaotically genius this is.
The corporate behemoth that Disney has become is literally the only operation in town that could produce something as vertically integrated and as richly and winkingly self-referential as HSM: TM: TS. And for all that, it's both fun and fascinating to see the company use its new Disney+ platform to send up its own fairly conservative cable television past. —Alexis Gunderson
---
10. Hawkeye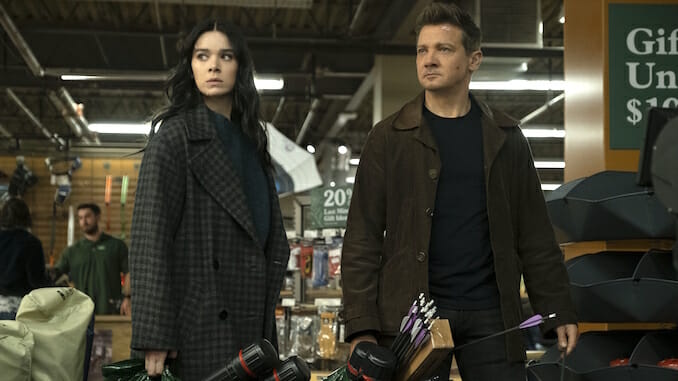 Say what you will about Clint Barton (Jeremy Renner) and his place within the MCU films, Hawkeye is a gift. Although the show sometimes struggles with tone and Vera Farmiga seems to be in a completely different series, it successfully merges the larger world of the MCU with the Netflix Marvel shows while introducing viewers to a member of the next generation of heroes: Kate Bishop (Steinfeld). Her energy and stubbornness is the perfect match for Renner's dryness as a tired Avenger who just wants to go home (for Christmas). It's the mismatched buddy comedy The Falcon and The Winter Soldier was not. The show also features Rogers: The Musical, Lucky the Pizza Dog, and Clint LARPing, which gives it a fun and lighthearted quality. This counterbalances the emotionality of Clint still trying to get over Nat's death; the arrival of Yelena (Florence Pugh), who wants to kill Clint for what happened to her sister; and the fact Echo (Alaqua Cox), the Tracksuit Mafia, and Kingpin (Vincent D'Onofrio) aren't always satisfying villains.
Also working in the show's favor is the fact it deals primarily with Clint's history as the violent Ronin—something we only glimpsed in Avengers: Endgame—and not a universe-level or mythology-changing threat. This allows it to stand on its own, while the fact it's structured like a TV show, with a few pacing issues but several well-placed cliffhangers, makes it one of the better Disney+ products in terms of its effectiveness as television. It's also an emotionally satisfying end to one chapter in the MCU and the beginning of another. —Kaitlin Thomas
---
9. Muppets Now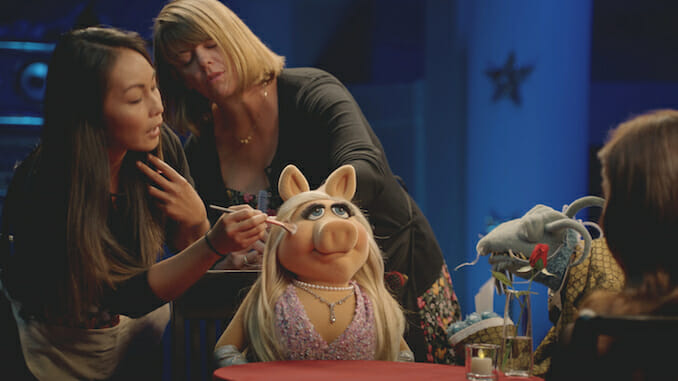 The relatively low-fi Muppets Now taps into pure Jim Henson art, leaving the explicitly educational focus of the Sesame Workshop for an entertainment experience that informs through tone and content. The Muppet Show wasn't supposed to be just for kids (one of its pilots was titled The Muppet Show: Sex and Violence), but its bananas antics became a gateway to pop culture for many impressionable, starry-eyed showbiz wannabes. Beyond the guest list of iconic actors and legendary musicians, the bevy of parody at hand eased kids into mainstream media with slapstick and silliness, from soap opera knock-off "Veterinarian's Hospital" to "Pigs in Space" to Sam the Eagle's ridiculous editorials.
Where Mark Hamill, Vincent Price, Elton John, and Diana Ross were once humanized and sillified by their foam-and-felt companions, RuPaul, Seth Rogen, and Taye Diggs take part in the media mélange of Muppets Now. And it still floats between the scenes and behind-the-scenes in a way that makes both more fun. That gives it a simplified 30 Rock feel (or Between Two Ferns, according to our Keri Lumm), where the ridiculous variety of TV genres (and the nonsense behind creating them) are brought down a few pegs.
Interspersed between hit-and-miss reality shows and celebrity chefs are bits of industry operation filled with references to having final cut, getting coverage, or punching up jokes. And it's best when it all falls apart. Like the failures and trials of the Sesame Street stars, the explosive disasters of the Muppets—flecked with jargon shrapnel to separate the media circus from the regular circus—not only return the Muppets to their unpredictable and childishly dangerous roots (how far they've come from blowing people away in a coffee ad), but make them even more approachable. Nothing says "relatable" to kids more than making a mess and goofing off. The segments may have gotten a facelift and the lingo may have been updated, but the same addictive and attractive qualities of entertainment TV are being put back to use for something good—even if it's not capital, brought-to-you-by-the-letter-G Sesame Street Good. —Jacob Oller [Puppet fans: Be sure to check out Earth to Ned on the platform as well!]
---
8. What If…?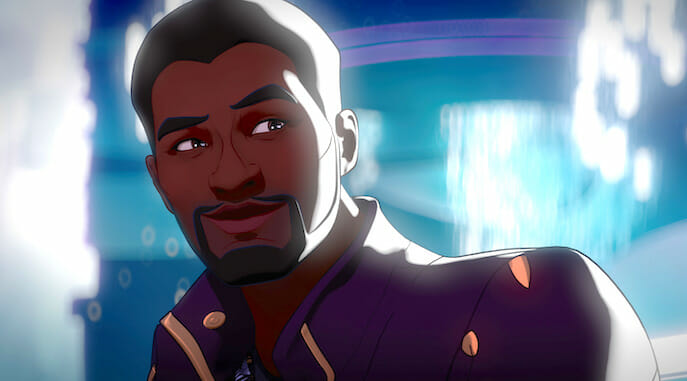 Disney's alt-MCU animated series What If…? kicks off with a pleasant-enough gender-swapped Captain America story, which retells the events of The First Avenger with an enhanced Peggy Carter helming the WWII mission instead. But the show really starts to shine with its second episode, "What If… T'Challa Became a Star-Lord?" Not only is the charming installment a poppy, fun homage to a truly alt-universe take on the events of Guardians of the Galaxy and Black Panther—along with some very fun in-jokes regarding Thanos-the-efficient-farmer, Yondu, and Nebula—it is most importantly some of final voice work done by Chadwick Boseman before his untimely death. The episode serves as a reminder of his exceptional talent, a true "what if?" to a life cut short by cancer.
From there, the series goes where no Marvel show or movie has gone before, incorporating elements of horror, mind-bending visuals, and the story of an overarching comic book figure known as The Watcher, who shows us how things might have gone for our heroes elsewhere in the multiverse. Able to take risks the large MCU has shied away from, What If…? is an engaging, and slightly more adult, exploration of these familiar characters in new and exciting ways. —Allison Keene
---
7. She-Hulk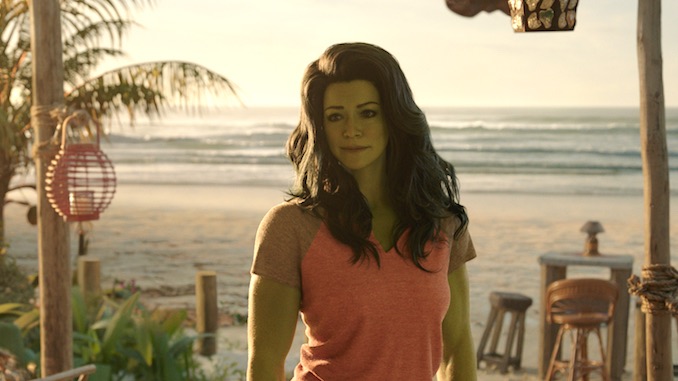 After wading through the seemingly never ending supply of high stakes dramas and subversive comedies that TV has to offer, it's always nice to find something that falls more in the realm of "normal." It may seem odd to say that about a show focused on a woman who gains the ability to turn into a huge green monster that could easily throw a sedan halfway around the world, but it's also true. She-Hulk: Attorney at Law follows Jennifer Walters (Tatiana Maslany) as she has to navigate her new powers as a Hulk alongside her career as a lawyer and the rest of her life in general. Instead of sending Jen on some big hero's journey type quest, She-Hulk throws us back into her everyday life with her new identity in tow. Unlike her cousin Bruce Banner (Mark Ruffalo), she doesn't face the same challenging, raging alter-ego that took him 15 years to tame, and she doesn't necessarily want to be in the business of saving the world either. Regardless of what she wants, Jen's Hulk powers are outed to the public and she has to go about her life with She-Hulk as her new status quo, and that makes for a great watch.
The series may take place in an extraordinary world, but it's as close to normal TV as we're ever going to get from Marvel, and that's what makes it incredible. —Kathryn Porter
---
6. Ms. Marvel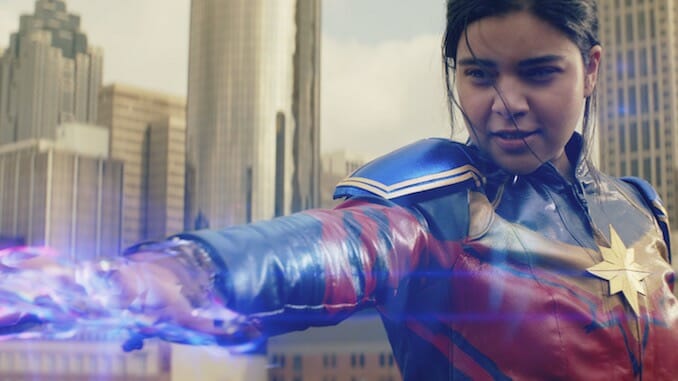 In its first short season, Ms. Marvel proved itself as one of Marvel's best Disney+ shows so far. Iman Vellani shines as Kamala, and it is without question that she'll be able to make the jump to the big screen when The Marvels comes out next summer. There is no way to explain how great she is in this other than to say that she embodies the true spirit of Kamala Khan. Vellani's real-life status as a Marvel superfan truly serves to enhance her performance, because Kamala is the exact same way—but it doesn't rest on that, either. She excels in hitting every single emotional note with aplomb.
While Ms. Marvel would be nothing without Vellani's glittering show of talent, it would also be lost without the way art is used in the series. While Kamala writes Avengers fanfiction in the comics, her fandom work is expanded into her being an artist as well. Kamala's drawings are constantly integrated into the visuals of the show, sometimes becoming animated to add a little flair. There is a lot of street art that is seen as well, often supplemented by the same type of animation that we see with Kamala's art. That, plus all of the lighting work and the needle drops make for a really well-rounded and lighthearted coming-of-age story. Anyone who has a problem with Marvel movies looking like muddy concrete will be greeted with a vibrant show that isn't afraid to use color to its advantage. — Kathryn Porter
---
5. The Mighty Ducks: Game Changers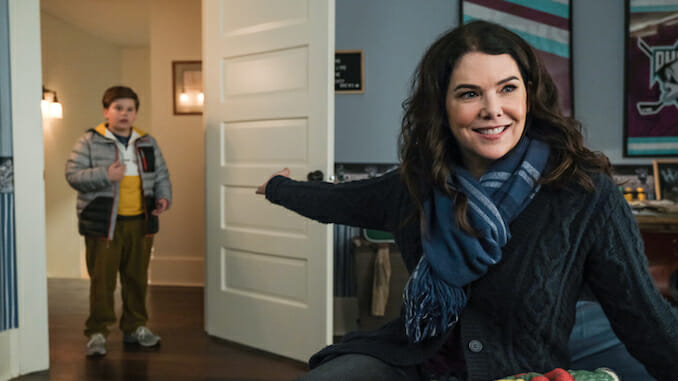 It must be said that The Mighty Ducks: Game Changers—the continuation of the franchise that began in 1992—is extremely validating. The Disney+ series doubles a group therapy for all the parents out there traumatized by how intense youth sports have become. Game Changers understands this and has built its entire premise around this distressing phenomenon. It's been decades since Gordon Bombay (Emilio Estevez, reprising his role in Season 1) led the ragtag "District 5" hockey team to victory in the peewee championship. Two movies and an animated series followed, and now nearly three decades later, the Ducks are the reigning champions. They're ruthless and nasty. Their parents bring private coaches to practice and employ sports psychologists. They are now—I know this will be hard to hear—the bad guys. In the series premiere, 12-year-old Evan Morrow (Brady Noon) gets cut from the team. "At this age, if you can't be good at hockey, don't bother," the Ducks' callous coach (Dylan Playfair) tells him.
That doesn't go over well with Brady's mom Alex (Lauren Graham), who decides to take matters into her own hands. Graham's always charming schtick, which she perfected on Gilmore Girls, is on full display as the enthusiastic mom that just wants her son to be happy, and for the game of hockey to bring him the same joy it once did. So they create a new team of misfits who look, no surprise, very similar to the kids from the original movie. Those comfortable beats are welcome, though; this new series isn't a game changer, unlike the advent of the original franchise. But it is a delight. And that's something to quack about. —Amy Amatangelo
---
4. The Beatles: Get Back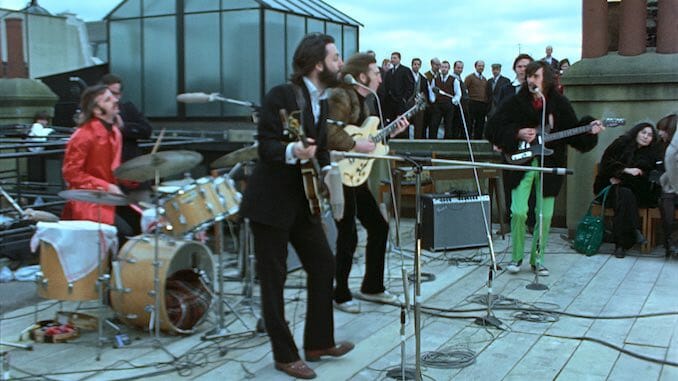 Growing tension between members of The Beatles at this point in their partnership isn't a surprise as their rift during the production of their last two records is well documented, most notably in the 1970 documentary Let It Be. But for director Peter Jackson, who has taken nearly 60 hours of unseen footage shot over 21 days along with more than 150 hours of unheard audio to make the docuseries Get Back, this dust up is a clear sign that the fracturing of The Beatles started well before the band's January 1969 recording sessions. The group clearly misses the focus provided by manager Brian Epstein; at one point in Get Back Paul McCartney even laments the loss of Epstein by saying, "Daddy's gone away."
What is surprising is finally being able to visually witness the love between The Beatles that every fan of the group has always felt in their music. The docuseries features touching moments filled with laughter, soul-shaking music, and incredible inspiration, concluding with a thrilling eight song rooftop performance that has now become iconic. It's the first time it's been shown in its entirety and is The Beatles last live performance as a group. For anyone who loves the band, it'll likely be something you'll watch over and over again. It's also a beautiful reminder that when The Beatles come together, no band has ever been better. —Terry Terrones
---
3. The Mandalorian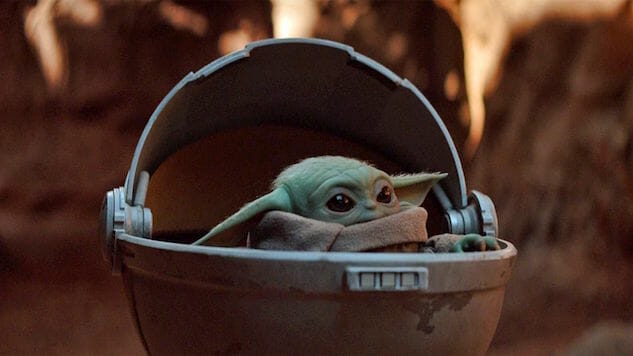 As one would expect from a Star Wars property, a fully-formed fantasy universe is immediately presented to us here, filled with interesting characters and lively backgrounds. It's a TV show with undeniable cinematic quality: things click and whir and bleep and boop alongside foreign chatter and a host of interesting creatures. The world of The Mandalorian immediately feels lived in, throwing us right into the middle of the story of the bounty hunter Mando himself (Pedro Pascal) and The Child (aka Baby Yoda aka Grogu) with unknown powers who he must protect as he travels across the galaxy.
With wonderfully short episodes that play with a number of different genres, The Mandalorian is both warm and action-packed, sparsely and carefully populated with characters who—however short their tenure—all make a memorable mark. Not enough can be said about Pascal's husky voice work, as he somehow makes the masked Mando (whose face we don't see until the very end) a fully-realized character. And yet, the show is absolutely stolen out from under him by a tiny puppet with whom everyone in the production (including Werner Herzog) and every viewer watching became obsessed with. Favreau's choice to ground as much of the series as possible with practical effects (including The Child, the pinnacle of the form) was key in making this story about a ragtag group of space travelers feel wonderfully tangible and emotionally grounded, for both Star Wars faithful and casual viewers alike. —Allison Keene
---
2. WandaVision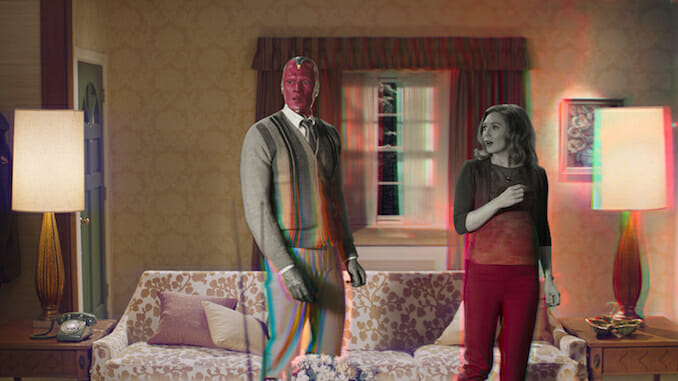 In the Marvel comics, Wanda Maximoff is a reality-bending enchantress known as Scarlet Witch. Her power set is immense, and we have never seen the full scope of it within the movie universe—it's too big, really, when you compare the fact that she and an actual god (Thor), and a wizard (Doctor Strange), are equals on a team with a Russian spy (Black Widow) carrying a gun, and an archer (Hawkeye). There are limits.
Not, however, when it comes to WandaVision itself, which is where we finally get to see the Marvel machine slightly unleashed. Marvel's forays into television have not been altogether fantastic. But tthis series expands the story of characters we know from the movies in way that the movies simple did not have time to do. It also allows WandaVision creator Jac Schaeffer and director Matt Shakman to put a uniquely stylized and deeply emotional spin on a story that would have (as a movie) otherwise been shackled by the mandated aesthetics of the overall MCU. As such, in WandaVision, Wanda (Elizabeth Olsen) is also unleashed. She has used her immense power to create an insular world where she and her lost love, Vision (Paul Bettany), get to live happily ever after in classic sitcoms based on the likes of The Dick Van Dyke Show, Bewitched, and I Love Lucy. For fans of classic television, this is no satire; despite a few over-the-top ham moments, it is a loving homage to these series.
But of course, it's not real. Throughout the half-hour episodes (both the ones we experience and the ones Wanda and Vision are living through), the world outside of this coping fantasy begins to creep in. First with bursts of color, then occasional off-script moments. Wanda stops these right away by rewinding and reliving the situation without the disruption. A clean story, nothing to disturb them. Just a husband and wife living a normal life in perfect suburbia (with the occasional advertisement for a Hydra watch or a Stark Industries toaster, of course).
Soon, however, Wanda is spinning out of control. Reality is closer than ever, and the teases we get to the world outside of Wanda's creation, one where Vision is gone, get increasingly overt. She will have to come to terms with the truth soon, but it will hurt. And yet, I don't really want reality to impede on Wanda's created life at all. WandaVision's core conceit—that sometimes you just want to escape into television, into fantasy, into a daydream—couldn't be more meta. Let's stay here in this happiness just a little while longer. The world outside is so dark. —Allison Keene
---
1. Andor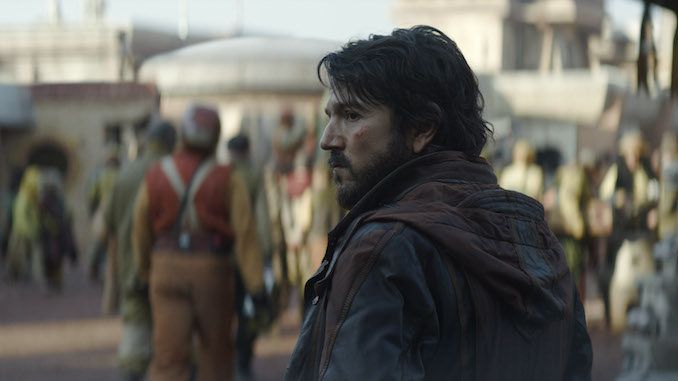 Despite being set in a fictional, Star Wars setting, Cassian Andor's journey feels real. His home planet was abandoned after a mining disaster left it useless. He's an immigrant on a planet scrounging for work and a way to move up. He's lost his family and is beaten down by a lack of opportunities. All Cassian needs is a union card and a wedding coat and he'd be a Bruce Springsteen song. And through it all there is Diego Luna, who manages to channel rage, disappointment, and the will to keep fighting with either a skillfully delivered line or an adroit facial expression. Luna is masterful in Andor. It's a performance inspiring enough to make me want to fight the Empire right along with him. —Terry Terrones
---
For all the latest TV news, reviews, lists and features, follow @Paste_TV.