Watch the Teaser for Season Two of Seth Rogen's Future Man
The series stars Josh Hutcherson, Eliza Coupe, Derek Wilson and Haley Joel Osment
Image via Hulu
TV
News
Future Man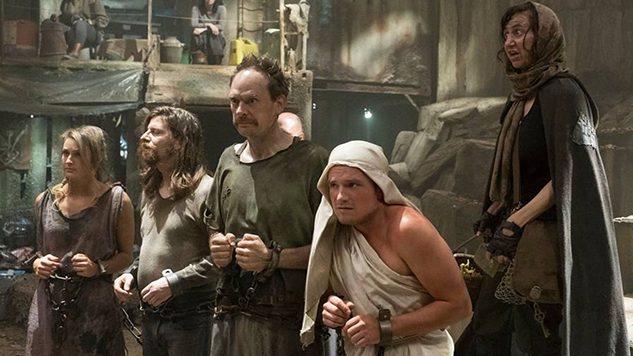 Hulu has released the first official teaser trailer for season two of Seth Rogen's sci-fi comedy Future Man, which will be premiering on the streaming platform on Jan. 11, 2019. The series was created, written and produced by Kyle Hunter and Ariel Shaffir, the duo behind Sausage Party and Preacher, with Rogen and Evan Goldberg acting as executive producers.
The series focuses on Josh Futturman, played by Josh Hutcherson, a janitor by day and gamer by night who is recruited by mysterious visitors to travel through time in order to prevent the extinction of humanity. The series also stars Eliza Coupe, Derek Wilson and Haley Joel Osment.
Hulu's synopsis of the new season describes the general outline of things to come: the series picks up in 2162, after the team's mission in the first season went awry, leaving the world with a new, equally dismal timeline. Shadowy organizations and moral ambiguities abound, and it's up to Josh to "unite the team in an epic plan to save the world."
Watch the trailer below and read our take on why Derek Wilson made the first season such a blast here.