Here Are All the FX Shows Arriving on Hulu in March 2020, Including Four Exclusive Series
Photo courtesy of Hulu
TV
News
FX on Hulu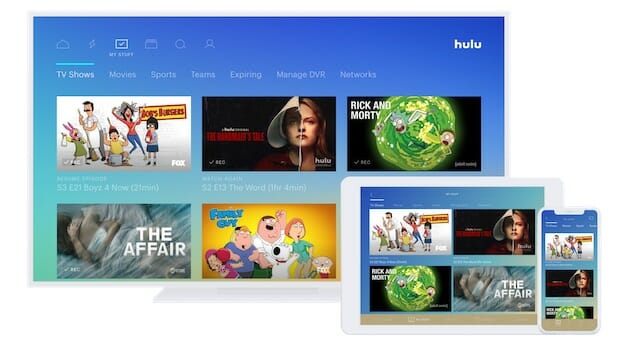 March 2020 is set to be a big month for Hulu subscribers, with Randy Freer, Chief Executive Officer of Hulu and John Landgraf, Chairman of FX Networks and FX Productions, announcing that the streaming service will be the new official home of FX Networks and its slate of award-winning original series.
Freer said in a statement, "We're excited to become the official streaming home to the award-winning current and legacy series that FX has produced over nearly two decades, as well as brand-new original series that will be exclusive to Hulu subscribers—all available through 'FX on Hulu.' FX has solidified its position as a premium brand that consumers are passionate about, and we can't wait to bring its valuable content offering to our customers, all in one place."
Hulu has several acclaimed original series to its name, including Shrill and The Handmaid's Tale, and the addition of FX's library of more than 40 shows—which will feature every season of more than 40 FX original series spanning the past 17 years—makes the Disney-controlled streaming service pack a hell of a bigger punch. In case you need a refresher of what FX offers, check out our list of "The 20 Best FX Series of All Time."
Landgraf stated that the partnership would be a "gamechanger" for FX, adding that FX on Hulu is "finally putting us on equal footing with competitors like HBO."
FX will also be producing original content exclusively for FX on Hulu, beginning with four original series lined up for 2020, including the Alex Garland limited series Devs and the Cate Blanchett-starring Mrs. America, both arriving in the spring. Another limited series, A Teacher, will be arriving in the summer, while new drama series The Old Man is slated for the fall. Check out the official synopses for A Teacher and The Old Man below:
A Teacher
A Teacher is a limited series from writer/director Hannah Fidell, starring Kate Mara and Nick Robinson. Based on Fidell's film of the same title, A Teacher explores an intimate connection between a female high school teacher and an underage male student that evolves into a high stakes, emotional affair, revealing the complexities and consequences behind these relationships, which are often relegated to clickbait headlines. Mara plays "Claire," a popular young teacher at a suburban Texas high school, and Robinson is "Eric," an all-American high school senior. The limited series is written and directed by Fidell who will serve as an executive producer along with Michael Costigan and Jason Bateman of Aggregate Films, and Danny Brocklehurst and Kate Mara. The 10-episode limited series is being produced by FX Productions.
The Old Man
The Old Man is a drama starring Jeff Bridges as a retired CIA officer. Based on the bestselling novel of the same name by Thomas Perry, The Old Man centers on "Dan Chase" (Jeff Bridges) who absconded from the CIA decades ago and has been living off the grid since. When an assassin arrives and tries to take Chase out, the old operative learns that to ensure his future he now must reconcile his past. Written by Jon Steinberg & Robert Levine, The Old Man is executive produced by Warren Littlefield, Steinberg, Dan Shotz, Robert Levine, Jeff Bridges and David Schiff. The series is produced by Fox 21 Television Studios in association with The Littlefield Company. Production of the pilot episode begins this fall.
The March launch of FX on Hulu will debut new comedies Dave and Breeders, Season Four of the award-winning comedy Better Things and an all-new season of the comedy showcase Cake. After first rolling out on their respective FX linear channels, they will be available on FX on Hulu. Check out the complete list of FX on Hulu's offerings below.
New FX on Hulu Exclusives:
Devs (1 season) Limited Series/Spring
Mrs. America (1) Limited Series/Spring
A Teacher (1) Limited Series/Summer
The Old Man (1) Drama Series/Fall
New Series for FX Linear Release, Followed by FX on Hulu:
Dave (1 season)
Breeders (1)
Current FX Original Series:
American Horror Story (9 seasons)
Archer (10)
Atlanta (2)
Better Things (3)
Cake (1)
Fargo (3)
It's Always Sunny in Philadelphia (14)
Mayans M.C. (2)
Mr Inbetween (2)
Snowfall (3)
Taboo (1)
The Weekly (1)
What We Do in the Shadows (2) – TCA
Legacy Series:
Baskets (4 seasons)
The Bastard Executioner (1)
The Comedians (1)
Fosse/Verdon (1)
The League (7)
Legion (3)
Legit (2)
Man Seeking Woman (3)
Married (2)
The Riches (2)
Sex&Drugs&Rock&Roll (2)
The Strain (4)
Sons of Anarchy (7)
Trust (1)
Tyrant (3)
You're the Worst (5)
Wilfred (4)