Return to Westeros in New Supercut Showing One Second from Every Game of Thrones Episode
Photo by Helen Sloan/HBO
TV
News
Game of Thrones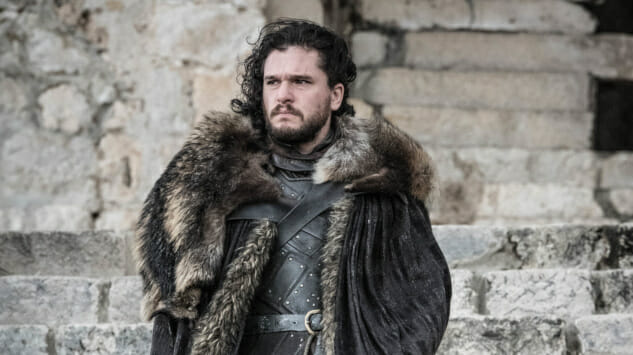 If you're still mourning the loss of one of pop culture's heaviest hitters, look no further. Internet personality (and all-around content provider) Andy Kelly has issued the latest in his series of "One second from every _____" series, this time for good ol' Game of Thrones, which, in case you're somehow unaware, wrapped up on Sunday night.
The video lets you revisit the highest highs and the lowest lows from every episode, quickly making it clear which characters the writers prioritized. You've got your major character deaths like Jon "For The Watch" Snow, character revivals (Jon "He's Back" Snow) and lovingly lethal embraces—Jon "She's My Queen" Snow. Still, the quick video manages to find time for some smaller, Snow-less beats from the early seasons, like Syrio dancing or Brienne's unmasking.
Almost more interesting about the video is showing how Game of Thrones' cast and visual stylings aged. It's not just Maisie Williams, who looks staggeringly young, but also a less-than-weathered Peter Dinklage and a particularly young-looking Night King. You can almost pinpoint exactly when the show's visual effects budget went from "huge" to "fucking gigantic," too, as our first glimpse at Drogon looks like a B-movie's attempt at Alien's chestburster in comparison to the angsty, emotive, teenaged Drogon that Daenerys nurses seconds (and seasons) later.
Return to Westeros with the video below and read our review of last night's series finale here.
One second from every episode of Game of Thrones. pic.twitter.com/rFz2CFLwBx

— Andy Kelly (@ultrabrilliant) May 20, 2019