Lions, Tigers, Wind and Rain: Too Much Good TV at SeriesFest Season Two
A New Kind Of Festival Offers Some Exceptional Work
TV
Features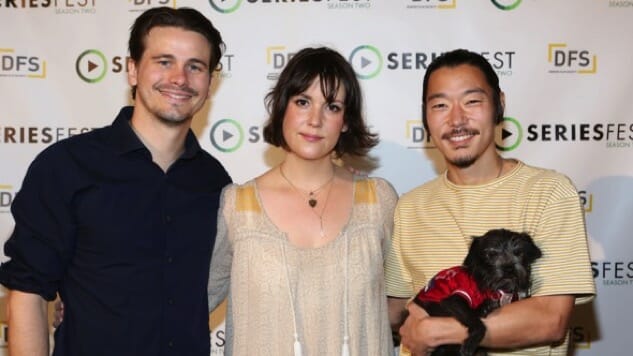 (L-R) Jason Ritter, Melanie Lynskey, and Aaron Yoo (with Merlin) arrive to the 'Journey to Success' panel for SeriesFest: Season Two. Photo Credit: Jason Bahr/Getty Images for SeriesFest.
Film festivals have become ubiquitous around the world, so much so that you'd be hard pressed to find even a small city without one. And some, like Cannes, Sundance and Toronto are so star-studded as to effectively take over the entertainment media for almost two weeks at a time. There are those that are heavily attended by the film industry and some that are, more and less, just for the locals, but either way, a filmmaker with an appealing film can spend the better part of two years traveling the world with his or her film.
With some tweaks here and there, that's how the landscape has been for indie filmmakers for the last two decades or so, but recently a new medium has invaded the fest world, one that can potentially give a leg up to those who might be interested in breaking into episodic storytelling: Television. There are currently only a handful dedicated to the format and I was privileged to attend one, SeriesFest: Season Two, from June 22-26 in Denver.
The brainchild of founder/CEO Randi Kleiser and founder/COO Kaily Smith Westbrook, Seriesfest is a five-day event (three full days of programming sandwiched in between an opening night screening/concert/party and a closing awards brunch), a deft mix of upcoming cable and network programming, an international spotlight section, several panels & live readings and a large, well-curated pilot competition. Virtually all programming is at the Denver Film Society's Sie FilmCenter and attendees are not without options from mid-morning to late in the evening.
The opening night was spectacular, but not necessarily in all the right ways. As was done last year, the festival paired a concert with a premiere screening, all at Red Rocks, which certainly lives up to its hype as an exquisite venue. This year's pairing was Sia and the North American premiere of the latest nature offering from BBC America, The Hunt, which focuses on animal predators. Created by Alastair Fothergill and Huw Cordey (the team that brought you The Blue Planet, Planet Earth and Frozen Planet), The Hunt is nothing short of spectacular. The footage is breathtaking and some of the animals featured have only been discovered in recent years.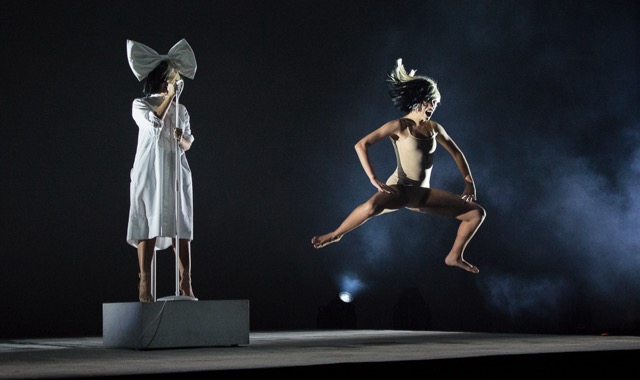 Sia and dancer. Photo credit: James Dimagiba for SeriesFest
The problem was, it poured most of the night, complete with some rather…. gusty wind, one of which revealed the face of the famously publicity-shy Sia. That said, the audience was in mostly good humor and during a scene featuring a female Darwin's bark spider, which produces one of the largest known orb webs with anchor lines spanning up to 82 feet, a woman yelled out "I love you, Spider Woman!"
I'll admit, I knew nothing of Sia's music or stage show and I was blown away (no pun intended). The driving wind and rain only served to heighten the emotions brought on by both The Hunt and Sia's performance, and by the time the rain ended and a hazy moon rose to the right of the stage, I was drained. All things considered, it was a magical night.
One of the highlights of the festival was a sneak preview of the upcoming Netflix original documentary series Last Chance U. Launching on the streaming service on July 29th, the series is an in-depth look at East Mississippi Community College (EMCC), a "last chance" stop for football players who may have the talent to achieve greatness, but have been held back by poor academic performance or behavioral issues. I was suffering from some extreme exhaustion and then a blown projector bulb delayed the screening by about 30 minutes, but I was still riveted for two hours. This one is can't miss doc programming.
The eight pilots on offer in the International Spotlight were all either US or North American premieres, with some of them already having secured US cable deals, and all are worth seeking out. Two of these, The A Word from the UK and Gomorrah from Italy are set to have their US TV bow on Sundance Channel this summer (July 13th and August 24th, respectively). Directed by The Full Monty's Peter Cattaneo, The A Word is a dramedy about a family coming to grips with their son's diagnosis of autism. Fans of NBC sorely missed Parenthood ought to take to this one right away.
Gomorrah, on the other hand, is a deeply stylized and gritty crime drama based on the same best-selling non-fiction book by journalist Roberto Saviano that inspired the 2008 Cannes Film Festival Grand Jury Prize-winning film of the same name. It got its hooks into me in the first 5 minutes.
Of the remaining six international pilots, the ones that gripped me the most were the French Beyond the Walls, a truly terrifying series with a very Guillermo del Toro feel; No Offence from the UK a Manchester-set cop show that balances the police procedural with a significant (and very British) sense of humor from Paul Abbott (the creator of Shameless), and series 3 of The Syndicate, a drama cum mystery in which the staff of a threadbare formerly grand English manor wins the lottery. It stars the magnificent Lenny Henry, Anthony Andrews and Alice Krige, among others. The Syndicate can be seen starting August 22nd on Acorn TV.
Cutting straight to the best of the best of the pilot competition, Charlie Sohne's Truth Slash Fiction is about as broadcast-ready as can be. An honest and smart teen comedy, it stuck with me for the entire weekend and was named best comedy pilot in the fest. The show is about a boy band called Truth and the teenaged slash fiction writers group that loves them. Truth Slash Fiction is one of those polished and surprising gems that proves that there really are more original stories to tell.
(For those of you unfamiliar with slash fiction, it's essentially sexual fan fiction written about fictional characters of the same gender, often not set in the character's fictional setting. So, Kirk and Spock meet at cooking school in Paris and have mad, passionate sex in an attic apartment in the 14th, for example. Truth Slash Fiction focuses on a sub-genre, "real person slash.")
Jordyn DiNatale (best actress in a comedy pilot) shines as Emma, the newest member of the group, and the original pop songs written for Truth are better than most "real" boy bands' outputs. Production values are significantly higher than one might expect from an indie TV pilot and the fantasy sequences involving the boy band members are inventive and fully realized.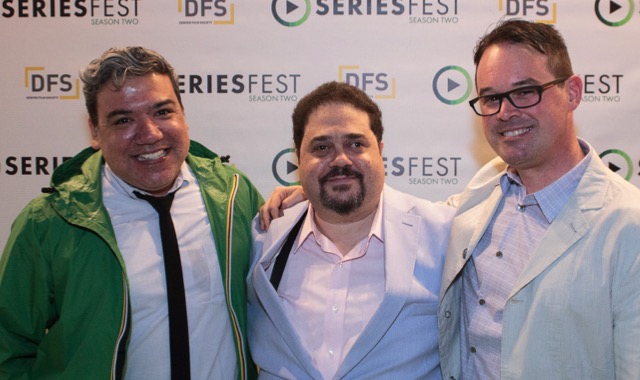 (L to R): Indiewire.com co-founders Eugene Hernandez & Mark Rabinowitz and SeriesFest Managing Director Brian Brooks; Photo credit: James Dimagiba for SeriesFest
Other comedies I reacted well to included Michael Van Orden's Called to Serve, a dramatic half-hour comedy about a young group of Mormon missionaries in Los Angeles. Van Orden (mostly) avoids the slapstick, fish-out-of-water tropes so obvious in the premise, and instead focuses on the struggle to balance one's faith with the obvious contradictions present in every day LA life. The acting was a little uneven and the comedy at times a little too broad and obvious, but there's a kernel of a compelling exploration into the attraction and hypocrisy of faith in the modern world, here.
The Come Up, created and directed by Ben Snyder & Ari Issler picked up best comedy writer and best comedy director awards, for their unabashedly New York half-hour pilot starring Andre Holland (The Knick), Greg Keller and Michael K. Williams. Keller picked up an honorable mention from the jury—"because he was unpredictably hilarious." They weren't wrong. At once both low key and wacky, The Come Up is refreshingly multi-racial and sexually varied. A smart comedy that is loaded with people of color and embraces the varied sexual spectrum on which we all reside would be most welcome.
Given the increase in popularity of sci-fi shows, I was not surprised to see several of them on offer at SeriesFest. Comedy entry Riftworld Chronicles (which could have been just as easily in the drama category) is the most developed and polished of those on offer, but all deserve a look. It's got some geek cred (stars Battlestar Galactica's Tahmoh Penikett) and despite an overly familiar plotline (wizard from another world lost in ours, meets an attractive journalist who thinks he's crazy, slowly starts to think maybe he's not, etc., etc.) it works. It's played reasonably straight and has potential. Clearly I'm not the only one who thinks so, as the web series is developed by Canada's CBC.
On the drama side, Farr, a crime drama set in Belfast, picked up the jury prizes for best drama pilot and best drama director and it's a fine bit of work, but not particularly original—and therein lies one of the risks of only being able to see the first 24 minutes of a potential series. Very often shows don't really get going until the second or third episode (see: Sense8). So while Farr may well be a great series, it seems a little too familiar from the pilot alone.
Significantly more interesting to me was Stefano Nurra & Fabio Paladini's Border Queen, a sci-fi drama about lucid dreaming as a method of moving in and out of a parallel universe that we all share as part of a collective unconscious. Creepy and super heavy, it was one of the more original pieces on offer and a definite slow burn.
Also hitting on all "originality cylinders" was The Donovan of Civilization, Gabriel Fleming's supernatural adventure series. What sets this pilot apart is that Fleming and his star Donovan Keith actually shot the series while backpacking around the world, with no crew, using real locals to give (largely) improvised performances. Of course non-pro actors are going to occasionally give a terrible line reading, but sometimes there's a thin line between bad acting and a weird character and given the otherworldly nature of the plot, it's not as jarring as it otherwise might be.
While SeriesFest had a few tech hiccups and needs to work on local visibility to increase audiences, my only major knock on the event is that it's either too short or too densely programmed. There was just too much to see, and with the amount of socializing and business that also goes on at festivals, there were bound to be things that fell though the cracks. Of course, too much good programming isn't the worst problem a TV festival can have, is it?
---
Mark Rabinowitz is a Louisville-based freelance writer, film producer, and regular contributor to
Paste
. He is the co-founder of Indiewire.com and and his beef stew makes grown people cry with joy. You can follow him on Twitter.