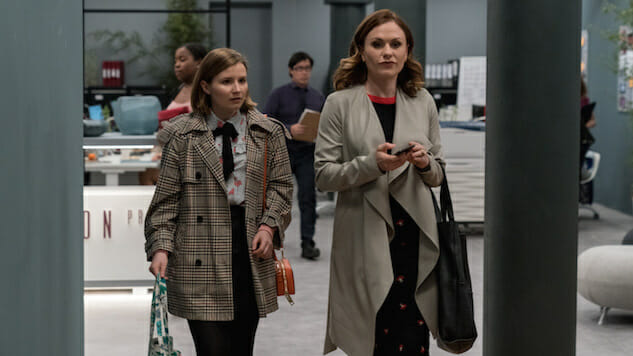 Love is in the air this February. Our love of TV, that is.
The month brings the Super Bowl on Sunday, February 3—and the premiere of The World's Best, a talent competition hosted by James Corden, which gets the coveted post-Super Bowl slot. Beloved critical hit One Day at a Time returns for a third season on Netflix on February 8. Daniel Radcliffe is coming to TBS in the new comedy Miracle Workers on February 12. And the month ends with The Academy Awards on ABC on February 24 and the Season Three premiere of FX's Better Things on February 28.
As always, with so much TV on the, we don't want you to miss a thing, so that's not all. Here are the five new shows you can't miss this month.
1. Boomerang
Executive Producers: Ben Cory Jones, Lena Waithe and Halle Berry
Stars: Tequan Richmond, Tetona Jackson, Leland Martin, Lala Milan
Premiere Date: February 12 at 10 p.m. on BET

The 1992 hit movie starring Eddie Murphy, Halle Berry and Robin Givens skips ahead a generation in this 10-episode half-hour comedy. Tequan Richmond, all grown up from Everybody Hates Chris, is Bryson, the son of Givens' character, while Tetona Jackson is Simone, the daughter of the characters Murphy and Berry played. Like their parents, Simone and Bryson are advertising execs, and although Berry won't appear in the series, her presence behind the camera, along with Waithe's, should ensure that this comedy is worth making time for.
2. Weird City
Executive Producers: Jordan Peele and Charlie Sanders
Stars: Sara Gilbert, Rosario Dawson, Michael Cera, LeVar Burton
Premiere Date: February 13 on YouTube Premium

This six episode sci-fi comedy series is set in the fictional city of Weird, where, well, weird things happen. Jordan Peele, who knows how to use seemingly conventional storytelling to comment on society at large, uses this anthology series to explore modern issues. Each episode will star different actors, including Sara Gilbert, Ed O'Neill, Rosario Dawson, Laverne Cox, Awkwafina and Mark Hamill.
3. Flack
Executive Producers: Mark Larkin and Stephen Moyer
Stars: Anna Paquin, Sophie Okonedo, Genevieve Angelson, Rebecca Benson, and Marc Warren
Premiere Date: February 21 at 10 p.m. on Pop TV

Those of us in the writing-about-TV business deal with publicists all the time. And personal publicists can often be, shall we say, the most challenging. In this six-episode series, which takes its title from the slang term for publicist, Paquin stars as Robyn, a crisis PR expert based in London who will hide or find a creative way to spin your face lift, your birth plans, your racist comments, and your crimes. The only thing she can't handle, of course, is her own life. Keep an eye out for guest star Bradley Whitford in the fifth episode.
4. This Giant Beast That Is the Global Economy
Executive Producers: Adam McKay, Will Ferrell and Adam Davidson
Stars: Kal Penn
Premiere Date: February 22 on Amazon Prime

The former House star hosts this eight-episode docuseries that tries to makes sense of how the global economy works. Each episode will focus on one confounding economic question, such as "Is it easier for jerks to get rich?" Penn, who also served as Associate Director of the White House Office of Public Engagement during the Obama years, chats up celebrities including Ted Danson, Rashida Jones and Cristela Alonzo as well as those who've been intimately involved in how money works, including former Secretary of Labor Robert Reich.
5. Gone
Executive Producers: Matt Lopez and JoAnn Alfano
Stars: Chris Noth, Danny Pino, Leven Rambin, Tracie Thomas and Andy Mientus
Premiere Date: February 27 at 9 p.m. on WGN America

Not to stress you out or anything, but at any given moment, 83,957 people are missing. That's a lot more than appear on our nightly news. Kit Lannigan (Leven Rambin) is a survivor of a childhood abduction. Years after she's rescued, she's recruited by Frank Novak (Chris Noth), the very agent who saved her, to join the FBI. It sounds like your typical TV police drama, but we're counting on Mr. Big to take the series to the next level.
---
Amy Amatangelo, the TV Gal®, is a Boston-based freelance writer, a member of the Television Critics Association and the Assistant TV Editor for
Paste
. She wasn't allowed to watch much TV as a child and now her parents have to live with this as her career. You can follow her on Twitter (@AmyTVGal) or her blog .