Orphan Black Comes to Collect, Setting Up the Series Finale
(Episode 5.09)
Photo: BBC America
TV
Reviews
Orphan Black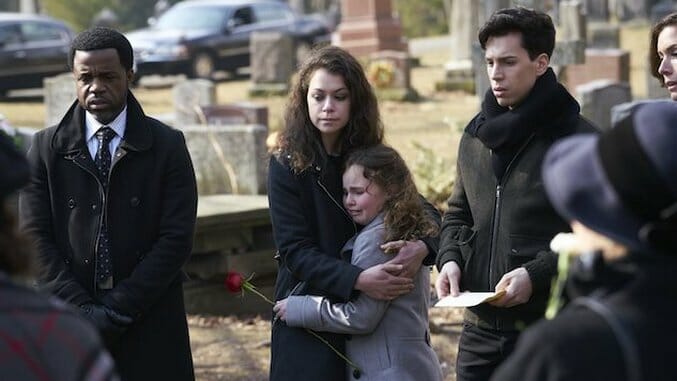 The Devil came to collect and Faust shot him. The mutual killing of Mrs. S (Maria Doyle Kennedy) and Ferdinand (James Frain) grew out of the unseemly bargain between the two that led to Neolution's takedown. This collapse is all but complete, the big bad of the Orphan Black world downed in its penultimate episode, "One Fettered Slave." The only loose end left after the show's masterful matriarch spy in mom jeans has fallen is the mother with two on the way. Helena (Tatiana Maslany) and her superpowered womb have been kidnapped by that slippery old sex criminal Virginia Coady (Kyra Harper) and her blackmailed Castor clone Mark (Ari Millen).
As a quick sidebar, Mark's enduring this so he gets a cure to his clone-based disease and can be with his beloved Gracie (Zoé De Grand Maison). Gracie is dead. Mark does not know this. Predictably, this does not work out well for him.
Now, back to the action: Kidnapping! Pregnancy! Wonder Twins powers, activate! The long-sought leverage would provide the body-mod futurists the ammunition needed to experiment further, at the expense of our beloved Ukrainian murderer. This news is broken by Helena's mute nun, arriving at a wake for S that followed a funeral scene almost ruined by Kira's (Skyler Wexler) hammy sobs. The nun's got Helena's journal and, as we've learned over five seasons of this show, there's never time to mourn.
Like in many of the season's episodes, we receive a clone flashback—this one to Helena's orphan childhood. In it, we see how a masturbating nun's shame turned Helena's hair to its crisped chemical-white, brilliantly applying the "you'll go blind" and "hair will grow on the palm of your hand" philosophy of using body horror as a sexual deterrent. The actress playing young Helena (Habree Larratt) captures the guileless energy and love of snacks we've grown to love in the wild child, and handles the sestra's abuse-filled past with ample emotion. Her brainwashing comes quickly and tragically, all-too believable as an escape for a kid that knows nothing of the world but pain and discipline. Maslany also shines in this interspersed backstory as a violent conduit for identity crisis in a world of interconnected, inherently similar people looking for answers that tell them they are truly special.
Back in the present, with the pregnant Helena about to pop, the episode becomes a race against the clock. Sarah, sidelined by grief, contemplates the past as the other members of Clone Club affected by S's death work to repay a debt they all feel. Art (Kevin Hanchard) and Felix (Jordan Gavaris) team up to question Rachel about the kidnapping—as Maslany fabulously adjusts an eyepatch throughout the interrogation. This leads back to Art's partner, Maddy (Elyse Levesque), and the long-ignored plot hole of Art's job. How does one operate on a police force while spending all his time dicking around with cloning conspiracies? We won't find the answers here, but we do become privy to the rash of killings and/or suicides of Neolution higher-ups (including someone in charge of "alternative facts," effectively killing off Kellyanne Conway).
The non-character hitman Mr. Frontenac (Andrew Moodie) gets something different in this episode: two bullets from Art. A strange entity, Frontenac has been a narrative errand boy with so little impact that his even having a name is surprising. Now his only legacy is as an opportunity for the show to include black-on-black gun violence. Thankfully, some actual character writing comes with the rapid unraveling of PT Westmorland (Stephen McHattie). He looks terrible, his dapper form slumped with withered wrinkles and his wig sloughed off to reveal sickly baldness.
Westmorland's desperation is the key to the Clone Club's plan, exploiting his desire to clean house by offering up "Rachel" (the clones do love the ol' switcheroo) as bait. Meanwhile, Helena grapples with her own desperation. With labor induced, how can she prevent her "bebbies" from the same gaslit, violent, scientifically-exploited fate as her own? Her answer asks for compassion from both her friends and enemies, a culmination of the show's maternal spirit. Tearing each other down and building each other up, the show is built on the complex relationships among its women. This, combined with some inspired framing and brisk pacing, keeps the episode exciting even through some rote passages and ridiculous plotting, pushing this two-part finale to its powerful cliffhanger.
---
Jacob Oller is a writer and film critic whose writing has appeared in
The Guardian, Playboy, Roger Ebert, Film School Rejects, Chicagoist, Vague Visages,
and other publications. He lives in Chicago, plays Dungeons and Dragons, and struggles not to kill his two cats daily. You can follow him on Twitter here: @jacoboller.