In the Writers Room: Outlander Writers Talk Sex Scenes and Bringing The Books to Screen
TV
Features
Outlander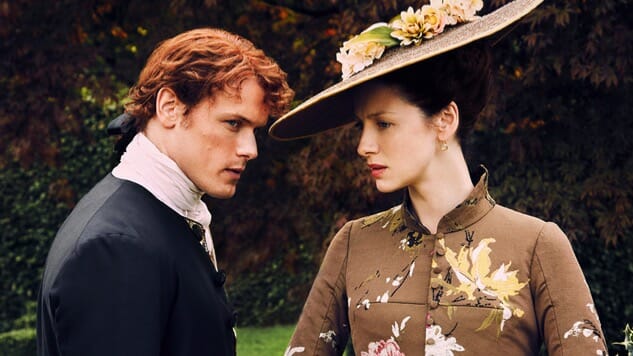 Talk about pressure. The creatives and cast behind Starz's Outlander had no small task in bringing Diana Gabaldon's beloved book series to the small screen. The books sold more than 20 million copies worldwide, earning a fierce, loyal and outspoken following. So if showrunner Ronald D. Moore and his team had royally mucked it up—there'd have been hell to pay. The novels cross genres, blending time travel, history and romance, and begin with a married English WWII army nurse who's transported back to 1740s Scotland where she meets and falls in love with a Highland warrior.
Luckily for team Outlander, the series is a hit and recently earned the show a pickup for Seasons Three and Four. The success must not only be attributed to the cast, led by powerful performances from Caitriona Balfe (Claire) and Sam Heughan (Jamie), but also to those behind-the-scenes, including the writing team that carefully crafts episodes from Gabaldon's source material. Moore and several of Outlander's writers (Toni Graphia, Matthew B. Roberts and Anne Kenney) recently participated in an Inside the Writers Room panel discussion at the Writers Guild Foundation in Los Angeles to talk about the series, their greatest challenges, proudest moments and plots they've fought over in the room.
"I'd never done an adaptation before," said Moore, who most notably cut his showrunning chops on Carnivàle and Battlestar Galactica. The biggest challenge in the writers' room, he said, is constantly deciding what to keep and what to change from the books. "I'm serving two audiences simultaneously. There's the audience that knows the books, loves the books and is looking forward to all the particular things that they're in love with, and then there's the general audience that doesn't know anything about the books." So when staffing the writer's room, Moore made a conscious decision to include writers who had read the books (Roberts and Kenney) and others who hadn't (Graphia and Ira Behr—who could not attend). "I think having a balance of those two opinions in the room every day was one of the keys to our success."
On Writing Great Sex Scenes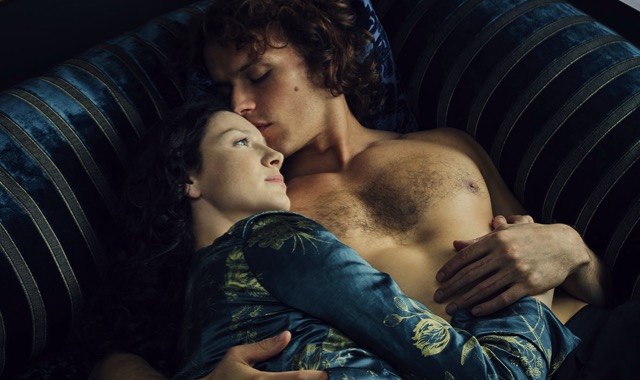 Journalist and moderator Kate Hahn didn't beat around the proverbial bush when leading the panel straight into a conversation on writing about sex. Love, sex and intimacy play a huge role in Jamie and Claire's relationship, and it's a subject that the writers take seriously. Sort of. "Good sex—knife to the throat," cracked Roberts, referring to a scene in the Season One episode, "Reckoning," in which Claire threatens Jamie in the middle of lovemaking: "If you ever raise a hand to me again, James Fraser—I will cut your heart out and have it for breakfast."
Kenney, who wrote last season's "The Wedding," admitted that adapting sex scenes from Gabaldon's novels are easier than working on the ones that the writers have to create. "It's hard as a writer because you're very vulnerable then. Basically what you're saying is, 'This is what I find erotic. This is what I find sexy.' You're putting yourself out there and you're hoping somebody else doesn't go, "Eww… that's creepy."
Kenney told the audience about one scene she wrote, but didn't end up shooting. She laughs as she recounted describing it to the director: "'Well, he's sort of kneeling down in front of her, and she's sort of going to put her foot on his chest, but I don't want it to look gynecological.' It's very weird. It's a very weird thing to do."
"As a writer you just have to give it up and just go for it," Roberts added. "Don't think what you're parents are going to think. Or your wife or husband. Because it seeps in. Sometimes I hear my mother say, 'Matthew…'So I got to let that go and just go for it."
This season's "La Dame Blanche" episode featured a scene in which Jamie and Claire finally reconnect sexually on a blue-velvet daybed after months of (not) dealing with the aftermath of Jamie's torture and rape.
Graphia, who penned the episode, noted, "I think it was really special and emotional because it wasn't about sexual acrobatics or anything like that. It was initiated by the woman saying, 'Here's how we get past this. Find me in the dark. It's just you and me. There's no Jack Randall here.'"
Adding Fantasy and Flashback Elements
The panel discussion then moved beyond sex, to fantasy and flashbacks, particularly focusing on the addition of Claire's war flashbacks in "Je Suis Prest."
"It could be in the books," Roberts said. The writers need to pick the pieces from the books to elaborate for television, he said. "In this section of the book, [Claire] is very internal," he said. "She's thinking everything while Jamie's training. That's very hard to shoot. It's hard to shoot a thought and realize it."
Moore added, "It's hard to emphasize the point enough, that the way it works on the page is not always the way it works visually or in the rhythm of the show. I tend to think of TV shows having bass lines and melody lines, so when you're watching it, the rhythm of the scenes will affect you differently when you see it, as opposed to the way you thought."
Fighting in the Writers Room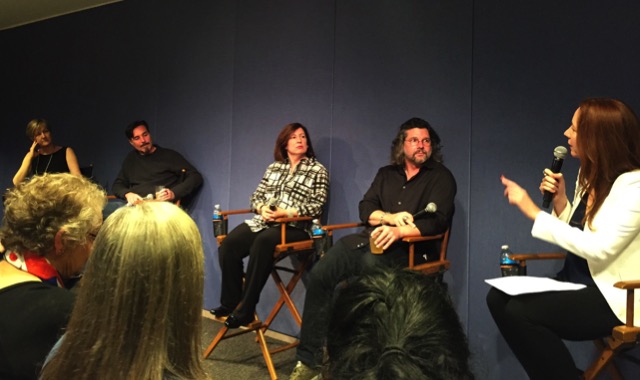 (Left to right): Anne Kenney, Matthew B. Roberts, Toni Graphia and Ronald D. Moore with moderator Kate Hahn
The writers were asked about the onscreen moments they fought for: Anne Kenney championed for Jenny and Claire's Season One rescue of Jamie, while Roberts fought to change William Grey's attack on "Red Jamie" this season, because he had trouble making the novel's scene logically work for television. "That's adapting, that's taking what's there and having it make sense visually instead of on the page," Roberts said. "We can have a knock out, drag down in the room and then we go to lunch, and we drink a little whisky," Graphia added. "It's never personal."
It was surprising that Moore and the writers debated cutting one of this season's more memorable scenes: The Star Chamber scene in "Faith," where Claire is forced to help the King (Lionel Lingelser) judge both Master Raymond (Dominique Pinon) and the Comte (Stanley Weber) for sorcery. The writers felt that the book's version—Master Raymond openly providing the poison to Claire and the Comte—wouldn't play well for a TV audience weaned on Law & Order, but they knew they needed to keep it.
"It's a fan favorite in the book," Graphia said. "And Gary [Production Designer Jon Gary Steele] wanted to build that set." Moore went on to add, "He was already building it."
On the Upcoming Supersized Finale
The 90-minute Season Two finale, "Dragonfly in Amber," was penned by Roberts and Graphia. Of course, the writers played it close to the vest when asked what the audience can expect. What Roberts did say was that dealing with the timeline for the episode proved to be tricky.
"The toughest part was to try to fit—not giving anything away—the 1968 and 1746 story. There are a couple of characters that will pop up that you might know," he said. As a writer, he was tempted to expand the new characters' story, but "Ron kinda kept the reins on that, because it's not their story. It's obviously Claire and Jamie's story. [There's] a little sprinkle of these two characters, and we move forward with them next season."
Book purists might need to steel themselves, however, because we got the sense at the panel that the Outlander writing team has a few surprises for the finale. "I think you'll be happy to see some things that you're not expecting to see," Graphia said. And favorite moments, "will be delivered in a different way, because we like to keep you guys on your toes."

Breaking Down "Faith" with Writer Toni Graphia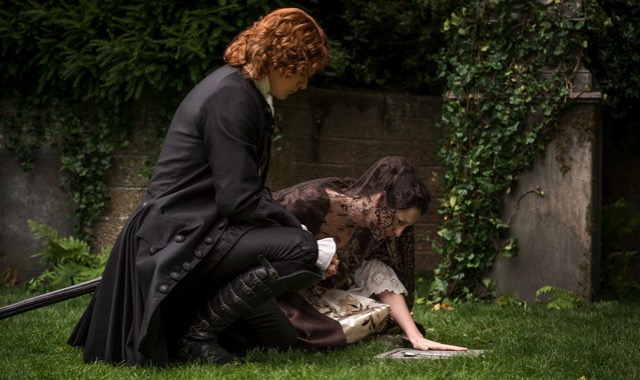 During the Outlander panel, Toni Graphia was asked about writing the powerful and heartbreaking episode, "Faith," for Season Two. In one hour of television, viewers watched as Claire miscarries her baby, judges the Comte (Stanley Weber) and Master Raymond (Dominique Pinon) in a sorcery trial and sleeps with the King of France (Lionel Lingelser) to free Jamie from the Bastille. Oh, and if that weren't enough drama, she also finds out the reason Jamie broke his promise not to duel Black Jack: Randall had raped their foster son, Fergus (Romann Berrux).
Graphia revealed at the panel that the episode was originally titled, "His Majesty's Pleasure," and focused on the Star Chamber and Claire sleeping with the king. Paste spoke with Graphia a few days after the event so she could elaborate further on the emotional episode and Balfe's performance.
Long before the writers started on Season Two, someone spoiled the fact that Claire had slept with King Louis. "I thought it was a joke," Graphia said. Since she's one of the writers that doesn't read ahead in the book series, she spent a year wondering how Claire could have possibly gotten to that point. "And so I was just blown away by this juxtaposition of this sadness, and poignancy and grief of losing the baby. Then Claire having to go from being a woman who has lost this child, to steeling herself to do this thing and rescue her husband, who's the guy she's most angry at right now.
"That's what drew me—the emotional boomerang and how an actress and a character would tackle that."
There was deliberation in the writers room about breaking the episode in two, with one focusing on losing the baby and the other on rescuing Jamie. But Graphia felt that they "went together organically, because it's [Claire's] journey and what she has to go through to reconnect with Jamie."
She also felt strongly that the episode should end at the graveyard with Jamie and Claire mourning the loss of their daughter, together. It's the first time in the episode that the couple touches, and Graphia said that "it was a conscious decision to have them take each other's hand at the grave." In a previous draft, "Faith" ended with the couple back at Lallybroch in Scotland, but these scenes that were eventually used in the opening of the next episode, "The Fox's Lair."
"You can't go from the emotional power of that episode and the graveyard to digging potatoes," she said. "I was never so happy to have something cut from my episode. Normally you fight to keep every scene in your episode."
Many of the episode's most harrowing and traumatic moments rested on Balfe's shoulders, and Graphia didn't mince words when asked about how she felt about the performance: "That was really the thrill—of maybe a whole career—because I've never seen an actress take any material and elevate it the way she did in that episode.
"The nuances all come from her, and she's just genius," Graphia added. "I don't know how I'm going to work on any other show again, ever, because there just won't be anybody like her."
The Outlander finale airs July 9 on Starz.
---
Christine N. Ziemba is a Los Angeles-based freelance pop culture writer and regular contributor to
Paste
. You can follow her on Twitter or Instagram.