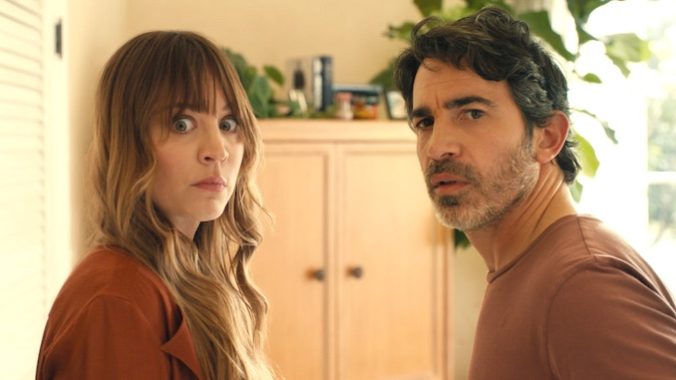 When the premise was first announced for Peacock's dark comedy thriller Based on a True Story, you might have thought: "That sounds a lot like Only Murders in the Building." And, on the surface, you wouldn't be wrong—how many shows can really be made about a couple of true crime podcast fans that turn a local murder into a show of their own? Well, in its eight-episode run, Based on a True Story more than makes a case for its existence, and cements itself as your true crime obsession for the summer. 
Based on a True Story, from The Boys' Craig Rosenberg, follows realtor Ava (Kaley Cuoco) and former tennis star Nathan (Chris Messina), a couple living in LA and struggling to make ends meet in the midst of their failing marriage—all with a baby on the way. However, when a serial killer begins tormenting the LA area, Ava and Nathan decide to take advantage of America's obsession with murder and exploit their community's woes for a podcast. Their idea to make their podcast stand out amongst the many true crime shows flooding the internet? They aim to get the killer on their show, and make them explain why they do what they do. What follows is a series that skewers America's obsession with true crime and our tendency to immortalize serial killers, and blends dark comedy and unshakable tension to create a high-anxiety series that is an impossible binge to put down. 
This series, more than anything, is eight episodes of heart-pounding tension, bleak dark comedy, and pitch-perfect lampooning of the true crime industry. Cuoco and Messina are wonderful together, anchoring the series' more outlandish moments to the chemistry and bond between their characters. As Ava and Nathan fall further and further down the rabbit hole and into more and more dangerous territory, it's easy to root for them, even when they're forced to do despicable things. It's difficult to talk about this show without getting into spoiler territory, but it's safe to say that the performances are killer, and the twists and turns taken throughout the season showcase a deft of storytelling that makes every shake-up feel both unexpected and somehow still perfectly fitting for this show. In that way, Based on a True Story feels like a sister series to Cuoco's Max hit The Flight Attendant; both series share the unshakable tension, the lovable but deeply flawed central characters, and the incredible fantasy sequences. If nothing else, Based on a True Story is a love letter to the human condition, wrapped in a horror-homage, and contrasted by the absolute worst humanity has to offer. 
While the Only Murders comparisons aren't unfounded, they are pretty far off-base once Based on a True Story moves towards its central thesis. Instead of following two charming old men and their equally charming (if more hip) younger friend scrappily solving a murder through the power of podcasts and friendship, this series goes right for the jugular when examining America's obsession with murder. In this show, murder is sexy, serial killers are idols, and the podcasts we consume are merely for our own sick enjoyment—no matter how much we pretend it's all in honor of the victims. This show pulls no punches, lampooning the industry that has been built on the backs of human pain and suffering, all through its two leads, who battle back and forth about the sanctity of their own souls when partaking in its cruel churn. Even if the idea of working with and protecting an actual serial killer to get huge Spotify podcast deals never comes to fruition in our very real true crime industry, it's easy to see the deal Ava and Nathan make to amplify the voice of a killer as a metaphor for what shows like My Favorite Murder give these killers—immortality in exchange for millions. The sister duo from Based on a True Story's fictional Sisters in Crime podcast feel emblematic of exactly who this industry serves as well: affluent white women who these tragic events likely will never touch. However, there is a nuance to this series' discussion of true crime and those that love it and profit off of it; Ava and Nathan's trip to CrimeCon exposes all sides of the industry—from the Ted Bundy bottle openers to the hungry-for-a-hit TV writers to those that perhaps genuinely feel they're bringing some kind of justice to the victims of violent crime. 
With that being said, Based on a True Story does become a victim itself of the seemingly unavoidable non-ending that streaming shows might as well be required to have. The series runs eight half-hour episodes (the first episode is the only one that goes over the 30-minute mark), but its final three outings feel like a downward spiral that goes a little off the rails. It's difficult to see the ending as anything other than a mid-season cliffhanger, but the threads that it does tie-up are done well enough to make its somewhat incomplete ending little more than an annoyance. There is plenty more story to tell here, and I can only hope that they will get a chance to in a potential second season. 
If you love true crime, you'll love this show; if you hate true crime, you'll love this show. Based on a True Story is perfect for anyone who misses the excellent Flight Attendant, or who just wants to fill the Only Murders-murder-podcast-show-shaped hole in your heart this summer. The show is compelling, has something interesting to say, is funny in the bleakest of ways, and is just downright addicting. Cuoco and Messina will have you hooked from the very beginning, and the bonkers and brilliant twists and turns will keep you hanging on to the bitter end. Tom Bateman, Priscilla Quintana, and Natalia Dyer all shine in supporting roles, where each has something different to offer the series as it skewers all aspects of the true crime industry, the LA lifestyle, and the lengths we all will go to achieve our dreams. It's brutal, it's hilarious, and it's so well done. In a June stacked with returning series premieres, Based on a True Story is a new show absolutely worth latching onto. 
Based on a True Story premieres with all eight episodes June 8th on Peacock. 
---
Anna Govert is an entertainment writer based in middle-of-nowhere Indiana. For any and all thoughts about TV, film, and the wonderful insanity of Riverdale, you can follow her @annagovert.
For all the latest TV news, reviews, lists and features, follow @Paste_TV.