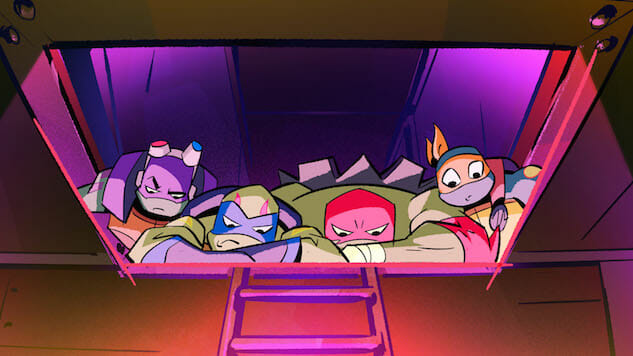 I missed the pizza-box-in-a-sewer boat on the Teenage Mutant Ninja Turtles, so I don't have any connection to or nostalgia for the surreal cartoon team, but thanks to Nickelodeon's new animated series, Rise of the Teenage Mutant Ninja Turtles, I don't need one. I may not be overly familiar with Raphael (Omar Benson Miller), Leonardo (Ben Schwartz, whose standout voice work taps into his cocky charisma), Donatello (Josh Brener), or Michelangelo (Brandon Mychal Smith)—who fight alongside their best friend, April O'Neil (Kat Graham), and their couch potato dad/mentor, Splinter (Eric Bauza)—but Andy Suriano and Ant Ward's modern take on the oddball 1980s superheroes/terrapin party animals is so instantly singular that I got the gist of the maximalist cartoon without needing a lot of background knowledge.
After a pilot that kicks off with the team obtaining new, magical weapons and facing down an evil that has mutated much of the city (à la Static Shock or The Flash or, well, a lot of superhero shows), the goofball brothers have to learn to work together and navigate their newfound powers in order to stop some nebulously bad dudes with a similarly tenuous connection to their own origin. That's not even half as crazy as some of the stuff happening in the Arrowverse, so adults shouldn't scoff at the show's plotting—even if it takes an energetic eye to take in everything Rise of the Teenage Mutant Ninja Turtles throws at you.
The show's slimmer, less smooth and rounded take on the turtles makes it a blast to watch while really conveying the "teenage" part of the title. Its wildstyle graffiti and manga-influenced look, with jagged lines and bright secondary colors, give it a flavor that's definitely oriented towards the cool kids. The chunky elasticity with which the characters move (not like rubbery Looney Tunes or Mickey Mouse characters, operating by the logic of a garden hose, but like the geometric vibrancy of Keith Haring) gives the show a truly urban vibe: This is New York just like Daredevil's New York is New York. It's constantly moving, evolving, and absorbing influences. That artistic sense of place carries over to the weirdo mystical worlds where the team's villains hang, which take from more dystopian cartoons like Samurai Jack, with a healthy dose of Miyazaki-esque organic architecture thrown in for good measure.
These excellently designed baddies include the new leader of the Foot Clan (in place of Shredder), Baron Draxum (John Cena), a mantis repo man, an animatronic bear, an earthworm news anchor, a Hypno-Potamus (Rhys Darby), and a mutant woodchuck that fosters puppies. The series also promises the incredibly named Meat Sweats (voiced by none other than the Sex Pistols' Johnny Rotten) and Big Mama (Lena Headey) down the line, which can only amplify the the inventive episodes with their ridiculous motives and abilities. At least, that's what we can infer thanks to the origami-based episode focused on the Foot Clan, which features tons of papery plot and exciting combat—all building a fleshed-out world of relatively benign villains for the TMNT crew to stop.
The written jokes are sometimes a little too motormouthed, silly, and trendy to stick (using "pro tip:" to lead off a zinger, for instance), but the ad-libbed, punch-up punch lines added whenever the team is jabbering among themselves contain a few "Did I hear that right?" gems sure to catch the ear of parents in the same room as their kid. Overall, the show taps into the right amount of self-awareness to balance dialogue both clever and characterizing, though with only a fraction of the show's first season released to press before its premiere, it's hard to say whether the turtles—written as kids—will see any sort of growth over the course of the show.
With that same basic plot structure—teen gets powers, must learn to grow up/use them responsibly—as the basis of every superhero show on TV, it's a little refreshing not to need to care about these rascals losing their bouncy eccentricity. With a villain-of-the-day format providing plenty of outrageous antagonists for the heroes to combat with quip and blade, Saturday mornings (that's when they air cartoons still, right?) have somehow made me care about yet another rebooted franchise. And if I spite the fluffy series a little bit, so be it: It's just too much fun to ignore.
Rise of the Teenage Mutant Ninja Turtles premieres Monday, Sept. 17, at 6:30 p.m. on Nickelodeon.
---
Jacob Oller is a writer and film critic whose writing has appeared in
The Guardian, Playboy, Roger Ebert, Film School Rejects, Chicagoist, Vague Visages,
and other publications. He lives in Chicago, plays Dungeons and Dragons, and struggles not to kill his two cats daily. You can follow him on Twitter here: @jacoboller.