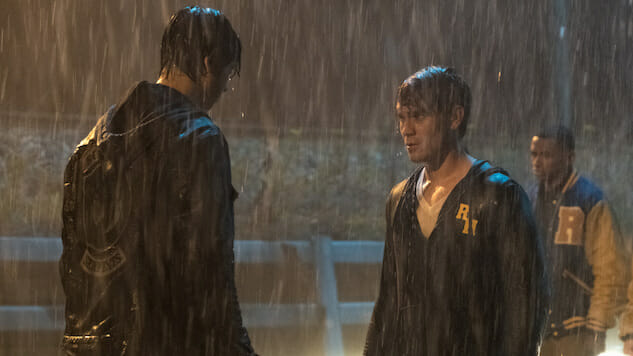 In Riverdale's Season Two premiere, after the as-yet-unmasked marauder known as the Black Hood guns down Fred Andrews (Luke Perry), his beautiful lunkhead of a son, Archie (KJ Apa), frets over his father in a hospital waiting room. The gang's together, for what turns out to be one of few such occasions in series' exasperatingly dour sophomore run: His girlfriend, Veronica Lodge (Camila Mendes); his neighbor, Betty Cooper (Lili Reinhart); and his longtime pal, Jughead Jones (Cole Sprouse), the last tasked, as usual, with commenting on the proceedings—and so explaining how The CW's teen soap lost its fine Season One form. "If you keep this up, you're gonna need a superhero name," he says, referring to Archie saving his father's life and Cheryl Blossom's (series MVP Madelaine Petsch) in quick succession. "Like Pureheart the Powerful."
As if to fall in line with the network's caped crusaders—Arrow, DC's Legends of Tomorrow, Supergirl, The Flash—Riverdale, developed by Roberto Aguirre-Sacasa from the Archie Comics, has misspent an inordinate amount of time this season trying to transform the dullard at its center into a sort of late-adolescent Punisher. In this vein, Veronica describes Archie's tale of taking responsibility through dog ownership as "the cutest origin story ever"; his bunch of buff high-school vigilantes, The Red Circle, cribs its name from a comic book; the Black Hood himself, the self-styled redeemer of Riverdale's sins, promises a purifying "bloodletting" that screams supervillain as much as it does serial killer. Archie even has his own Alfred: a bespectacled figure named Dilton Doiley (Major Curda), procuring a pistol for his simpleton liege before slinking back into the shadows.
Of course, Riverdale has always featured a dizzying array of genre influences: I described the first season as "Twin Peaks [meets] Gossip Girl with a comic book kiss," and I meant it as high praise. The problem with this approach is the delicate balance it requires, which Archie's heroics (and the dreadfully half-baked Serpents-versus-Ghoulies subplot, and the fast-abandoned "Dark Betty" arc, and the reduction of Marisol Nichols' Hermione Lodge to a nagging Mommie Dearest muttering "Mija!" every time Veronica opens her mouth) disrupt to such an extent that the only reasonable response is to quote The Dark Knight: "Why so serious?" Riverdale, as it happens, is not a series that benefits from the mirthless influence of Christopher Nolan's trilogy—or, for that matter, most Marvel and DC adaptations to appear in recent years. After all, this is the series that made Jason Blossom's memorial service into his poison-tongued twin sister's jaw-dropping one-woman show. (Tag yourself: I'm Casey Cott's Kevin Keller whispering "Yes!" as she marches toward the casket in wedding-day white.) Riverdale's debut season succeeded because the series used its "Who Killed Laura Palmer?"-esque mystery as kindling, there to set alight the real drama on screen—schoolyard sniping, not-so-innocent flirtations, and most especially the delicious excess of its aesthetic, from Cheryl's preposterous wardrobe to the neon glow of Pop's Chock'lit Shoppe.
In the "living nightmare" of Season Two, as Jughead describes the Black Hood's campaign of terror, the colors become almost as dim as Archie Andrews: In the dingy gray halls of Southside High, along darkened lanes and in Serpents' lairs, by firelight and flashlight and no light at all, Riverdale absorbs the murkiness of the dominant "superhero" style, and so loses its trademark bite—not to mention its sense of humor. There are exceptions, I'll admit, brief glimmers of the Riverdale I fell so hard for: Burn victim Penelope Blossom (Nathalie Boltt) wearing a black turban over her bandages; Cheryl in red hot pants, playing flag girl at a drag race; Alice Cooper (Mädchen Amick) striding into a cocktail party in a plunging, snakeskin-patterned romper with attached cape; Veronica eating a chocolate croissant from "Bean and Beluga"; Betty reading The Silence of the Lambs; Kevin—sweet, cruising Kevin—calling Betty's ponytail "iconic and beyond reproach." But these are no longer part of the series' scaffolding. They're shreds left behind as the storm clouds move in.
Strange that Riverdale should cling so desperately to the grimmer aspects of superhero stories, with violence substituting for suspense and darkness meant to suggest the characters' complications—for it reads, in stretches, as stridently moralistic, from the tut-tutting at Kevin's late-night encounters in the woods (he eventually relents and downloads Grindr) to the panic over the party drug "jingle jangle" (which, besides being absurdly named, has thus far been a cudgel to beat against the mangy Southsiders dealing it, and not the affluent Northsiders buying it). The series can still carry off this season's curious obsession with small-town sins—it's certainly promising that Betty, the upstanding investigative journalist, has done more to close in on the Black Hood than the dopey vigilante across the street—but it's already come at the cost of its formerly glittering side-eye at anything resembling solemnity.
Don't get me wrong. Riverdale, even this far from the height of its powers, still has its moments: Tonight's episode, at once the season's most ambitious entry and its most entertaining, made me say "Daddy" aloud to myself. (Just wait, it's worth it.) But I fear its concern with crime and punishment, with the guilt that always seems to accompany sin, has made it so grave, in form as in function, that saving it from itself demands a super-heroic effort of its own. At its most pleasurable, the series cares not a whit for Purehearts and Punishers, but instead recalls Cheryl's half-loving, half-nasty remark about Kevin, setting out on another "run" in the woods: "Oh, Kevin," she says, as if to describe the Riverdale that first earned my affections. "You precious, beautiful, compulsive piece of trash."
Riverdale airs Wednesdays at 8 p.m. on The CW.
---
Matt Brennan is the TV editor of
Paste Magazine
. He tweets about what he's watching @thefilmgoer.