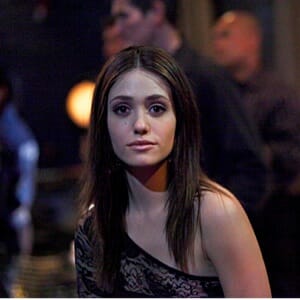 In the best episode so far of Showtime's new series, Frank's wife, Monica (Chloe Webb, who played Nancy in Sid and Nancy), shows up when Frank's attempt to trick her into co-signing for a phony injury settlement fails.
A suspicious Debbie does a little detective work to learn more about Steve's real life. She meets his wealthy mother (Julia Duffy) whose brief, comic performance will hopefully lead to a lot more screentime. (She was always great as the snooty Stephanie in the old Newhart show from the 1980s.) Debbie promises to not yet tell Fiona when Steve reveals he's bought a house for her and the family.
Perhaps because of her own suspicions, Fiona comes on stronger than usual to Steve.
A white social worker with a black, "lower Eastside" accent brings Ethel's baby to her for a visit. Kev wants to have the baby stay with Ethel and them for the duration of the foster arrangement. But the worker's vernacular is seriously irritating V.
Eddie tries to mend his relationship with his daughter Karen, and it shows signs of working. Surprisingly, Sheila even allows him to have his Promise Keepers meeting at the house (which Frank interrupts, stinking of vomit). Karen begins to soften when Eddie says he'll give her the car.
Kash catches Ian doing the dirty deed with Mickey in the store and later ends up shooting Mickey in the leg for stealing a candy bar. The Kash-Ian storyline is starting to get tired.
Frank creates an elaborate but entirely faulty plan to get Monica's signature on the papers at a local grocery store. Monica—with help from her aggressive girlfriend Roberta who drives a hulking Peterbilt—spots Frank, who then jumps in a car with Kev and they are chased back to Sheila's house where fireworks fly. Little Debbie is at the house and shoves an open-armed Monica as she walks by.
When Debbie gets to the Gallagher house to tell them the news, the family has gathered around in a quality-time moment to watch Carl Sagan's Cosmos. (Really.) By the time they get to Sheila's, everyone knows mom is back. Half the kids don't want to see her and half seem glad to have her. But when Monica and Roberta speak of taking the youngest, Liam, emotions really flare. Fiona lets Monica have it in an Emmy-worthy performance from Emmy Rossum and finally walks out—on everybody. Steve tracks her down on a snowy street and she asks to be taken to the house he bought.
Lip sums it up best: "You know how dad's a total fucking asshole? Turns out he's the good one."