If television shows are great (and they are!), then logically, the only thing better should be television shows within other television shows. Whether it's shows that characters appeared on, or shows that characters regularly watched, the best are ranked here, with their prominence in the show counting alongside their premise. Shows where the fake television show is essential and part of the day-to-day will rank higher than shows that appear in only one or a few episodes. Notably, I leaned against taking programs that were just straight fictional versions of the news, so apologies to The Mary Tyler Moore Show and The Newsroom.
1. Show: 30 Rock. Show-within-a-Show: TGS with Tracy Jordan.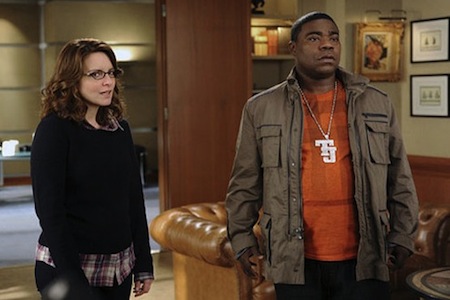 Liz Lemon's struggling Friday night variety show was changed forever when executive Jack Donaghy forced her to add troubled silver screen star Tracy Jordan to combat flagging ratings, even though Jordan didn't hold much appeal to the mostly female audience of The Girlie Show. TGS only got on air to begin with after the network believed it needed a quick female-friendly response to the scandal which followed its airing of controversial program Bitch Hunter. Memorable TGS sketches include "Gaybraham Lincoln," "Barack A-Llama," "Who Wants to Eat a Dictionary?" and "Black Lance Ito," among many others. While 30 Rock revolved around TGS, several other fake NBC television shows made appearances, including MILF Island, Gold Case and Queen of Jordan.
2. Show: The Simpsons. Show-within-a-Show: The Itchy and Scratchy Show.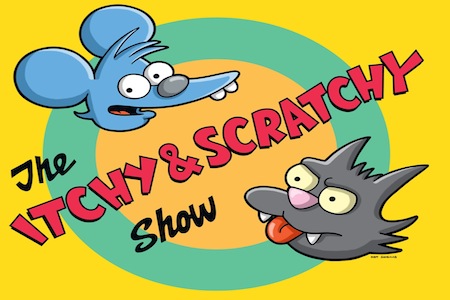 The Simpsons featured many, many fake television shows over its run, including one-timers like Night Boat, When Animals Attack Magicians and recurring shows like Eye on Springfield. The best and most enduring of these is The Itchy and Scratchy Show, even more so than The Krusty the Klown Show on which it appears. Itchy and Scratchy are a demented, ultra-violent Tom and Jerry, and classic Simpsons episodes see the kids write for Itchy and Scratchy and the whole family go to amusement park Itchy and Scratchy Land. There are too many classic Itchy and Scratchy episodes to count, but my favorite may be the one featuring Quentin Tarantino talking about how "violence is everywhere in our society; you know, it's like even in breakfast cereals, man" before Itchy chops his head off.
3. Show: Seinfeld. Show-within-a-Show: Jerry.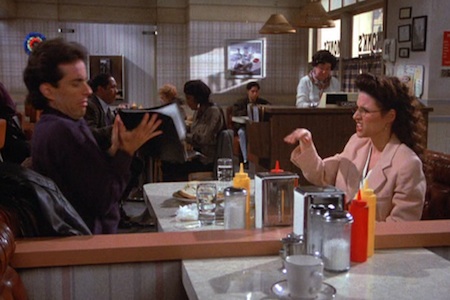 Meta before meta was cool, comedian Jerry Seinfeld's character, comedian Jerry Seinfeld, was given the opportunity to create his own show. He pitches it to NBC executives as a show about nothing, and it eventually becomes Jerry. Jerry stars actors portraying Seinfeld characters George, Jerry and Elaine, including a before-he-was-famous Jeremy Piven as George. The show airs once and then fails, but is later shown to a couple of Japanese television executives. Jerry offers a confusing lesson about the American legal system to the Japanese, as someone responsible for causing an auto accident with Jerry is required in court to become Jerry's butler when he can't afford to pay for damages. The strange judicial outcome also leads to the show's most memorable line, the poorly acted and overdramatic, "Because he's my butler."
4. Show: The Larry Sanders Show. Show-within-a-Show: The Larry Sanders Show.
The Larry Sanders Show belongs to a select class of show on this list in which the show and the fictional show share the same name. Garry Shandling starred as fictional late night host Larry Sanders in this breakthrough ahead-of-its-time HBO comedy. Sanders created the show instead of taking up an offer to host an actual late night show, which he had experience with as a regular guest host of The Tonight Show in the late '80s. Real guests appeared as exaggerated versions of themselves on the show. Rip Torn plays his producer and a pre-Arrested Development Jeffrey Tambor played his sidekick. Video cameras cleverly recorded the show within the show to make it stand apart from the behind-the-scenes shots visually.
5. Show: Community. Show-within-a-Show: Inspector Spacetime.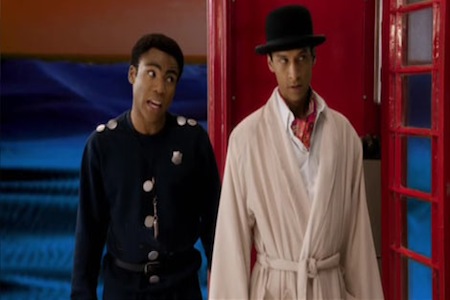 Community features several fictional properties, including movie series Kickpuncher and the brilliant British Cougarton Abbey. The most frequently appearing fake show is the Doctor Who parody Inspector Spacetime. Troy and Abed were diehard fans, and the show's most prominent appearance was in the third episode of the Dan Harmon-free fourth season, "Conventions of Space and Time," where the gang ventures off to an Inspector Spacetime convention. The best fictional show in Community is actually even fictional within Community, the invented morning show Troy and Abed in the Morning, which featured in many a Community post-credit sequence.
6. Show: Home Improvement. Show-within-a-Show: Tool Time.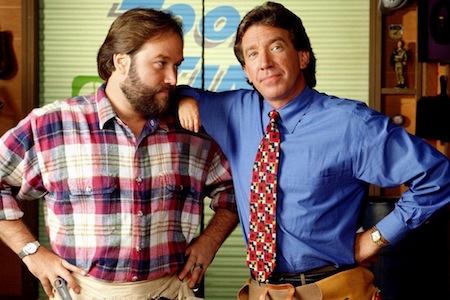 Tim Allen's Tim Taylor makes his career as host of the local, fairly low-budget home improvement program Tool Time. Tool Time also features his sidekick Al Borland and a Tool Time girl, which was first Lisa and then later Heidi. Every episode begins with the signature, "Does everybody know what time it is?" and the show is sponsored by fictional tool company Binford. Particularly popular episodes focused on a man's take on different rooms, including the man's kitchen and bedroom. Considering his professional incompetence and disinterest in safety equipment, it's fair to wonder whether viewers actually tuned it for home improvement advice or to see what damage Tim would inflect upon himself next.
7. Show: Sports Night. Show-within-a-Show: Sports Night.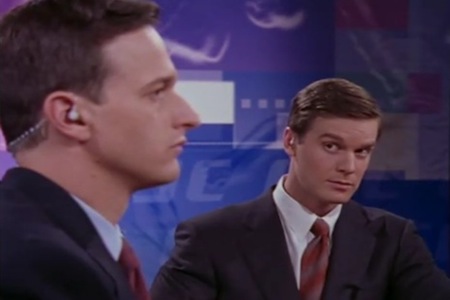 The line is ever-so-thin between including a fictional sports highlight program and not including a fictional network news program, but I'm drawing the line there nevertheless. Sports Night has developed a cult following over the years, airing for only two seasons but best known as the first TV home for Aaron Sorkin's patented repetitive, snappy and ultra-literate dialogue. Peter Krause and Josh Charles, who would both continue to appear on successful shows as recently as this past year, played anchors Casey McCall and Dan Rydell, respectively. Sports Night, like another Aaron Sorkin program appearing later on this list, is blatantly based on an existing show. The analogues between the characters and real life SportsCenter equivalents are clear: McCall and Rydell are modeled after legendary duo Dan Patrick and Keith Olbermann.
8. Show: South Park. Show-within-a-Show: The Terrance and Phillip Show.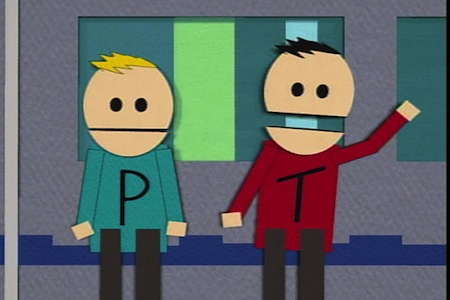 The boys of South Park frequently watch The Terrance and Phillip Show in the early years of the series. Terrance and Phillip are a Canadian comedy duo (full names Terrance Henry Stoot and Phillip Niles Argyle) and served as a meta-commentary on complaints about South Park. People claimed South Park was poorly animated and nothing but fart jokes, so creators Trey Parker and Matt Stone gave the people what they wanted in the form of Terrance and Phillip. The duo would go on to have an important role in the South Park movie, as they indirectly lead to a war between Canada and the U.S.
9. Show: Entourage. Show-within-a-Show: Five Towns.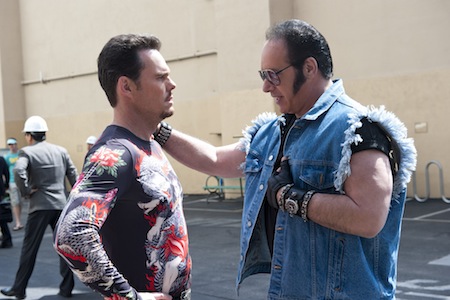 While Entourage protagonist Vinny Chase is a movie star, his half-brother and fellow actor Johnny Drama is relegated to TV. There are actually several shows that Johnny works on before and during the series, but the Ed Burns-led Five Towns is the most prominent during the show's run. Five Towns is presumably based in the towns known by that moniker on Long Island. "Not in my town! Not in any of my five towns!" is as close as Johnny gets to a memorable line of dialogue in the show, comparable to Vinny's better remembered "I am Queens Boulevard!" Prior to the events of Entourage, Johnny is best known for his role in the cult series Viking Quest, and is oft heard screaming his catch phrase, "Victory!," while towards the end of Entourage he voices a character on the animated Johnny's Bananas.
10. Show: Parks and Recreation. Show-within-a-Show: Pawnee Today.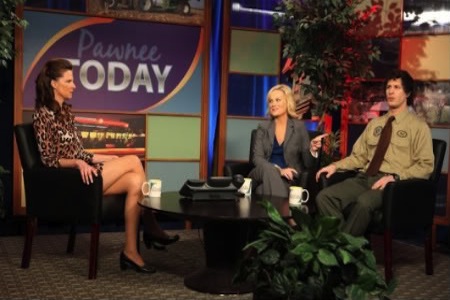 Pawnee has an astonishingly vibrant local television scene for a relatively small town in Indiana. This includes several shows featuring the wonderfully incapable-of-irony Perd Hapley, with Ya Heard? With Perd!, The Final Word with Perd and Lights, Camera, Perd. But the show featured most frequently is Pawnee Today, hosted by narcissistic diva Joan Calamezzo. Leslie Knope frequently appears on the program to try to create positive PR for her programs or handle damage control in one of the many scandals she faces.
11. Show: Full House. Show-within-a-Show: Wake Up, San Francisco.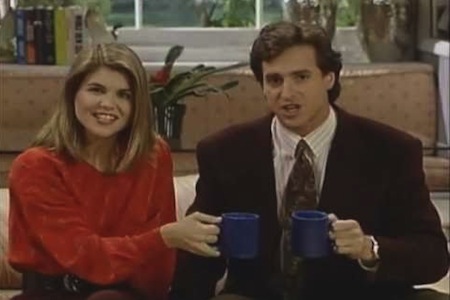 Danny Tanner, widowed father of three, professionally co-hosts a popular bay area local morning show called Wake Up, San Francisco. The show was cohosted by Rebecca Donaldson, formerly of A.M. Omaha. She was not originally intended to be a main character, but her role was expanded, and she would eventually marry Danny's brother-in-law, Jesse Katsopolis. Others who briefly filled in as co-hosts included Danny's other brother-in-law, stand-up comic Joey Gladstone, and Danny's one-time fiancé Vicky Larson.
12. Show: Murphy Brown. Show-within-a-Show: FYI.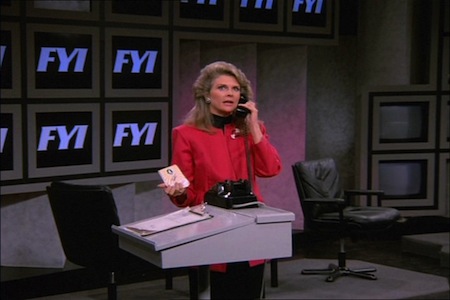 FYI was the newsmagazine where Murphy and her colleagues Jim, Frank, and Corky all worked. When Murphy returns in the first episode from rehab, she's shocked and appalled to find the show now under the control of young hot shot producer Miles Silverberg, though they manage to work together despite her initial trepidation. FYI covered real-world events, including Dan Quayle's famous comments about Murphy Brown's role as a single parent.
13. Show: Ugly Betty. Show-within-a-Show: Vidas de Fuego.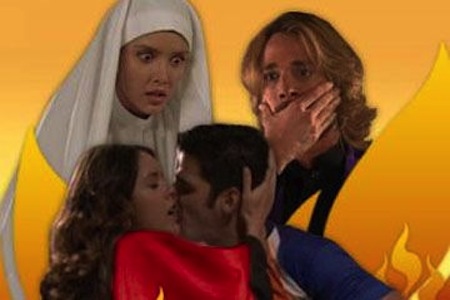 Vidas de Fuego is a fictional telenovela within the Ugly Betty universe, of which several clips were actually filmed. The clips were filmed in Mexico and star Mexican telenovela actors. The show revolves around the wealthy cattle ranch of the Rivera family—think a Mexican take on Dallas. Plotlines include a maid and a priest who are lovers and a soccer player being seduced by his stepmother.
14. Show: The Good Wife. Show-within-a-Show: Darkness at Noon.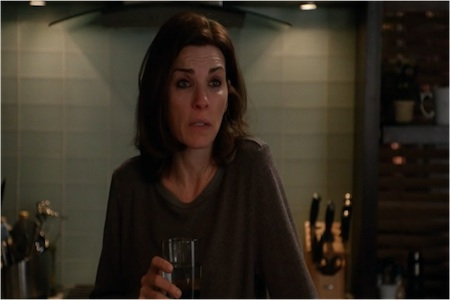 Darkness at Noon is a sort of faux prestige drama that Alicia watches with Grace, possibly based on the short-lived and much maligned Low Winter Sun. Dialogue includes such nonsense as "There's crossing lines and then there's crossing lines." It doesn't necessarily say a lot for the quality of the program that Alicia expresses that she's likely to understand it better after having some more wine.
15. Show: Studio 60 on the Sunset Strip. Show-within-a-Show: Studio 60 on the Sunset Strip.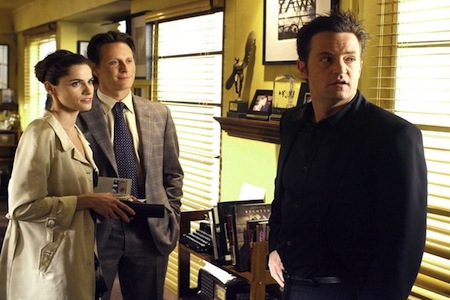 If Sorkin's first entry on this list, Sports Night, was poorly watched but remembered as Sorkin at his best, Studio 60 was equally poorly watched, but remembered as Sorkin at his worst. Studio 60 was essentially another Saturday Night Live, and the story follows the writers, directors and actors. The most fatal of Studio 60's flaws was how bad the actual skits from the show were, especially in contrast to how they were perceived on the show. The show was crazily hyped due to Sorkin's name and the star power involved before its debut, but quickly faded behind 30 Rock.