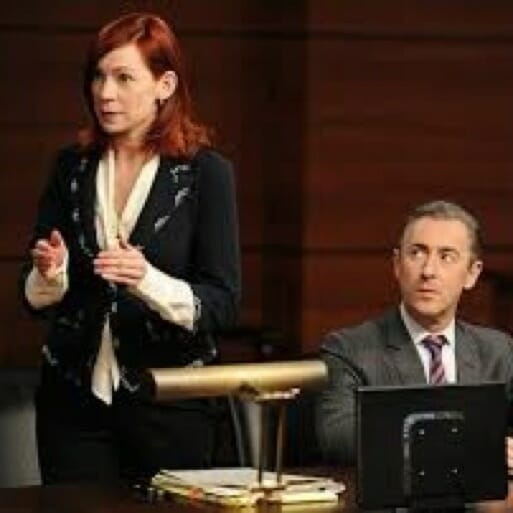 The Good Wife is known for spinning gold from its seemingly endless cadre of guest stars. After being off for several weeks, the series returned with a bevy of familiar faces in key roles (Look, there's S. Epatha Merkerson as a judge!). And some of the guest stars shined. I'll never grow tired of Carrie Preston's fabulous Elsbeth Tascioni. If I was ever in trouble, I would want her brilliant mind on my side. And the chemistry she shared with Kyle MacLachlan's Josh Perotti was a hoot. I particularly loved when she rejected him at the end of the episode. While I never had any doubt that Elsbeth would win Eli's case against the Justice Department, it was so much fun to see how she succeeded.
However, two guest star turns really dragged down "Going for the Gold." T. R. Knight's Jordan Karahalios continues to not work. Just because you wear a hooded sweatshirt doesn't make me believe you're a political wunderkind. Someone suggested to me on Twitter last night that perhaps Jordan is a mole for the other side, which would certainly make him a more interesting character. But Jordan's presence did highlight the show's other great love story—the one between Peter and Eli. Peter knows he needs Eli to win, and the scene at the end of the episode was quite touching. "Unpack all that crap and let's get to work," Peter tells him.
Lily Rabe's return as debate moderator Petra Moritz was a bit odd. We last saw Petra in an April 2011 episode when she was the journalist who knew that Peter was trying to hide his one-night stand with Kalinda from Alicia. But there was something vaguely flirtatious about her moderation of the debate (and what was up with her tousled hair?). I get the vibe Rabe was going for, but that's not how a professional journalist would behave during a debate, is it? Maybe it's because Rabe just completed a terrific turn on American Horror Story, but I half-expected for Petra's head to spin around because she's possessed by the devil. The debate between Peter and Maddie Hayward (Maura Tierney) was great, and I cannot wait for Matthew Perry's return as Republican candidate Michael Kresteva. He's back on March 24.
Back at the firm Alicia and Will both have a cold—a result, we presume, of their shared kiss in the last episode. The two have a veiled conversation in the elevator (on The Good Wife, the elevator is the best place for romantic liaisons) and they both agree they're not going to act on their mutual attraction. Later we see Alicia buttoning up after a little afternoon delight with Peter, and Will is flirting up a storm with Laura Hellinger (returning guest star Amanda Peet). So Will and Alicia's feelings may be on the back burner for now, but how long can they stay there? By the way, I really like Peet and am glad she's back on the show, but Laura Hellinger seems like a completely different character than when we first met her. Now Peet seems to be playing her character from Studio 60 on the Sunset Strip.
For the first half of the season, I complained early and often that Cary wasn't getting enough of a storyline. The Good Wife is making up for it now. There was already tension since Alicia made partner and Cary did not. Diane tells Alicia she must cut Cary's billable hours. At first Alicia cuts her own, but that doesn't fly with Diane. "It is galling to them and it is galling to me," she tells Alicia. Did Cary's billable hours really need to be cut or was Diane simply testing Alicia? I'm not sure, but Cary's not happy and a not-happy Cary can only make for a more interesting show. Although I must confess, I will miss the friendship that was developing between Alicia and Cary.
This was the first of five new episodes. Practically every guest star you saw last night will be back soon. In addition to Perry, March will also see the return of Cary's dad (John Shea), Alicia's mom (Stockard Channing), Colin Sweeney (Dylan Baker), Kurt McVeigh (Gary Cole) and Isobel Swift (Morena Baccarin). Let the fun begin.