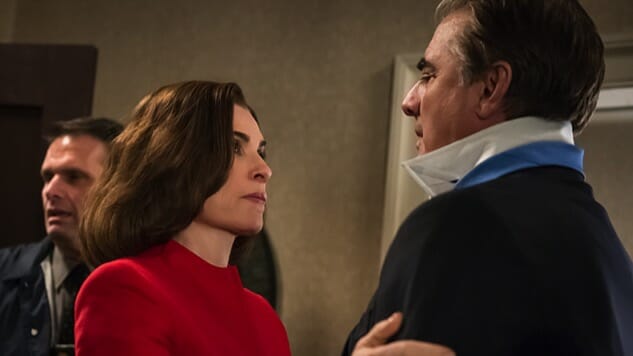 Look I've enjoyed NSA frat boys and their obsession with goat videos more than the average viewer. They've kind of consistently amused me. However, with only four precious episodes left, did we need to revisit them AGAIN? I don't think so.
But here we were with Jeff Delinger trying to get back into the United States for his mother's funeral and being detained by Homeland Security. Alicia and Lucca fly to Toronto to represent him and we get some classic Good Wife shenanigans, like the judge who has to be referred to as "Your Worship," and the airport intercom constantly interrupting her. Through the proceedings Alicia learns that she is responsible for the leak from the top secret committee she was on a few months ago. But she only seems mildly concerned that the NSA has been listening to her phone calls. The show also gets a dig in at Canada by implying that Canada's Communications Security Establishment (CSE) similarly eavesdrops on phone conversations and has equally juvenile agents listening to the calls. The whole storyline, while mildly amusing (I particularly liked Tyler asking Alicia if Grace had chosen a college yet), was really a distraction from the meat of the episode. I can only hope that this episode truly marks the end of the show's love affair with this story line.
The big news, of course, is that Peter is arrested for arranging a mistrial in exchange for campaign donations. As angry as Alicia is at him, she still, at the most basic level, cares deeply for him. She frantically finds him a tie to put on and a coat to cover his handcuffs. Cary seems to know more about the trial than he's willing to tell Jason. Does he think the crime lab lost the bullets (as he tells Jason), or does he think Peter has something to do with it? Alicia goes into autopilot mode—standing loyally by her husband and declaring his innocence to the press. Is she doing this because she made a pact with Peter that she would, if he didn't contest the divorce? Because she truly cares for him? Or is it because this is her default position and she doesn't know what else to do in the situation?
We also get a peek into Diane's private life, and she and Kurt seem very happy. Kurt wants to sell his business so he can spend more time with his wife. The only problem is he wants to sell it to a ballistics specialist who looks like Megan Hilty. The idea that Kurt wants to sell his business for 30% less than it's worth to a pretty blond Republican doesn't sit well with Diane, who completely loses her composure. The episode ends with Diane and Kurt content (he tells her he will look for another buyer) and I would have thought that's where the show would have left Kurt—as the happy devoted husband. But both Gary Cole and Hilty will be back in two weeks.
Alicia tells Jason she's getting a divorce, but that it's not because of him. These two are so reluctant to admit they have any true feelings for each other. The episode ends with Jason asking Alicia what she wants and Alicia responding, "You." But Jason wants things simple—and simple is not a word in Alicia's lexicon.
Will the show end with Alicia finally breaking free from Peter, or will she end up right where she started—the good wife standing by her husband?
Stray observations:
Last week CBS released the finale story lines for all their shows. This is the official description of The Good Wife series finale, entitled "End" and airing on May 7: "The series reaches its dramatic conclusion." Thanks CBS, that's super helpful. Also the press release lists no guest stars for the episode, which leads me to my next point.
Did you all see the news that Josh Charles is rumored to be returning for the series finale My theory? He returns in a dream sequence to give Alicia his blessing. But I don't care what story line the show comes up with to explain the return of Ghost Will. I'll just be happy to see him again.
So Peter needs an investigator who is not Jason. Could this be what brings Robyn back to the show?
I still come back to my theory that maybe Eli is the one who leaked this whole thing to the AUSA's office. Was he trying to get revenge for the whole Ruth situation?
Very nice touch having the opening sequence photo change to Peter's current arrest. I think this is the first time the show has ever done that, correct?
---
Amy Amatangelo, the TV Gal ®, is a Boston-based freelance writer, a member of the Television Critics Association and a regular contributor to Paste. She wasn't allowed to watch much TV as a child and now her parents have to live with this as her career. You can follow her on Twitter or her blog.