Meet Me in the Bathroom Sees Plans for Docuseries
Lizzy Goodman's oral history of rock n' roll in early-2000s NYC comes to life
Images via Astrid Stawiarz/Getty, Harper Collins
TV
News
The Strokes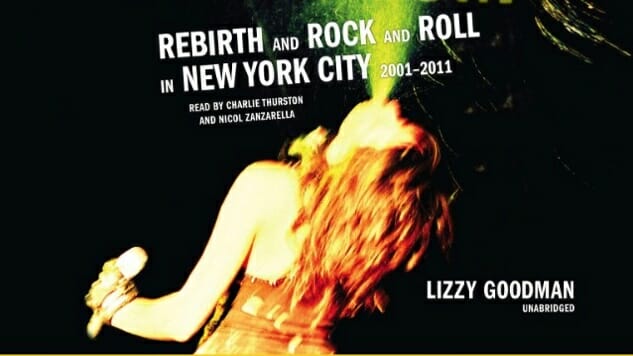 As oral histories go, there was perhaps no post-millennium moment more sexy (at least when left to the imagination) than the Is This It-era of The Strokes. According to Lizzy Goodman's book Meet Me In The Bathroom: Rebirth and Rock & Roll in NYC 2001-2011, Ryan Adams was banned from hanging out with The Strokes because he was a bad influence on Albert Hammond Jr.'s heroin habit, but that's beside the point: It was a time of intrigue, of Killers vs. Strokes, of LCD Soundsystem. Picture Moby's "South Side" a decade later wearing leather.
Read Paste's Q&A with author Lizzy Goodman about 'Meet Me in the Bathroom' and the legacy of the '00s New York rock scene.
Now, thanks to Pulse Films ,who previously produced Nick Cave's One More Time with Feeling, Arcade Fire's The Reflektor Tapes and Beyonce's Lemonade, the book will become a docuseries consisting of four one-hour segments directed by Will Lovelace and Dylan Southern. Variety reports the film will involve archive video and interviews with the biggest bands of the day, a la Lovelace and Southern's previous project Shut Up and Play the Hits, with 9/11 as a backdrop against an otherwise flourishing arts scene. It will also take in the explosion of Vice, which bought into Pulse in 2016, and resulting rise of the hipster. Dun dun dun.
In a statement, Lovelace and Southern say:
Lizzy's book captures a moment and a feeling in a way that is immediate, visceral and evocative, and those are the qualities we want to bring to the screen. Beyond being a document of a vital and exciting period of creativity in one of the world's greatest cities, bringing Meet Me In The Bathroom to the screen is also an opportunity to explore the seismic changes that have occurred in the culture since the turn of the century.
LCD Soundsystem's James Murphy and the Yeah Yeah Yeahs' Nick Zinner spoke about the book when it came out, and Goodman talked about it on Seth Meyers. If you can't wait for the docuseries (don't, and also do) you can purchase the book here. "I couldn't be more excited to work with Dylan Southern and Will Lovelace, as well as the entire Pulse Films team," Goodman said in a statement. "It's time to share with everyone else the full view of this weird, beautiful, dirty time capsule I've been inhabiting."