HBO Following The Young Pope with The New Pope, Naturally
Prayers have been answered and The Young Pope will return
Photos by Gianni Fiorito/HBO, Jeremy Chan/Getty
TV
News
The Young Pope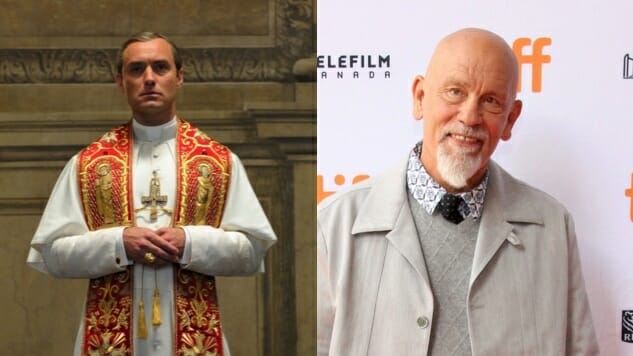 HBO's The Young Pope debuted in January of 2017 and, as the limited-run series ran its course, it became one of the oddest pieces of television in recent memory. Now, more than a year after formally announcing a sequel to The Young Pope, HBO has started sharing casting details in regard to the forthcoming series, titled The New Pope.
John Malkovich, a two-time Oscar nominee, is set to star alongside the returning star of the show's first season, Jude Law. Malkovich has been dipping a toe in television as of late with a reoccurring role in Showtime's Billions and a starring role in Amazon's The ABC Murders.
The first season of The Young Pope introduced Law's Pope Pius XIII as a fire-and-brimstone, conservative first American pontiff. The season saw his radicalism turn heads, create enemies, make friends, acquire a kangaroo and turn the Vatican on its head. In addition to Law, the first season's cast was highlighted by actors including James Cromwell, Diane Keaton and Silvio Orlando. Law earned a Golden Globe nomination for best actor in a mini-series for his role in The Young Pope.
The script for The New Pope is being written by Paolo Sorrentino, Umberto Contarello and Stefano Bises, all of whom worked on The Young Pope. Also, like the first series, The New Pope will be produced by Mario Gianani and Lorenzo Mieli of Wildside in co-production with Mediapro.
Until more is shared or known about the show, check out one of the best and most discordant scenes from The Young Pope below, revisit our review of it right here and enjoy a small selection of the many funny posts it inspired here.