Jeffrey Tambor Accused of Sexual Harassment by Transparent Actress
Photo by Astrid Stawiarz/Getty
TV
News
Transparent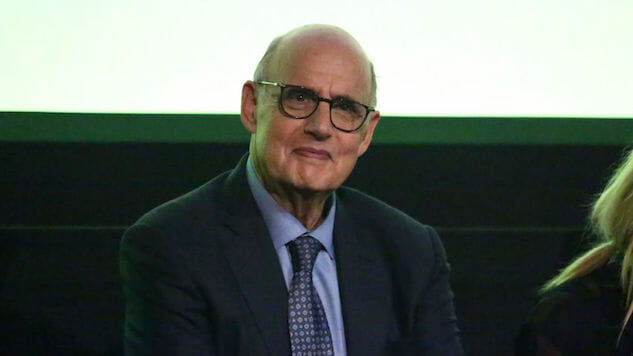 A second allegation of sexual harassment has been made against Jeffrey Tambor.
Tambor, the star of Amazon's show about a father making the transition to womanhood, was previously accused of inappropriate conduct by Van Barnes, his former assistant. This prompted an investigation by Amazon into Tambor's behavior. Now, actress Trace Lysette has come forward with details of her own experience with Tambor. While she said in a statement to THR that she had a positive overall experience portraying yoga instructor Shea on Transparent, she recalls filming one scene with Tambor that definitely wasn't positive:
In between takes, I stood in a corner on the set as the crew reset for a wide shot. My back was against the wall in a corner as Jeffrey approached me. He came in close, put his bare feet on top of mine so I could not move, leaned his body against me, and began quick, discreet thrusts back and forth against my body. I felt his penis on my hip through his thin pajamas and I pushed him off of me.
She says that before the incident, Tambor had said that he wanted to "attack [her] sexually." Lysette and the other actress present had laughed it off at the time.
Tambor also made a statement to THR, and after heaping praise on the show, he said this:
I am deeply sorry if any action of mine was ever misinterpreted by anyone as being sexually aggressive or if I ever offended or hurt anyone. But the fact is, for all my flaws, I am not a predator and the idea that someone might see me in that way is more distressing than I can express.
Lysette would beg to differ. She lived in the same house as Barnes during the filming, and recalled Barnes' experience. Both women are trans, and both said Tambor could be unpleasant and overtly sexual when talking with them. Lysette says Barnes would come home after work looking stressed, complaining about Tambor's behavior. THR found Van Barnes' private Facebook post that prompted Amazon's investigation, in which she alleges that Tambor would touch her inappropriately, berate her and make lewd comments about her. (Tambor denied those allegations, too.)
Lysette, for her part, made sure to end on a note of advice to Amazon. She wants Transparent to continue on, and she seems to agree that the correct course of action is to write Tambor's character out of the show. Lysette says that what Amazon should do is "remove the problem and let the show go on."