Tuca & Bertie Canceled by Netflix After Only One Season
Images courtesy of Netflix
TV
News
Tuca & Bertie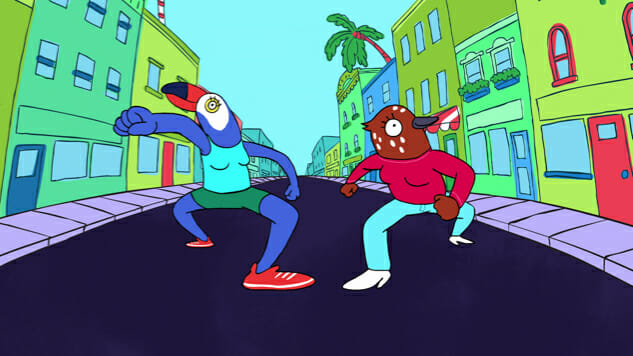 Netflix has canceled Lisa Hanawalt's beautifully odd animated series Tuca & Bertie after only one season. The news comes from Hanawalt's Twitter account.
Tuca & Bertie's cast included Tiffany Haddish and Ali Wong as the respective titular characters, two bird best friends who flock together to weather the trials of modern living. The show tackled tricky topics with an agile deftness, engaging with questions of mental health and sexual assault in a palatable, relatable way that hit close to home for many. The show also starred Steven Yeun as Bertie's soft beau, Speckle.
Per Variety, here's what Netflix has to say about the cancellation:
Lisa Hanawalt created a relatable yet whimsical world in Tuca & Bertie. We're grateful to Lisa, and her fellow executive producers Raphael Bob-Waksberg, Noel Bright, Steven A. Cohen, and EPs/stars Tiffany Haddish and Ali Wong, along with all of the writers and animators for sharing the funny and dynamic female bird duo of Tuca and Bertie with the world. While Tuca & Bertie won't have a second season, we're proud to feature this story on Netflix for years to come.
"I'm hopeful we can find a home for Tuca & Bertie to continue their adventures," Hanawalt noted via Twitter. Here's hoping some other streamer swoops in to save the day.
You can read Hanawalt's whole Twitter thread below, which captures Tuca & Bertie's signature charm in spades.
Tuca & Bertie is everything I wanted it to be: beautiful, funny, fresh, loving, horny, weird, experimental, comforting, and deep. The whole team put our hearts and asses into this show, and I'm so proud of it.

— Lisa Hanawalt (@lisadraws) July 24, 2019
Everyone is still glowing over the reviews and articles and feedback. T&B is critically acclaimed and has repeatedly been called one of the best new shows of the year.

— Lisa Hanawalt (@lisadraws) July 24, 2019
None of this makes a difference to an algorithm, but it's important to me and the way I want to continue making art in this world.

— Lisa Hanawalt (@lisadraws) July 24, 2019
Thank you to everyone who loves and supports T&B, and to everyone who was comforted and felt like this show gave you a voice. I'm hopeful we can find a home for Tuca & Bertie to continue their adventures. #TucaandBertiepic.twitter.com/xmrAV7Ooyq

— Lisa Hanawalt (@lisadraws) July 24, 2019