From The Americans to Homeland, TV Shows Are Repurposing Patriotic Music for a New Political Climate
ABC/Nicole Wilder
TV
Features
TV Music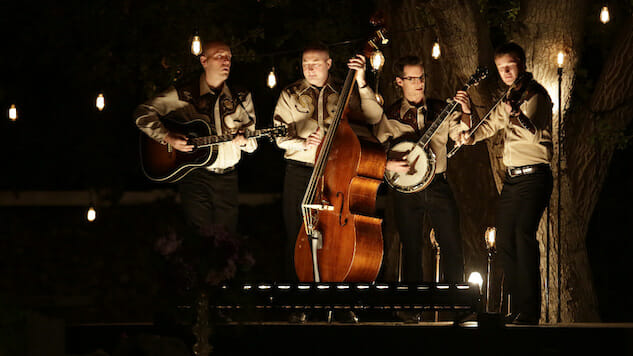 Looking past its wigs and emotionally wrecked teenagers, FX's spy drama The Americans has always been the embodiment of the classic "we're not so different, you and I" evil villain trope.
The series stars Matthew Rhys and Keri Russell as KGB operatives masquerading as travel agents and suburban parents Philip and Elizabeth Jennings, who live outside of Washington, D.C. in the early 1980s. It offers the obvious message that what everyone really wants—regardless of which country is listed on their passport—are the promises of safety, shelter and resources for their families. But The Americans also routinely works as a history lesson about the struggles that plagued the other side during the Cold War. (By the way, the U.S. government was no saint then, either.)
Perhaps nowhere is that more relevant than in a scene from the Season Five premiere, which airs on March 7. Just after the opening credits montage comes the justification for naming the episode "Amber Waves": As a Soviet-accented chorus belts out a mighty rendition of the American folk classic, we see footage of our farmers tending to their tall, ample fields while, across the world, Russian workers dig through dry soil for any edible morsel and stand in long lines for picked-over and rotted meals.
"We went back and forth a lot about [it]," The Americans creator Joe Weisberg told Paste and a select few other journalists when we asked him and fellow showrunner Joel Fields about the song choice at Television Critics Association press tour in January. "We actually recorded it in English with those guys singing it in Russian accents and we recorded it in Russian. We knew from the start that we didn't know which of those two—or did we want to switch off in the middle?"
There was, of course, no way that The Americans writers could have known how appropriate their musical selection would end up being in light of stories about the current administration's relationship with Russia. And, for reasons relevant to President Donald Trump or not, it's not the only series to make schoolroom standards sound like propaganda. In fact, it's not even the only show that has "American" in its title to do so.
In a teaser for the latest season of ABC's anthology series, American Crime, which returns March 12, an innocent-sounding (and therefore, frankly, eerie) version of "My Country 'Tis of Thee" plays over scenes of migrant workers and teen sex trafficking. The music selection was ABC's decision, executive producer Michael J. McDonald told us at TCA, adding that "they have an amazing team of marketing people, and they chose a song, I think, that is really appropriate and [has] the right tone about a reflection of America, which I think is reflective of what our show does. So I think it matches our 'America' with this nice patriotic song but with an edge to it."
Similarly, Showtime's Homeland has updated its main title sequence for the current season to include kids singing "The Star-Spangled Banner," followed by Gil Scott-Heron's "The Revolution Will Not Be Televised" and then a voiceover of Inspector General Charles McCullough testifying that couldn't speak about Hillary Clinton's email leaks because he "can't say that in an open hearing." (Paste reached out to Showtime to find out who was responsible for this endeavor. While it was unclear who deserves credit, the network says that showrunner Alex Gansa approves of the change.) Even films have gotten in on it, with the trailer for Will Smith's Bright playing Woody Guthrie's guttural, Rust Belt anthem, "This Land is Your Land."
Some could argue this is not necessarily a new trend. After all, one of viewers' favorite parts of Amazon's The Man in the High Castle is its opening credit sequence, which depicts an America occupied by Nazi Germany and imperial Japan and is accompanied by an interpretation of "Edelweiss" guaranteed to cause nightmares for those who only associate it with Christopher Plummer and The Sound of Music. And movies and TV shows have long depicted characters chanting aspirational hymnals like "We Shall Overcome" and "Go Down Moses."
What's fascinating is that many of these songs already have a history in politics. Benjamin Harbert, an ethnomusicologist and assistant professor of music at Georgetown University explains that Guthrie wrote "This Land is Your Land" thanks to a grant from the Library of Congress under Franklin D. Roosevelt's New Deal. With original lyrics like "One bright sunny morning in the shadow of the steeple / By the relief office I saw my people. As they stood hungry / I stood there wondering if God Blessed America for me," he says it was very much a "leftist anthem" before it became associated with the likes of George H.W. Bush (and, not to mention, idyllic images of impassioned children throughout the country). Tom Riis, the director of the American Music Research Center at University of Colorado-Boulder, says "The Star-Spangled Banner" "was used for a whole variety of causes in the nineteenth century, from women's suffrage to abolition," even though "right now, you think of a baseball game."
"What's interesting about American folk music is it was defined as American folk music very recently," Harbert says. "The majority of folk music collecting happened right after the Great Depression, and it was a point where Americans were wondering what America was. Capitalism seemed to be ending at that moment… Part of the reaction among folklorists was to find music that was particularly American. Folk music, before then, was defined as British ballads that had languished in the Appalachian hills. At that time, people weren't really considering the African heritage in the folk songs."
And the irony that these songs, which can inspire some to rebel, have now been co-opted by a capitalist industry for promotional purposes (no matter how left-leaning the product)? Riis says that's something that's been happening to music since "the beginning of the Republic, if not before."
In fact, he says, it might be money—not politics—that's the reason behind the increase in these patriotic ditties now, because of copyright laws and which songs may be in the public domain. (Which, at the moment, doesn't include "This Land is Your Land").
Whatever the reasoning behind this increase, Riis says they may be the smartest ways to reach the masses.
"I think a lot of people are in the place where they're really upset with the current regime and they [also] want to actively resist being tagged as unpatriotic or un-American," he says. "One way to finesse that is you include a melody that everybody knows and likes and has a positive association with. 'This Land is Your Land' is a good tune to use because it basically says, 'We're all in this together'… Parody can be a really powerful tool in fighting against [regimes]. Anything that's too strongly a cause, suddenly you turn it on its head."
Homeland airs Sundays at 9 p.m. on Showtime. Season Five of The Americans premieres Tuesday, March 7 at 10 p.m. on FX. Season Three of American Crime premieres Sunday, March 12 at 10 p.m. on ABC.