Intimate Exhibit Honoring Bill Paxton Now on View at Nevada Museum of Art
Photo via the Nevada Museum of Art
Visual Arts
News
Bill Paxton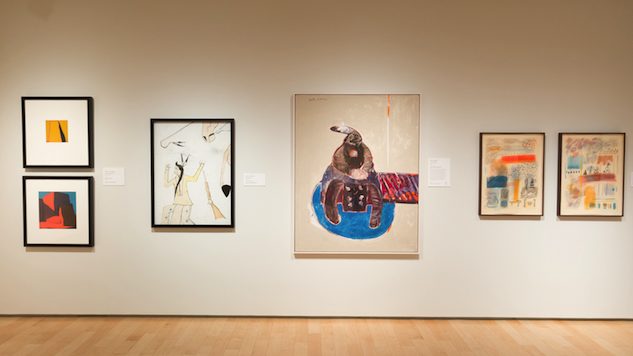 Select artworks from The John And Mary Lou Paxton Collection are currently on view at the Nevada Museum of Art. The exhibit is meant to honor the late actor Bill Paxton (Aliens, Weird Science), as well as to pay tribute to his family's fine art collecting legacy.
John and Mary Lou Paxton began collection contemporary art with a focus on abstract expressions of the American West as early as the 1950s. Notable artists include American abstract painters Frederick Hammersley, Jaune Quick-to-See-Smith, Nathan Oliveira and famed blender of realism and color field Wolf Kahn. While to us the collection is an impressive display of both representational and abstract contemporary art, for Bill Paxton, the works represented something more personal. According to a press release from the Nevada Museum of Art, the late actor said in 2016, "The works … are more than paintings to me; they are my memories of growing up in my parents' home."
John died in 2011 and Mary Lou died five years later in 2016. The couple had started an on-going personal relationship with the Nevada Museum of Art in 2003, and upon their death they promised a large chunk of their life-long collection to the museum. Now, in light of the untimely death of their son Bill, the museum decided to dedicate the exhibit to Bill and the Paxton family. "While the Museum mourns the loss of this lovely couple and their son, we celebrate John and Mary Lou's thoughtful and generous gift to the Nevada Museum of Art and our community," said David B. Walker, Nevada Museum of Art executive director and CEO.
The John And Mary Lou Paxton Collection: A Gift for the Nevada Museum of Art will be on view through June 4 at the Nevada Museum of Art in downtown Reno. You can learn more about the exhibit and how to visit the museum here. Also, don't miss Paste's tribute to the beloved actor, "The Roles of a Lifetime: Bill Paxton."