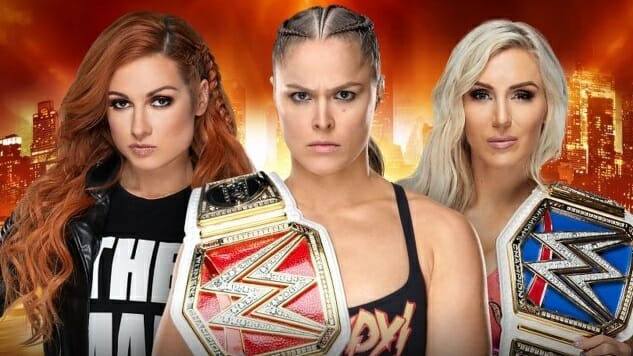 Wrestlemania weekend isn't just about Wrestlemania. Yes, WWE's biggest event of the year is still basically the Super Bowl of pro wrestling, and one of the most established (and valuable) names in sports. It's also become an unofficial holiday weekend for the entire industry, though—it's basically wrestling spring break, with multiple other wrestling promotions big and small holding dozens of shows throughout Wrestlemania's host city. They're all unaffiliated with WWE, but they feature some of the greatest wrestlers from around the world, and for some wrestling fans the sheer overwhelming amount of other shows has collectively become a bigger draw than Wrestlemania itself. Call them wrestling hipsters if you want to, but there's a vocal contingent of wrestling fans who are fully content to go to Wrestlemania weekend, take in three to four shows a day, and not even watch Wrestlemania itself. That's how strong the wrestling scene is around the world today—despite WWE's almost monopolistic control of the business, there are still enough great alternatives to pack out four or five days of non-stop action.
Wrestlemania is this Sunday, April 7, which means Wrestlemania weekend is already under way. The first full day of shows was actually yesterday, but it really kicks into high gear today, and for many fans will culminate with the historic Ring of Honor / New Japan Pro-Wrestling show at Madison Square Garden on Saturday night.
If you want to get a feel for what Wrestlemania weekend is like—not just how many shows there are, but how different those shows can be—here's a quick list of 10 matches Paste is especially excited for this weekend. We've split it up by day, and only included matches that can be watched live online. And since the first of these shows starts in, oh, 30 minutes, let's cut the prelims and get straight to the action.
All start times are Eastern Time.
Thursday, April 4
Minoru Suzuki vs. Josh Barnett
Show: GCW Josh Barnett's Bloodsport
Start time: 4 p.m.
Streaming: Fite TV
Josh Barnett is an MMA legend and occasional pro wrestler who will be hosting his second Bloodsport event over Wrestlemania weekend. Minoru Suzuki is a legendary Japanese wrestler who was a founder of the MMA/wrestling hybrid promotion Pancrase in the '90s and who is currently one of the biggest stars for New Japan. This is basically a battle between two tough hosses over the age of 40 who know how to fight for real. Barnett promised "Catch Wrestling Violence that will be possessed by the spirits of Karl Gotch and Billy Robinson" when the match was announced on Twitter, and for fans of a certain style of grounded, realistic, brutal pro wrestling, nothing could be more exciting.
LA Park vs. Pentagon Jr.
Show: Major League Wrestling's Rise of the Renegades TV tapings
Start time: 7 p.m.
Streaming: Not streaming, but will be airing on MLW's weekly TV show on BeIn Sports and YouTube
WCW fans will remember LA Park as La Parka, the skeleton-suited luchador who would play a chair like a guitar while strutting down to the ring on Nitro. Now in his 50s, he remains one of the best brawlers in the business today. Pentagon Jr. is probably the current most popular luchador in America (after Rey Mysterio), with his star-making role on Lucha Underground turning him into one of the biggest and busiest draws on the independent circuit. He fought Kenny Omega at last year's All In megashow, and will be teaming with his brother Fenix in a match against the Young Bucks at AEW's debut Double or Nothing in May. Tonight the two will face off in what's guaranteed to be a war at the first of two nights that Major League Wrestling is running over the weekend. It's not airing anywhere tonight, and Pentagon's deal with AEW might complicate the match from airing down the road, but it is part of a TV taping for MLW's weekly show, so hopefully the match will be airing in full on BeIn Sports and on YouTube in the near future.
Will Ospreay vs. Bandido
Show: Wrestlecon Supershow
Start time: 7 p.m.
Streaming: Fite TV
We're not necessarily proud about being Will Ospreay fans here at Paste. Sure, he does absolutely amazing things in the ring, and has become a tremendous seller and in-ring storyteller. He also works an incredibly dangerous style that will almost definitely lead to major injuries down the road if he doesn't slow down. The guilt we might feel from watching a sport that inevitably destroys its participants is even heavier with a guy who takes as many risks as Ospreay. Of course those risks are a large part of why he's so fun to watch. It's a real catch 22. Anyway, tonight he's facing Bandido at the Wrestlecon Supershow. Bandido is a world class talent on par with Ospreay, and together they should have a high-flying, death-defying match-up for the ages.
DDT Pro Coming to America
Show: Uh, that is the name of the show.
Start time: 8 p.m.
Streaming: Fite TV
We're going to make one exception and recommend an entire show instead of a specific match. DDT Pro is wrestling at its most fun, an absurd, kaleidoscopic, Japanese refraction of what you might expect from American wrestling at its most cartoonish. Their first American show ever is tonight, and you can expect an entertaining mix of ridiculous comedy and legitimately great wrestling.
---
Friday, April 5
Pete Dunne vs. WALTER
Show: NXT Takeover New York
Start time: 7 p.m.
Streaming: WWE Network
Pete Dunne puts his NXT United Kingdom championship on the line against WALTER, the massive German brawler who's been involved in some of the stiffest and most entertaining wrestling matches of the last few years. Dunne, who's held the belt for almost two years, is a phenomenal wrestler and storyteller, and together these two could easily have the best WWE match of the weekend. We would love to exclusively focus on non-WWE shows in this list, but there's no way we'd miss Dunne vs. WALTER. The rest of this latest NXT Takeover looks pretty fantastic, too.
Invisible Man vs. Invisible Stan
Show: Game Changer Wrestling Presents Joey Janela's Spring Break III Part 1
Start time: 8 p.m.
Streaming: Fite TV
Okay, this probably won't be a match we can actually watch. Even if we were in the building we wouldn't be able to see anything. No match better summarizes the Joey Janela's Spring Break experience, though. Since 2017 the Bad Boy has hosted one of the hottest shows of Wrestlemania weekend, one that focuses on the inherent absurdity of the art. It's a combination of twisted dream matches and ridiculous gimmicks, as best illustrated by this match-up between two invisible wrestlers. When Paste was at the first spring break show in 2017, the Invisible Man competed in the Royal Rumble-style match called the Clusterfuck; wrestlers basically acted like they were being kicked or suplexed by an unseen opponent, selling it all as if it was real. It was dumb and hilarious and we can't wait to see the two best invisible wrestlers of today finally square up.
---
Saturday, April 6
Jay White vs. Kazuchika Okada
Show: Ring of Honor / New Japan Pro-Wrestling G1 Supercard
Start time: 7:30 p.m.
Streaming: NJPW World / Honor Club / Fite TV
The main event of the first non-WWE wrestling show at Madison Square Garden in decades should be one of the best wrestling matches of the weekend. Kazuchika Okada, the best pro wrestler on the planet, will be out for revenge when he wrestles New Japan's current IWGP Heavyweight champion Jay White. Okada's former manager, Gedo, turned on him to manage the younger star from New Zealand, and then White went on to win the title from the man who beat Okada for it, Hiroshi Tanahashi. White has quickly progressed from Young Lion to one of the best wrestlers in the world today, and Okada is a future legend in the middle of his absolute prime. White especially needs a blow-away, all-time match to solidify himself as a real main eventer, and there's nobody better suited to help him achieve that than Okada.
Tetsuya Naito vs. Kota Ibushi
Show: Ring of Honor / New Japan Pro-Wrestling G1 Supercard
Start time: 7:30 p.m.
Streaming: NJPW World / Honor Club / Fite TV
Here's another one of those matches we'll be watching through our fingers, in fear of one of the wrestlers seriously hurting themselves during a high-risk move. Naito's the coolest guy in wrestling, and Ibushi's the most consistently breathtaking performer of his generation. When they get together they basically try to kill each other for real, punctuating their exhilarating athletic displays with the kind of head and neck drops that are just hard to watch. The other 95% of the match will be absolutely amazing, and perhaps the best in-ring work of the weekend, though, making it a can't-miss.
Jay Lethal vs. Matt Taven vs. Marty Scurll
Show: Ring of Honor / New Japan Pro-Wrestling G1 Supercard
Start time: 7:30 p.m.
Streaming: NJPW World / Honor Club / Fite TV
This three-way ladder match for the Ring of Honor World championship follows up on a shockingly good 60-minute draw that Lethal and Taven had at last month's 17th Anniversary show. The addition of Scurll, the only member of the Elite who hasn't left Ring of Honor for All Elite Wrestling, and a ladder guarantees this will be a very different match than the old-school Broadway we saw last month. With New Japan's half of the card handling the classic wrestling action, expect this to be a wild brawl with ladder spots a-plenty, and perhaps some interference from Taven's Kingdom partners or Scurll's buddies PCO and Brody King.
---
Sunday, April 7
Becky Lynch vs. Ronda Rousey vs. Charlotte Flair
Show: Wrestlemania
Start time: 7 p.m.
Streaming: WWE Network
We can't remember the last time the most interesting match at Wrestlemania was the actual main event. (Probably when Daniel Bryan closed out Wrestlemania XXX, but that wasn't technically advertised as the main event, since he had to win an earlier match on the show to challenge for the title at the end.) That's definitely the case with this bloated Wrestlemania, though, which is chock full of poorly built and indifferently received matches. The weekly drag of WWE TV has resulted in numerous ups and downs for the build to this main event, but at the end of the day WWE has wisely chosen to put the star getting the best reaction from the fans (Becky Lynch) in the final match. Rousey has turned into an excellent heel over the last few weeks, and although Charlotte Flair still feels a bit like a third wheel, she's the best all-around woman wrestler on the main roster (except for probably Asuka), and has months to years of backstory with both Lynch and Rousey. These three have had a variety of fantastic matches with each other over the last six months, and there's no reason to expect any less under the Wrestlemania spotlight. And if WWE makes the right decision and has Lynch win, it'll make millions of fans happy. That's a rare thing with today's WWE.
---
Garrett Martin edits Paste's comedy and games sections. He's on Twitter @grmartin.