Yesterday WWE.com released the bracket for the inaugural United Kingdom Championship Tournament, which will be held at the Empress Ballroom in Blackpool, England, this weekend, and broadcast live on the WWE Network. The winner of the event will be crowned the first-ever WWE UK Champion, and now that we've seen the field it's easier to predict what might happen.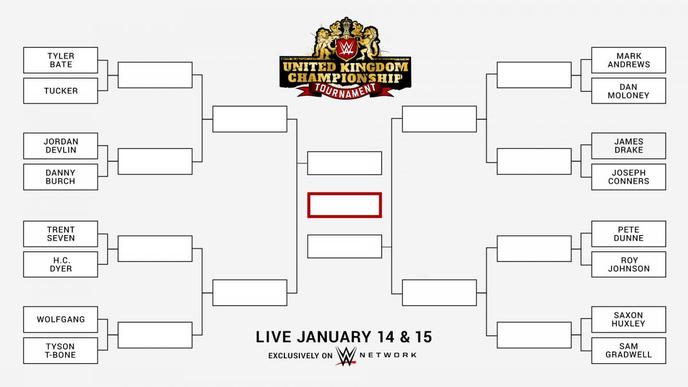 From the day the tournament was announced, Pete Dunne, Tyler Bate and Trent Seven have seemed like the best bets to win the whole thing. Dunne might have the overall edge, as he had a much-buzzed-about match at Pro Wrestling Guerilla's Battle of Los Angeles last year, but just as TJ Perkins squeaked out of the CWC as the surprise winner, Bate and Seven are both talented wrestlers and could get more of a boost than Dunne by winning the whole thing. It got complicated when former TNA wrestler Mark Andrews was announced for the tournament last week. Andrews immediately became the most established entrant to American audiences, and probably the best overall performer in the entire event. Now that we've seen the bracket, we can get a sense of what to expect from this weekend.
It clearly seems set up for a final four of Seven, Bate, Dunne and Andrews, and at that point any one could easily be the ultimate winner. If Dunne and Andrews do face in the semi-finals, that'd be a rematch from one of the best matches from BOLA 2016, and it'd be a shock if WWE passes up that opportunity. A Bate vs. Seven semi-final would split up Progress stablemates and former tag partners, and also pit youth vs. experience—at 19, Bate is almost a wrestling prodigy, while the 35-year-old Seven would be starting his eighth year in the business. If we had to press, we imagine Dunne would take this over Seven in the finals, but could also see Seven or Andrews winning. As promising as he is, Bate just seems too young for WWE to push all the way.
It's actually kind of a surprise that we got a bracket at all. When Paste attended the first night of the Cruiserweight Classic back in June, nobody in the building had any idea what the matches were going to be. They did reveal a bracket before that show premiered on the network, so perhaps this is the difference between running a show live and on tape: the fans in the stands will actually know the card before it starts, along with all the rest of us at home.
The WWE United Kingdom Championship Tournament airs on the WWE Network this Saturday and Sunday at 8 PM GMT, which is 3 PM ET and 12 PM PT.