MF Doom drops MF, adds caps lock, gets Born Like This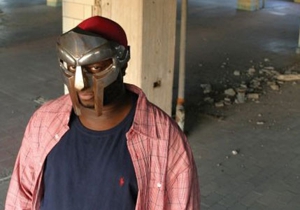 It seems MF Doom has decided to follow mainstream hip-hop sensibilities for once and explore the different permutations of his name. We might have seen this coming; the dude did, after all, recently release his own special edition Nike dunks. Regardless, the artist formerly known as MF Doom has dropped the MF from his name, and now wishes to be known only as DOOM (all CAPS, as per his request.)

The name change seems to have done more than spur DOOM's (this is gonna take some getting used to) love for capital letters. He's also just announced a March 23 release date for Born Like This, his first studio album in nearly five years. Co-conspirator Ghostface Killah will don the mantle of Tony Stark for a track, and Raekwon (also of Wu-Tang fame) will put a feature verse in as well.

Born Like This' first single, "Ballskin" (an excellent track despite the somewhat unsavory name), has already been uploaded to DOOM's MySpace for your listening pleasure.

Tracklist:

1. Supervillain Intro
2. Gazillion Ear
3. Ballskin
4. Yessir (feat. Raekwon)
5. Absolutely
6. Rap Ambush
7. Lightworks
8. Batty-Boys
9. Angelz (feat. Tony Starks)
10. Cellz
11. Still Dope (feat. Empress Sharhh)
12. Microwave Mayo
13. More Rhymin' (feat. Kurious)
14. That's That
15. Suppervillainz
16. Bump's Message
17. Thank Ya

Born Like This drops March 23 via Lex Records.

Related links:
News: Tracks released from J Dilla, MF Doom, Ghostface collab.
News: MF Doom imposters perform shows?
MF Doom on MySpace

Got a news tip for Paste? E-mail news@pastemagazine.com.

Others Tagged With