Upcoming biopic to examine Beats' dark beginnings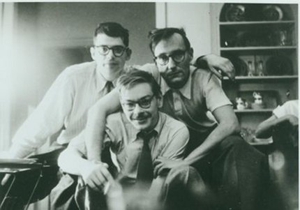 Lucien Carr, now famous for his volatile mentorship of Jack Kerouac and Allen Ginsberg, died without ever clarifying the murky details of his early life. Carr was convicted for the manslaughter of David Kammerer in 1944, and though he was pardoned, a haze of uncertainty still surrounds the incident. However, director John Krokidas and producer Christine Vachon hope to shed some light on Carr's life in their upcoming biopic Kill Your Darlings.
The film will focus on the night of Aug. 13, 1944, when Carr stabbed his friend David Kammerer with a boy-scout knife and dumped the body in the Hudson River. Carr later claimed before a judge that the killing was self-defense against Kammerer's unwanted sexual advances. The jury, steeped in '40s homophobia, pardoned Carr, even though there were no witnesses to the event. 
The cracks in Carr's story will most likely show through in the biopic. There was
no proof
 that Kammerer was gay, nor that he was a predatory stalker. And though Carr became the image of respectability, working for 30 years as the editor of the United Press, he was emotionally unstable in college, once trying to commit suicide by sticking his head in a gas oven.   
Whatever his true motives in the killing, Carr helped spark the Beat movement. 
Kill Your Darlings
 will examine Carr's mentorship of Ginsberg and Kerouac, as well as William Burroughs. Carr helped shape notions of bohemian freedom in Ginsberg's mind, and according to popular myth, gave Kerouac the roll of paper on which he began his iconic novel 
On The Road
. 
The casting, however, is causing a bit of
critical head-scratching
. Jesse Eisenberg will play Ginsberg, Ben Whishaw (
Brideshead Revisited
) will play Carr and Chris Evans (
Fantastic Four
, The Nanny Diaries
) will take the part of Kerouac. Though it may seem strange to cast the Human Torch as intellectual Jack Kerouac, fans are confident. "T," a commenter to EW's Pop Watch blog, writes, "He's physically perfect for the part, possesses that Boston immigrant/all-American vibe, and will work the Kerouac plain style." 
Others Tagged With