Catching Up With Brandon Baker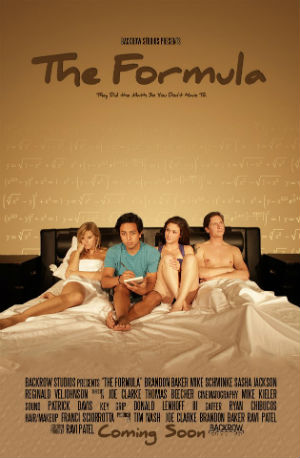 "I think that the Internet is going to effect the most profound change on the entertainment industries combined. And we're all gonna be tuning into the most popular Internet show, which will be coming from some place in Des Moines [Iowa]." – Steven Spielberg in an interview for NBC's Today Show in 1999.
The same year Mr. Spielberg uttered his prediction for the future of the entertainment industry, a 14-year old Brandon Baker landed the lead role in the Disney Channel Original Movie Johnny Tsunami, a cult classic for the generation that grew up with it.
Surprisingly, Baker considered abandoning acting in the years following his iconic role, contemplating different paths for his life outside of the film industry. However, after rediscovering his desire to act through a friend's student project, Baker found himself being contacted by Joe Clarke, Ravi Patel and Tim Nash of Backrow Studios about a unique filmmaking opportunity in the state of Iowa.
In the following months, Baker signed on to produce and star in The Formula, an independent comedy surrounding two engineering students who discover a mathematical formula for picking up women with ease. The film co-stars Reginald VelJohnson, Mike Schminke, Sasha Jackson and Katie Goebel.
We caught up with Baker recently to talk about his transition from major studio films to more independent-based roles, the liberating creative freedom that comes with them, and the potential for the Midwest to become a future destination for the entertainment industry.
Paste: It's been about five years since your last major acting role, what have you been up to in the time since then?
Baker: I went to school at UC Santa Barbara where I studied film. So, I was involved in the art on certain aspects. But, to be honest, I got to a point where I finished college and found myself in my early twenties just trying to figure out what I wanted to do with my life. As far as the whole acting thing went, I wasn't really sure what I loved, what I was passionate about or what I wanted to do with the rest of my life as opposed to just what I knew. I've been acting since I was a kid so it was kind of hard to separate the two. So I took a brief life-examining sabbatical to kind of explore, travel and just figure out what really drives me. I worked a lot behind the camera on short films and was still working on sets, among other things, but just taking a break from acting to see just whether or not I missed it and also just to give myself a chance to mature and grow up and approach it as an adult.
Paste: Can you talk a little bit about how you came to be involved in your latest project, The Formula?
Baker: It was sort of a perfect-timing kind of thing. Earlier in 2012 was when I decided I wanted to get back into acting again because a friend of mine who I had been working with on short films wanted to cast me in one of his films. And I was kind of apprehensive about it since it had been so long since I had acted but I thought, 'Why not?' And I discovered that I really enjoyed it. Certainly a part of me was a little uncomfortable but it really made me think it was time to give it another shot. So right after that I contacted my manager who put me in touch with an agent, and literally within a few months of all of this happening, Ravi (Patel) and Joe (Clarke) contacted me about being in The Formula. So I read the script and really liked it, talked to my manager and agent who both said that this might be a great opportunity get my feet wet again and it all just really felt like the perfect thing at the perfect time. Just talking with the guys it really seemed like we were all on the same page; a group of guys in our twenties really just wanting to make something happen.
Paste: Had you ever been to Iowa before filming this movie?
Baker: Definitely not. (Laughs). Yeah, first time to Iowa. I'll admit I had a lot of preconceived notions about it. We did most of our filming in Iowa City, which I realize isn't what all of Iowa is like, but as a representative part of the state the people are really nice and everything about it was really great. Frankly, it was nice just to get out of L.A. and enjoy just a different pace of life for a month.
Paste: Did you find anything in particular about Iowa and just the Midwest setting in general that reflected the independent nature of the project?
Baker: Well it's really hard to separate the people and the nature of the state Iowa, but I think you're on to something there because there is obviously not very much industry in Iowa. And that means that people who are passionate about this project and film in general that were either in Iowa or Chicago—because they're not in the hub of L.A. or New York there is a lot of enthusiasm because they are finally able to do what they want to do. You know, people in the bigger cities are jaded and their work has become just another job, which frankly was something that I was going through years earlier. And to go out to Iowa and work with these other creative people who are living and breathing this thing on a twenty-four hour per day basis was just so incredibly motivating.
Paste: In addition to playing the lead in the film you also served as producer. Can you talk a little bit about what role you played from that end?
Baker: Well, originally I thought I was going to be producer more as a job title rather than a job function. But quickly I got to set and found that there really was a niche that needed to be filled. There were a lot of people excited and enthusiastic about working but who just lacked experience in being on a working set. And frankly, that's what I know. I'm not a businessman, I'm not a writer but I've grown up on sets and I've just found that my personality fits in with galvanizing people toward a common goal. So luckily I was able to bring a lot to the table with the things that I knew and that was just something that needed to be filled. I really enjoyed acting and producing because it really felt like the best use of my skills and knowledge. And since there was such a hunger from everybody to learn that I felt like it was my duty impress as much upon everybody as I could. Even beyond that, it's not like it was just me because there were other actors teaching me things, it was really just an easy-going, creative and giving set. The sharing of ideas, techniques and expertise was constantly happening. As an artist and collaborator, it was just the best environment possible.
Paste: Earlier you mentioned how you went to UC Santa Barbara where you studied film, was there anything you took away from studying the medium critically that you were able to apply to your creative approach?
Baker: Yeah, at first I wasn't quite sure. At UC Santa Barbara I studied a lot more theory than practical film work and when I was in school I think I found myself hoping for the opposite. But, in retrospect, I already had experience in the practical aspects and so I knew to a certain extent how a film was made. But to actually understand the ins and outs of writing and shot construction, things like that, filled in a ton of blanks. It definitely rounded me out. But there's also nothing like real world experience so this was great to be the first feature that I've been a part of.
Paste: As you mention, you've grown up on sets all your life, specifically more toward the mainstream L.A. system type environment, so were there any advantages you took away from working on an independent project such as The Formula?
Baker: Absolutely, I mean there was a ton of artistic and creative freedom. As I mentioned before, collaboration on ideas was key and a lot of it was things being seen outside of the box. Whether it was just a camera angle or a lighting technique or the constructs of a scene as far as how it is written or being acted it really came down to the directing and producing team allowing for that kind of freedom to improvise on set. And, not having a team of producers or a studio overhead that is running or negating each move of yours. A lot of times it's about navigating nine 'no's' to get one 'yes' where on this set there was always nine 'yes's' and maybe every now and then one 'no.' And because of that I think we were able to find a lot of cool moments and to surprise ourselves with unique artistic choices. I think it brought the crew and the cast a lot closer together because everyone felt like they had a true say in the final product.
Paste: Do intend to select your next projects based on some of the things you took away from working on The Formula?
Baker: The Formula has definitely changed the way I wish to select projects and work in the future, and it already has. I see how motivated these people are and how we were able to make it happen. I mean, just having worked on this film with actors from the Second City Improv School in Chicago has made me want to improve my improv acumen. I still talk with the guys from Backrow Studios and definitely plan on working with them again. It just makes me want to chase that same creative high; the same kind of vibe where you really are collaborating rather than it's just a dictatorship. When you truly have artistic ownership that is just such an awesome feeling and it is definitely what has helped me rediscover my passion. I just had so much fun making this film. We were able to fly a couple of great actors out from L.A., but we also found some great talent from the Iowa and Chicago areas so it was really just a great blending of the two. I know how much fun we had on the project and I really think it will translate into the final cut of the movie.
For updates on the film's upcoming release, find The Formula on Facebook and follow director Joe Clarke on Twitter.
Others Tagged With