Justin Timberlake: The 20/20 Experience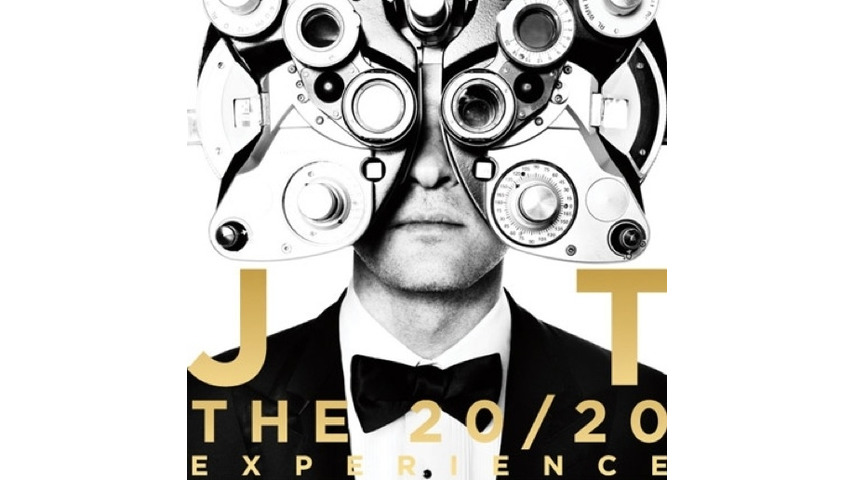 From Mouseketeer to boy band heartthrob to MJ disciple to Timbaland sidekick to "Dick in a Box" crooner, Justin Timberlake has crammed more unpredictable brilliance into his career than any other pop star on the planet. He knows this, too: In 2006, he released FutureSex/LoveSounds, a groundbreaking, nearly unclassifiable sophomore album that blended his own effortless pop suave with Timbaland's psychedelic, electro-funk production. And then, at age 25, having just blown open the doors of modern pop, Timberlake punk'd us all—fleeing music to boost his sketch-comedy credentials, save a fledgling social networking site and star in forgettable rom-coms. (Suffering through Friends with Benefits was eerily similar to watching Michael Jordan strike out in the minor leagues.)
The downside to retiring at your peak? It puts more pressure on your inevitable comeback. Enter The 20/20 Experience, the most highly anticipated American pop album since who-knows-what. When Timberlake made his return this year on the Grammys, dressed in dapper, Sinatra-styled attire, crooning his soulfully smooth new single, "Suit & Tie," in front of a swinging big-band, it was a letdown: For the first time since going solo, it seemed like the boundary-pushing icon was sticking close to the popular trends (Bruno Mars went and did the whole retro-crooner thing on the same awards show only a year prior). In retrospect, both song and performance were pleasant, polite misnomers: Like FutureSex before it, the deceptively weird The 20/20 Experience works best as an immersive sonic journey—a headphones album for an earbud generation.
After hearing early versions of these tracks in the studio, one of Timberlake's friends reportedly commented, "It's music you can see." He's right: Timberlake (along with co-producers Timbaland and "J-Roc" Harmon) approaches this music more like a director than a musician, creating luxurious worlds of sound that flow seamlessly, like scenes in a film. Each track stretches out to an average of seven minutes—crammed with instrumental breaks, interludes, codas and climaxes. Timberlake is in fine vocal form throughout, whether he's exploring his warmest lower register or (more frequently) doling out melismatic falsetto runs. But the biggest revelation is Timbaland's production. These tracks are as wildly futuristic as anything else on his resume, but also more organic—strings, horns, pianos and bass guitar layered with genre-melting beats and left-field samples. Some of that "Suit & Tie" throwback-crooner style bubbles up on occasion (the early strut of "Pusher Love Girl," the breezy soul of "That Girl"), but elsewhere, things get awfully zany.
"Don't Hold the Wall" is Indian sci-fi psychedelia, with eerie "flute" samples, rain-stick percussion, cricket noises and pitch-shifted voices; "Blue Ocean Floor" recalls both the minimal tension of Usher's "Climax" and the eerie, backward-masked beauty of Radiohead's "Like Spinning Plates." The true centerpiece is "Let the Groove Get In," both a vocal showcase for Timberlake and a mind-blowing clusterfuck of cultures and styles: bhangra meets Off the Wall meets Bobby McFerrin meets Earth, Wind, & Fire—the soundtrack to a heat-wave block party on Mars. There's no eye-rolling misfire like Futuresex's "Chop Me Up." Even the campiest tracks here are intoxicating: On "Strawberry Bubblegum," Timberlake overextends a weak gum metaphor ("I'll love ya til I make it pop!"), but the music is more than lyrical: string samples, clattering percussion, walls of vocal harmony, Stevie Wonder-esque synth-bass.
Why critics are suddenly complaining about weak lyrics is anyone's guess—we're talking about a guy who once sang the words "Hi, my name is Bob, and I work at my job" with a straight face, on an anti-drug ballad. No one griped seven years ago, and they shouldn't now: Timberlake isn't the same caliber of lyricist as Frank Ocean, and he isn't trying to be.
He also doesn't need to be. Maybe there's another reason Timberlake used the name The 20/20 Experience: Just like FutureSex before it, this innovative, sonically dazzling album sounds like it was beamed in from several years in the future—2020 sounds about right.
Others Tagged With