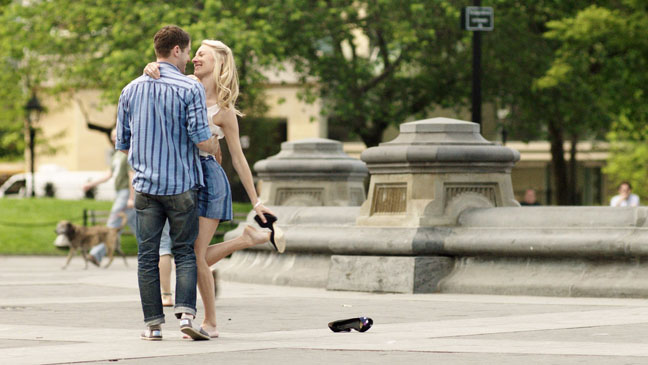 Missed Connections, the feature film debut of writer, director and producer Martin Snyder, takes on love in the time of technology—more specifically, in the Craigslist era. Set in a New York law office, the romantic comedy opens with I.T. guy Josh (Jon Abrahams) lamenting the fact that his longtime secret office crush, Lucy the lawyer (Mickey Sumner), is not only moving to the London office, but she's also posted a "missed connections" online ad to find the dapper stranger she ran into (literally) in the firm's revolving doors.
With the help of his geek-tastic I.T. team, Jules (Malcolm Barrett) and Pradeep (Waris Aluwahlia), Josh hatches a plan to have a little fun with Lucy by posting his own missed connection as the revolving door man. The "chance" meetup between Lucy and Josh goes awkwardly awry, and a guilty Josh decides to help Lucy find the guy. His intentions aren't all that noble because he knows that the lure of Mr. Right gives him more chances to spend time with Lucy. For her part, Lucy believes she's helping Josh find his missed connection—a woman named "Zoe" with a little anchor tattoo on her wrist.
The two co-workers act as each's wingmen during various online ad rendezvous. Eventually, he begins to chisel away at her cool lawyer persona, while she introduces him to the wonders of vegan cuisine and yoga.
If the plot sounds completely contrived, that's because it is. All the elements of a standard rom-com can be ticked off a list: 1) an obstacle that keeps the two would-be lovers from being together; 2) a best friend for her to use as a sounding board; 3) sidekick(s) for him to help execute misguided plans; 4) a ne'er-do-well suitor; 5) a moment when the reluctant party realizes that Mr./Ms. Right Now may just become "the one"; and finally, 6) the sappy ending.
What saves Missed Connections from falling into the realm of absolute forgettability is a witty script, crafted by Snyder and Marnie Hanel. The dialogue is perfectly attuned to the millennial generation. When Lucy's best friend, Tess (Julia Jones), urges her to post about the Brit she met at the building's entrance, Lucy calls the online section a "Disneyland for serial killers," and when it comes to Lucy, Josh's friends compare him to a "crackhead without a lighter."
Though Josh—a habitual pot-smoking college dropout—does pretty despicable things to cook up encounters with Lucy, Abrahams' sweet and beguiling performance allows the audience to forgive, and even root, for him. His geek squad is also at once equally annoying and endearing.
On the other hand, Sumner (who happens to be the daughter of Sting and Trudie Styler) isn't given much leeway to play with her career-centric and cynical Lucy, a woman who believes that, "Love isn't luck; it's strategy." She's the lawyer on a partner track, and while Lucy's sharp enough to pick up immediately on the BS that the Brit (Jamie Belman) slings her way when they finally meet, it's a little frustrating to watch her complete obliviousness to Josh's hijinx.
But then again, when it comes to love, folly and matters of the heart, most sensibilities are thrown out the window anyway—both in the movies and in real life.
Director: Martin Snyder
Writers: Marnie Hanel, Martin Snyder
Starring: Jon Abrahams, Mickey Sumner, Malcolm Barrett, Waris Ahluwalia, Jamie Belman
Release Date: May 7, 2013 (VOD)
Others Tagged With