Ten More Unique, Funny or Useful Twitter Users You Should Follow Right Now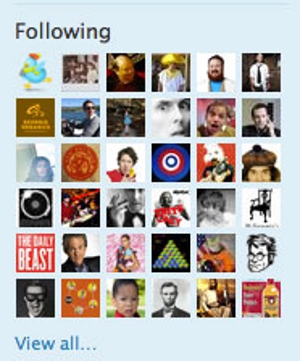 Page 1 of 2
Oh, hello again. It's me, @austinlouisray, and I have more unique, funny and useful Twitter users for you. Users you should follow right now. Much like last time, these folks will give you the giggles or make your life generally better in various ways. What they won't do is fill up your Twitter feed with vapid nonsense. Enjoy:
Kelly Oxford – kellyoxford
This hilarious housewife uses her Twitter account as a vessel to pontificate on all sorts of stuff, including but not limited to celebrity culture, race and her precocious children. Someone get this gal a book deal. And until that time, we can look forward to a sitcom. Her blog is also an excellent read.
Ed2010 – Ed2010News
Looking for an internship, part time or full time gig in the magazine business? Want to keep up on who's leaving what publication and where they're going next? Interested in what massive conglomerate is selling its titles and which of those titles are going web-only? All this and more is covered by Ed's myriad daily postings.
Andisheh Nouraee – andishehnouraee
This longtime Creative Loafing contributor's Twitter page, while primarily Atlanta-related, covers politics, entertainment and consumer affairs with absurdist humor sprinkled in between. No city officials or their blunderings are safe, and that's exactly how it should be.
Abe Lincoln – PresLincoln
Just when you thought you'd had your fill of fake celebrity Twitter accounts, along comes our 16th president to talk shit on everything from fellow presidents to The Simpsons. Who knew that guy was such a hoot?
Know Your Food – knowyourfood
It's funny. Recycling, conserving water and the like have all become mainstream issues, and yet, most folks don't care about where their food comes from. Then, after years of ingesting poisonous chemicals and high fructose corn syrup, those same people wonder why they're sick and dying before their time. Luckily, authors like Michael Pollan and Jonathan Safran Foer, magazines like Eating Well and Twitter pages like this one are raising awareness and fighting the good-food fight. For more information on this North Carolina group, visit KnowYourFarms.com.
Others Tagged With