Named in honor of late Michigan native Gilda Radner, Gilda's LaughFest celebrates its sixth edition March 10 through 20 in Grand Rapids. Along with stand-up headliners including Kathy Griffin, Marlon Wayans, Jim Norton, Anjelah Johnson and YouTube star Miranda Sings, highlights range from sketch and improv to readings and workshops, even the breaking of a Guinness World Record for most number of rubber chickens tossed in the air. The community-oriented comedy festival prides itself on variety and local involvement, providing both something for everyone and unmistakable respect for the art form.
1. An Evening with Seth Meyers Signature Event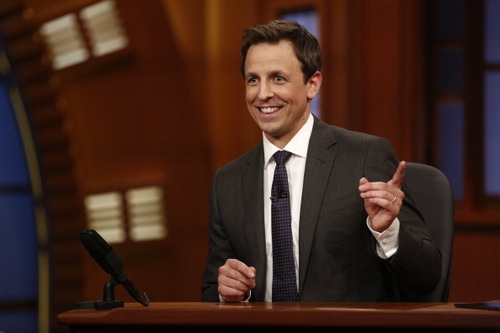 Photo courtesy of Getty Images
The fanciest and most formal shindig of the festival, this year's Signature Event welcomes the high-profile Late Night with Seth Meyers host and former Saturday Night Live staple. As a key fundraiser highlighting the mission of Gilda's Club, says LaughFest director Joanne Roehm, the Signature Event keeps Radner's legacy alive through year-round grief and cancer support. "Seth was an obvious choice for the Signature Event. His history with SNL in multiple capacities ties back to our roots with Gilda. His ability to work clean is vital to this event in particular. And his newish appointment to Late Night makes him very relevant across multiple demographics of audiences. He's a comedy veteran in many ways yet just at the beginning of his late-night career." Saturday, March 12 at Davos Place, 5:30 p.m.
2. Carol Burnett Sketches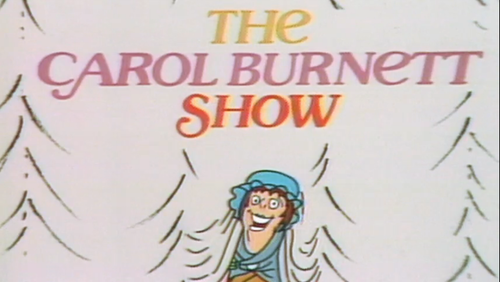 Burnett won't actually be on hand to parody soap operas or whip drapes into a makeshift gown. Rather, local fans of the beloved Queen of Sketch Comedy's long-running, Emmy-winning CBS show will recreate classic lines and the impeccable timing of Vicki Lawrence, Harvey Korman, Tim Conway and more at this family-friendly – and free! – homage to The Carol Burnett Show. Friday, March 18 and Saturday, March 19 at Master Arts Theatre, 6 p.m.
3. David Cross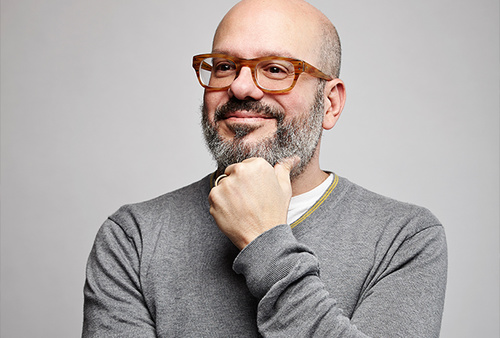 Having revived HBO sketch gamechanger Mr. Show with Bob and David late last year on Netflix (under the revamped moniker W/ Bob & David), in January the alternative-comedy icon launched his first stand-up tour in six years. Political, incredulous and defiantly timely, Making America Great Again! also borrows the prized campaign slogan of presidential hopeful Donald Trump. Cross films his MAGA! material next month at Austin's Moontower Comedy and Oddity Festival for a special of the same name, but LaughFest attendees have the opportunity to see it first…and in no less perfect a venue than a nondenominational church. Friday, March 18 at Fountain Street Church, 8 p.m.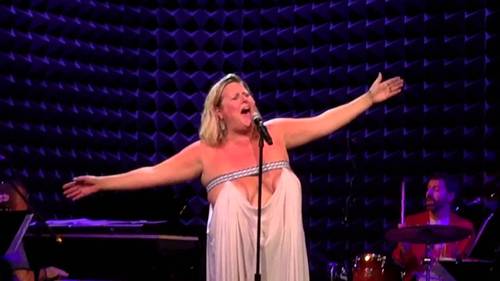 The uninhibited New York cabaret star may blur the boundaries of personal space, but Everett is a modest fellow Midwesterner at heart. "Before I had any inkling of who she was, I remember hearing whispers about Bridget at Just for Laughs Montreal a few years ago that hers was a show not to be missed," says Jamison Yoder of LaughFest booking agency Funny Business. "We talked about inviting her for LaughFest 2015, but it didn't work out, so we are overjoyed that she's coming this year. Her rise these last couple of years has been meteoric and I think it's just the beginning for her. I'm so excited for Grand Rapids to experience her show." Saturday, March 12 at Wealthy Theatre, 8 and 10:30 p.m.
5. Chris Farley Tribute Night and Costume Contest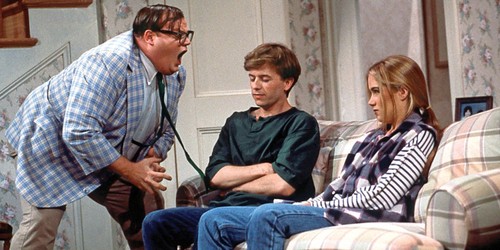 Kicking off the first of two LaughFest weekends, the brewery level of historic epicenter The B.O.B. (a.k.a. Grand Rapids landmark "The Big Old Building") hosts an evening of the SNL breakout's top films. Attendees dressed as favorite Farley characters can compete for prizes while enjoying local barbecue and craft beer. Currently featured: Peanut Butter Porter and a Tangerine Trees the microbrewery calls "a Beer Creamsicle." Friday, March 11 at the B.O.B. Brewery, 8 p.m.
6. Ron Funches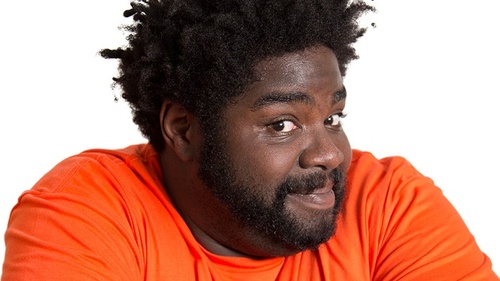 The frequent @midnight winner is down some hundred-plus pounds thanks to a regimen eschewing soda and cheesesteaks in favor of hikes and spin class. Funches is also in fighting shape comedy-wise, having amassed plenty of new material since the November release of debut album The Funches of Us. Originally booked on a previous year's showcase, he had to cancel after being cast on NBC ensemble Undateable. This year Funches finally makes his LaughFest debut as a headliner with uniquely endearing outlooks on wrestling, weight-watching and raising his autistic son/hiking partner Malcolm. Friday, March 11 and Saturday, March 12 at Pyramid Scheme, 7 and 9:30 p.m.
7. The Grawlix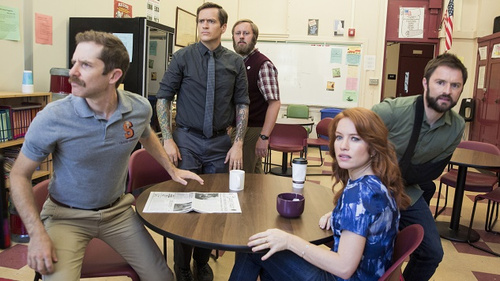 From a monthly show in a tiny Denver theater to creating the first scripted comedy series on TruTV, the Grawlix trio proves talent, hard work and positive attitudes pave the way for opportunity, and they did it in five breakneck years. While Ben Roy performed solo at LaughFest 2015 and Adam Cayton-Holland is a tour veteran of Grand Rapids comedy club Dr. Grins, third musketeer Andrew Orvedahl will experience his first taste of single-digit festival temperatures. Expect stand-up, live and video sketches, surprise guests and insider insight into Those Who Can't, which was recently renewed for a second season. Friday, March 18 and Saturday, March 19 at Pyramid Scheme, 7 and 9:30 p.m.
8. Hasan Minhaj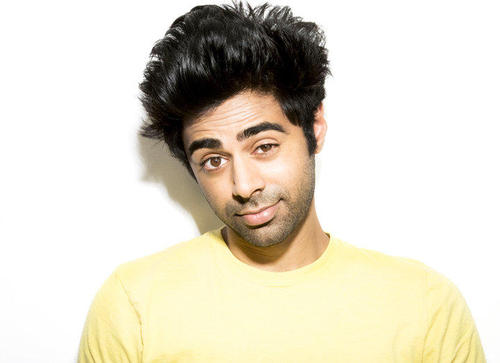 The Daily Show correspondent is a master of the personal narrative. His one-man show, Homecoming King, boasts stellar reviews and the Sundance stamp of approval. With a feature film on the way, LaughFest provides a dwindling opportunity to experience Minhaj's storytelling prowess in theatrical form. Friday, March 11 at Wealthy Theatre, 10:30 p.m.
9. Monty Python and the Holy Grail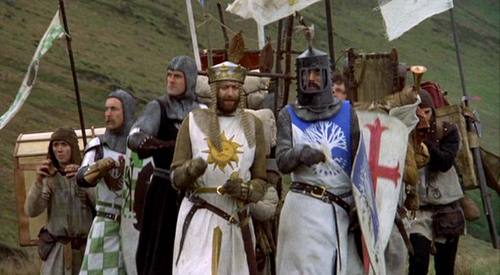 Can any serious comedy fan miss a rare screening of the titular British troupe's cult classic in which John Cleese, Eric Idle, Terry Gilliam and company pit King Arthur against the indestructible Black Knight, insulting Frenchmen and a murderous rabbit? Burn the witch! Tuesday, March 15 at UICA, 8 p.m.
10. Showcases
Numerous styles and skill levels of LaughFest talent provide stand-up options galore: clean or dirty, professional, semi-pro, amateur, college-age comics and even the timeless wellspring of kids telling jokes. Two National Headliner showcases welcome Ahmed Bharoocha, Jesse Joyce, Jenny Zigrino, Michelle Wolf, Annie Lederman, John Roy, Seaton Smith and Caleb Synan, while the stakes heighten for the Best of the Midwest Competition, in which eight up-and-comers compete for a $2,500 cash prize. Various times and locations. Visit LaughFestGR.org for updated information and tickets.
Julie Seabaugh grew up on a farm in rural Missouri. She now lives in Los Angeles and covers comedy for Rolling Stone, Variety, GQ, The Village Voice, L.A. Weekly, Vulture, Huffington Post and more. Follow her at JulieSeabaugh.com and @JulieSeabaugh.