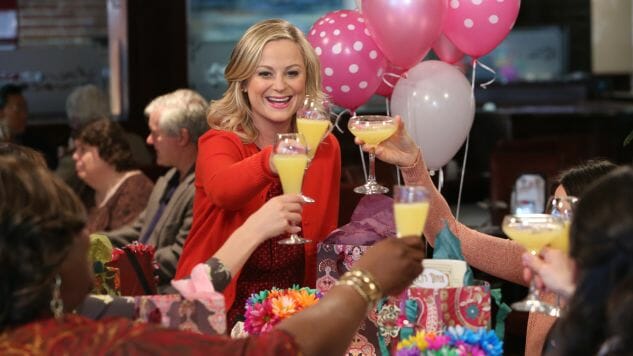 "What's Galentine's Day? It's only the best day of the year." – Leslie Knope
By starting Galentine's Day, Parks & Recreation character Leslie Knope (played brilliantly by Amy Poehler, of course) has given women a spectacular and additional reason to celebrate their friends. Observed on February 13th, Galentine's Day is a day to leave your partner at home and go out and eat breakfast with your best friends. It's all about, to quote Knope, "ladies celebrating ladies." Although Parks & Rec has come to an end, the tradition of Galentine's Day continues and these 10 songs about friendship and female empowerment are perfect for your celebration. Best served with waffles, frittatas, and your squad.
1. "Wannabe," Spice Girls
Along with bringing girl power to the 1990s, the Spice Girls gave us this enduring motto: "If you wanna be my lover, you gotta get with my friends." In the infectious "Wannabe," the Spice Girls understand how tricky it can be managing a new partner and your friends and the relationship of these two parties. But because "friendship never ends," it's pretty clear who should get preferential treatment.
2. "Umbrella," Rihanna
When times are tough, your friends are there by your side telling you it's okay. Throughout "Umbrella," Rihanna honors this duty as a friend particularly with the line, "I'll always be a friend / took an oath / I'ma stick it out 'til the end." Whether you're holding the umbrella or underneath it, take your role as a friend as seriously as Rihanna does.
3. "You've Got A Friend," Carole King
It's not a true celebration of friendship unless someone gets sentimental, and Carole King has just the song for your emotions. Her classic track "You've Got A Friend" perfectly summarizes the love you feel for your friends and the knowledge that even during the roughest storms, your friendship won't sink. "Winter, spring, summer or fall, all you have to do is call" and they'll be there for you. And so will Carole King.
4. "Army," BOY
Swiss/German pop duo BOY celebrate their friends in this track from its 2013 record Mutual Friends. Like all worthwhile friendships, BOY's "Army" is founded on love and support and is the source of calm and happiness during rough patches. The song's best line, "I'm alright on my own, but with them I'm much better," speaks volumes of how important friends are in life.
5. "Independent Women, Pt. 1," Destiny's Child
"The watch I'm wearing, I bought it. The house I live in, I bought it. The car I'm driving, I bought it. I depend on me." These simple but powerful declarations are just some of the incredibly motiving lyrics in Destiny's Child "Independent Women." First appearing on the Charlie's Angels movie soundtrack, "Independent Women" is one of the greatest songs celebrating female autonomy so while you and your friends celebrate your collective powers, celebrate yourself and remember, "depend on no one else to give you what you want."
6. "No Scrubs," TLC
Few bands bring together a group of friends quite the way TLC does. And nothing brings women together faster than bonding over awful encounters with men. So naturally, TLC's "No Scrubs" is ideal for a female bonding session. Between venting how frustrating it is to deal with a scrub ("a guy that thinks he's fly") and the song's multiple vocal parts, "No Scrubs" is ripe for a sing-along.
7. "Run The World (Girls)," Beyoncé
A day all about ladies celebrating ladies is nothing without Beyoncé. In another Beyoncé-led and female empowered track, "Run The World (Girls)," women are given a deserving celebration for all the hard work they do to make the world go 'round. Just like the work the women you're celebrating with do.
8. "Bitch," Meredith Brooks
Leslie Knope likens Galentine's Day to Lilith Fair ("minus the angst") so it's only appropriate to include a Lilith Fair alumna on this list. Meredith Brooks' "Bitch" is a celebration of strong women who can be "a little bit of everything all rolled into one." Alongside that unforgettable chorus, Brooks' subverts the insult and enthusiastically praises the many valid feelings women have.
9. "Bros," Wolf Alice
From Wolf Alice's 2015 record My Love is Cool comes this very cool celebration of long-lasting friendship. Described by frontwoman Ellie Rowsell as an "ode to childhood imagination and friendship," the playfully entitled "Bros" is extra special for those who are as close as ever with their childhood friends.
10. "Kind & Generous," Natalie Merchant
For Parks & Rec fans, you'll remember that "Kind & Generous" was the music used in the "BFF slide-show" Leslie made for Ann during Season 6. Although there are multiple subjects Natalie Merchant's big hit could be about, it's fitting to think of your own BFFs who are, after all, very kind and generous.