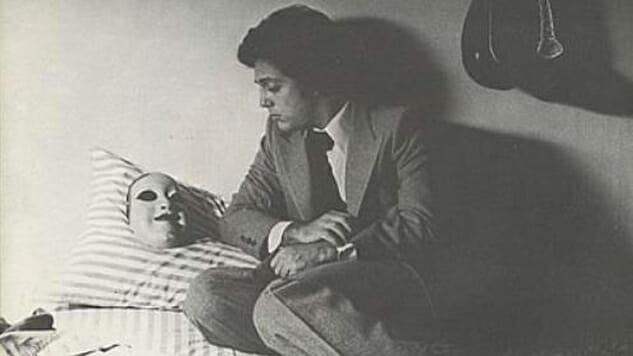 Valentine's Day is fast approaching and that means candy hearts, red roses and romantic songs on the radio. So, now is obviously the best time to dissect some classic and modern love songs that show just how creepy, angry and scary people's passions can be.
Paste highlighted The 25 Creepiest Songs About Love back in 2011, but felt it was time to revisit the list and tack on seven additional songs that really deserved to be on there, as well.
1. Peggy March, "I Will Follow Him"
Creepiest lyrics: I must follow him, ever since he touched my hand I knew
That near him I always must be
And nothing can keep him from me
He is my destiny
Peggy March recorded her version of Franck Pourcel's instrumental when she was just 15 years old, which is pretty much the most fitting thing ever. With Norman Gimbel's English lyrics, March's version of the song manages to capture all the anxiety, blind determination and stalker-level feelings of unrequited love that can motivate a teenage girl. Even though it's an upbeat track, discerning listeners might wonder if maybe this guy is running across mountains and oceans to escape a lunatic he accidentally smiled at in some coffee shop.
2. Billy Joel, "Just the Way You Are"
Creepiest lyrics: Don't go trying some new fashion, don't change the color of your hair
You always have my unspoken passion, although I might not seem to care
I don't want clever conversation; I never want to work that hard
I just want someone that I can talk to, I want you just the way you are
Okay, rude. This classic track is basically the equivalent of a backhanded compliment uttered by a manipulative partner. "No don't change, even though you don't challenge me intellectually and sometimes I ignore you, I like you as you are." This is not a love song; it is a loveless marriage song. Damn it, Joel.
3. Billie Holiday, "My Man"
Creepiest lyrics: Two or three girls has he
That he likes as well as me
But I love him
I don't know why I should
He isn't true
He beats me, too
What can I do?
Less of a creepy love song and more of a despondent and troubling one, this track still manages to come across as romantic due to Holiday's silky vocals and the tinkle of the piano accompaniment. Yet, a further inspection reveals a dark story of a woman in love with an abusive man. It somehow remains a classic song, ideally paired with a smoke-filled bar and a stiff martini, but the lyrics are not to be taken lightly.
4. Rick Springfield, "Jessie's Girl"
Creepiest lyrics: And she's watching him with those eyes
And she's loving him with that body, I just know it
Yeah 'n' he's holding her in his arms late, late at night
Let us just pause for a second and acknowledge how incredibly creepy it is that not only is Rick Springfield in love with his best friend's girlfriend, but he's also imagining them alone "late late at night." This song is basically the equivalent of that moment in Love Actually when Keira Knightley's character discovers that her husband's best friend filmed just her face during their wedding. No, it isn't sweet; it is just super creepy. The same goes for you, Springfield.
5. Garbage, "#1 Crush"
Creepiest lyrics: See your face every place that I walk in
Hear your voice every time that I'm talking
You will believe in me
And I will never be ignored
Haunting, sexy and gloriously '90s, this track features Shirley Manson calmly explaining the violent and disturbing depths of her love. Prominently featured in Baz Luhrmann's William Shakespeare's Romeo + Juliet, the song just oozes lust. But the creep factor is present in pretty much every line, from Manson's offer to "burn for you" and "feel pain for you" to her defiant and threatening statement that she will not be ignored.
6. The Turtles, "Happy Together"
Creepiest lyrics: If I should call you up, invest a dime
And you say you belong to me and ease my mind
Imagine how the world could be, so very fine
So happy together
In theory, this cheerful song is very sweet; a man is singing about how happy he would be to be with the person he loves. But the lyrics feel a lot like a sales pitch for dating, and the creepiness rests in the idea that this person he is enticing is not actually in any sort of relationship with him. Like, you know when someone begins planning your summer together after you've only gone on two dates and you start to back away and they just get more insistent and then they have crazy eyes? Like that.
7. Dusty Springfield, "Son of a Preacher Man"
Creepiest lyrics:
How well I remember
The look that was in his eyes
Stealin' kisses from me on the sly
Takin' time to make time
Tellin' me that he's all mine
Learnin' from each other's knowin'
Lookin' to see how much we've grown
Used in films like Pulp Fiction and featured on shows like The Office, this song sounds romantic but toes the line between being a nostalgic recollection of a first love and a straight-up creepy inappropriate narrative. Luckily, the track's storyline, which follows a young woman as she loses her virginity to a preacher's son, is overshadowed by how much fun the song is to sing at karaoke.