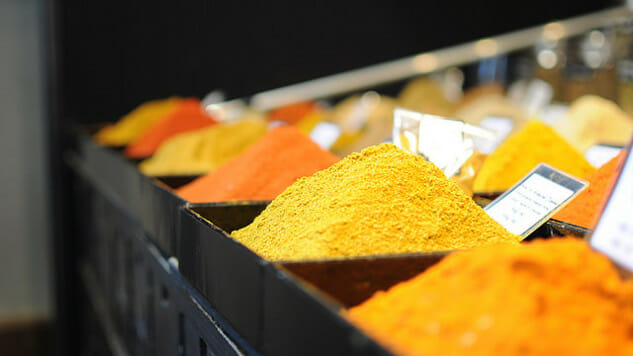 If you grew up in a home where dry condiments were limited to a neglected shaker of Mrs. Dash and lemon pepper was a hot gourmet item, your spice universe has likely expanded greatly since then.
Spice blends are also a fun way to enliven the boring routine of meals, or to dress up reconfigured leftovers. I seem to burn though them in crush-like cycles: the energizing first encounter, the subsequent impulse to use it on or in everything, and then the inevitable burn-out. The good news is there's always a different spice blend waiting in the wings to discover next. You can think of such spice sampling as a frivolous desire for day-tripping exoticism, or as a small opportunity to gain a greater understanding of different cultures via food and flavor.
If you're an ambitious sort of person, hit up the bulk spice section of a natural foods store or international market. That's where you'll find the freshest herbs and spices and the lowest prices. You can buy either ready-made blends or individual spices to make your own versions at home for optimal flavor.
But if you'd like to just try out a spice blend, buy a small amount from a store that specializes in spices. Penzey's and The Spice House are two favorites where you can typically find 1-ounce jars of most everything under the sun.
Furikake
Made primarily from sesame seeds and flakes of dried nori, furikake is a Japanese condiment that offers a light-handed hit of umami and nuttiness with hints of salt and sweetness.
Purchased furikake can vary greatly; some has dried bonito flakes, some has tiny balls of crispy rice, and some even has minute Hello Kitty heads in there, like a savory version of cake sprinkles. If you go to an Asian market, you'll likely see a dizzying array; just as there are many kinds of little black dresses, there are many furikakes, and that's why I know people who maintain a furikake wardrobe to deploy depending on what they are eating at the moment.
But in general, furikake is best on starchy things (think sushi rice or ramen), steamed fish, or crunchy things (think popcorn). I also love it on sunny-side-up eggs, cheese pizza, and boxed macaroni and cheese.
A lot of commercial furikake contains MSG, so if that's not your scene, consider making your own.
Za'atar
Sour from dried sumac berries, za'atar is popular throughout the Middle East. Formulas vary from region to region; some blends include dried herbs such as thyme, oregano, and hyssop. Like furikake, it includes sesame seeds, but it's much more robust in flavor. You'll see it baked onto savory flatbreads or sprinkled over dips—hummus and labneh are great with it.
My favorite way to enjoy za'atar is to season potatoes (toss cubed potatoes with olive oil, za'atar, and tons of salt prior to roasting), but it's great on French fries, too.
Berbere
To get a sense of how integral berbere is to Ethiopian cuisine, look at the cover of chef Marcus Samuelsson's memoir, Yes, Chef. The title of the book is spelled out traces in berbere, the signature spice mixture of Ethiopia, where Samuelsson was born. "It is the salt and pepper of Ethiopia; you taste it in snacks, in bread, in spiced butter and cheese and of course over fish and meat," Samuelsson said in an interview with KQED.
Berbere works wonders on many dishes, from braised collard greens to stewed or grilled meats. You can make your own berbere using Samuelsson's recipe (at his Harlem restaurant Red Rooster, berbere is in the fried chicken, a customer favorite).
Five Spice
It is said that the Chinese belief of balancing yin and yang led to the blend of seasonings we know as five spice powder, as it balances sour, bitter, sweet, pungent, and salty characteristics.
That's a great story, but five-spice powder doesn't necessarily have just five spices, and the spices vary from version to version. The national brands commonly found in grocery store spice sections tend to be cinnamon-heavy, with ginger, cloves, and anise seed or star anise. However, the five-spice blends sold at Asian markets are markedly more savory, often including Szechuan peppercorns or fennel seeds.
Use five-spice in Asian-inspired marinades, or add a pinch to stir-fries and sauces. Five Spice pairs best with rich and fatty meats, like braised pork and beef, but it makes a great rub on smoked chicken, too. Cinnamon-dominated five spice can perk up sweet baked goods like cookies, fruit pies, and cakes. For an unexpectedly alluring treat, try subbing it for cinnamon in snickerdoodles.
Creole Seasoning
Creole seasoning has been around for ages, but if you didn't grow up in the Louisiana Bayou region, it possibly wasn't part of your flavor vocabulary. A handy shortcut in creole-inspired recipes, creole seasoning is also a kicked-up salt that's tasty sprinkled on finished foods. Its main components are paprika, thyme, cayenne pepper, black pepper, garlic and onions powders, and other dried herbs. Popular commercial blends include Zatarain's, Tony Chachere's, and Emeril's Essence. It's used in soups and stews (gumbo and etouffee are the obvious ones here), rice dishes like jambalaya, all kinds of seafood dishes, and even in egg salad or on French fries.
Commercial versions can be pretty heavy on the salt and sometimes have a stale or processed flavor, so consider blending your own—that way, you can add as much as you like without making your food too salty. Here's Emeril's recipe.
Garam Masala
Garam masala is a Northern Indian curry powder, and it's distinctive in that it's not based on turmeric as the default curry powder we're most accustomed to using in America. Cardamom, coriander, and black pepper are heavy hitters in garam masala. It has a beguiling complexity and almost floral essence. You'll see it used in many recipes from the Punjabi region. It goes well in plenty of vegetarian and poultry dishes.
Ideally, garam masala is added in the final stages of cooking a dish, so as not to squander its perfume or bring out any bitter notes. This is a fun one to make at home, but ideally you'll need a spice grinder, because great garam masala starts with toasting whole spices in a skillet . Try this recipe from Epicurious.
Ras El Hanout
This North African spice mixture would be customized in-store based on how posh the buyer is—its name means "top of the shop," and it's a blend of the best spices the merchant has to offer. So there's no definitive formula, but it often includes cumin, black pepper, allspice, ginger, cinnamon, turmeric, and some kind of ground dried chilies. Very fancy versions might even include saffron. It's not fiery-hot in its flavor profile, but warm and earthy. You'll see it used in tagines, grain pilafs, and as a rub on grilled meats.
Heidi Swanson of the blog 101 Cookbooks is a big fan, and she uses ras el hanout in inspired ways, like these terrific chocolate coconut puddings .
Chili Powder
Wait, what? How can that be a blend—it's just ground-up dried chilies, isn't it?
Well, yes and no. The good ol' American chili powder that's on the grocery store shelves and called for in every Midwest mom-style ground beef taco filling recipe is not simply straight-up ground chilies. It's a blend of primarily ground mild chilies mixed with other seasonings, probably including paprika, cumin, oregano, garlic powder, and even salt. (For instance, according to its label, McCormick chili powder contains chili pepper, spices, salt, silicon dioxide (to prevent caking), and garlic.
When I learned this, I felt a little disappointed, like I'd been swindled for years—I thought I'd been using pure (if pretty generic) ground chilies this whole time. Usually I still add other seasonings to whatever I'm making when I use chili powder, so I'm just gonna keep on keepin' on for that classic mom-style flavor…but if this news is a revelation to you, you can blend your own chili powder just to your specifications, so it's nice and fresh and zippy. Here's Alton Brown's recipe, which just might make your next batch of chili a whole new ballgame.
Main image by Ermis CC BY-SA