Andy Serkis' Jungle Book: Origins Now Has a Marginally Better Title
Photo by Stuart C. Wilson/Getty
Movies
News
Jungle Book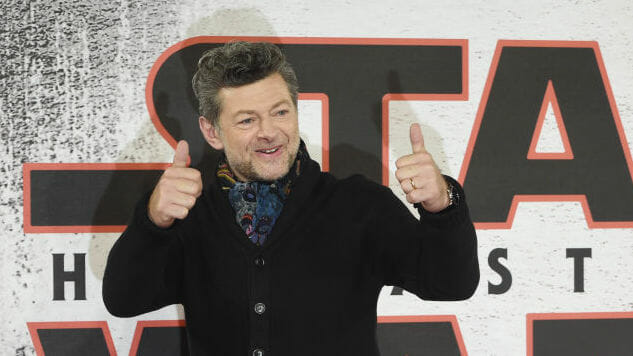 In its neverending quest to do everything Disney does, only noticeably worse, Warner Bros. Pictures has been working on a Jungle Book adaptation for the past few years. And instead of titling it something normal or reasonable, say, The Jungle Book, Warner Bros. has opted for a … different approach.
Directed by Andy Serkis, Warner Bros.' new adaptation was originally titled Jungle Book: Origins, which is an unimaginably stupid title. News today has rolled in via Variety that the studio has upgraded to the only-somewhat-better Mowgli.
Like several other high-profile Warner Bros. franchises, Mowgli seems to be less about any individual vision and more about reacting to market trends. Disney had Idris Elba as Shere Khan in its adaptation? We'll have Benedict Cumberbatch. Disney got Scarlett Johanssen to play Kaa? We'll get Cate Blanchett. Disney made almost a billion dollars off its adaptation? We'll make less, but most likely still turn a profit, making this a worthwhile business investment. Disney called theirs The Jungle Book? We'll call ours Jungle Book: Origins to make it sound like a superhero movie, despite the fact that The Jungle Book is itself an origin story already. No, wait, we'll call it Mowgli—yeah, that household name that everyone knows. Mowgli.
With DC superheroes, King Arthur, Lara Croft, Blade Runner, Fantastic Beasts or Ready Player One, Warner Bros. has repeatedly shown that it will either bet big on franchises that were never going to turn in big box-office receipts or run beloved IPs straight into the ground (or both at the same time, as with King Arthur: Legend of the Sword). Anyone involved with a project that for so long went by Jungle Book: Origins should reconsider their careers, but Warner Bros. seems to leap headlong into projects like these every other week.
Mowgli is currently slated to open on Oct. 19, 2018. You can read our review of Disney's version here.