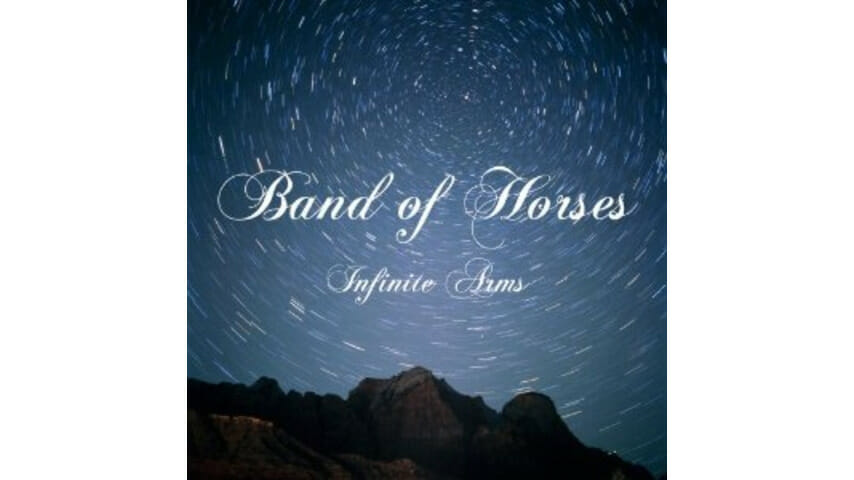 The Lowcountry's finest do it again
While ruminating on his Sub Pop days during a 2008 interview, former label head Bruce Pavitt was asked who his favorite current band on the roster was. "Band of Horses," was his surprising answer. "Those guys are doing some really amazing things." Considering Pavitt can now be found hanging with shamans in the jungles of South America, it was hard to tell if he was being completely serious. But let's just say that the man credited with discovering Nirvana was, intentionally or not, on to something.
More muscular than The Avett Brothers or Iron & Wine, less concerned with experimentation than Wilco, and free of the folk prison occupied by Fleet Foxes, Band of Horses—now recording, indirectly, for Columbia through their own Brown Records—might be the best traditional rock band in America not named My Morning Jacket. This is, to put it mildly, is shocking.
On Infinite Arms, Frontman Ben Bridwell leads the Horses a little further out of Neil Young's backyard. After lead track "Factory" enters the world amid a fanfare of faux strings, "Compliments" harkens back to the band's wheelhouse with Bridwell shaking his tattooed forearms at the sky, questioning the existence of God in the air, righteous power chords at his side.
But the crew relies less on guitar bombast this time out. Seemingly able to kick out a chug-a-lug stomper with absolute ease at this point, the best moments on Infinite Arms center around Bridwell's growing confidence in the his deadliest weapon: his voice. "On My Way Back Home" pushes his upper register to the breaking point over a slowly growing drumbeat, "Evening Kitchen" revels in the kind of man-on-man, nearly CSN&Y-grade harmonies that send a shiver down your back (and your finger scrambling for the "repeat" button) and album-apex "Older" sounds warm and worn-in, like some porch-swing hymn passed down through the generations of the band's South Carolina roots.
After three albums, Band of Horses finally sound comfortable being what they are: A rock band. A really fucking good rock band. Somewhere in the deepest jungles of Peru, Bruce Pavitt is smiling.