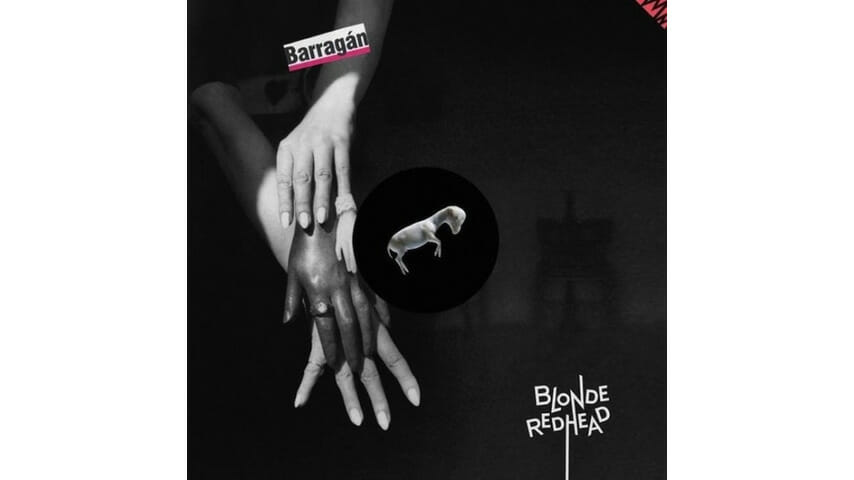 The notion of presence seems fitting for a band like Blonde Redhead to explore 21 years into its career. Their place in music history was forged in the early '90s as art-punk rockers and secured as dream-pop maestros (and arguably wavered as synthy surveyors). Now on the New York-based trio's ninth record Barragán, the focus shifts inward. And it turns out that Blonde Redhead has morphed into a sparse, almost trance-like, sonic existence.
Although the Italian/Canadian twin brothers—guitarist Amedeo and drummer Simone Pace—and Japanese vocalist and artist Kazu Makino claim that they chose the title because it sounds cool, Barragán also references the Mexican architect of the same name. Recognized for his modernist tendencies, Luis Barragán worked with clean lines and raw materials. Likewise, Blonde Redhead recorded Barragán live in the studio with their own raw materials, analog devices and instruments, marking the band's evolution from 2010's highly synthesized, divisive Penny Sparkle.
Blonde Redhead exhibits extreme restraint on Barragán, almost to the point of monotony. Tracks that veer off-tempo or vary in range break the hypnosis. So, too, does the use of out-of-the-box instrumentation like on the opening title track's pentatonic flute solo or the boinging sound of a springy kid's toy at the end of "Defeatist Anthem (Harry And I)." Elsewhere, the almost nine-minute "Mine To Be Had" actually sounds like it belongs in an '80s action film with its pulsating and crashing synths, and Makino's yelps and staccato "ahs" and "oohs" in "Cat on a Tin Roof" accurately personify its title's imagery. Even with Barragán's sleepiness and sparseness, the malleability of a band like Blonde Redhead—especially one that continues to make music for the art of creation—is the same strength that has kept them relevant for so long.