Knife Making and More on DIY Living With Renaissance Woman Olivia Garriga
All photographs courtesy of Olivia Garriga
Design
Features
Renaissance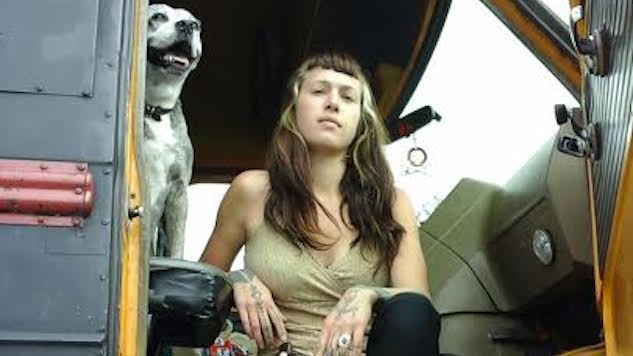 Olivia Garriga is a woman of many skills and interests. First spotted on the street in Williamsburg, Brooklyn selling her jewelry, her presence has became louder and more well known to New York commuters once she began to play music with her husband, Matt Hagar, as Outlaw Ritual. The band has two forms—the acoustic busking duo line-up where Matt sings and plays guitar or banjo while handling percussion with his feet while Olivia locks it all in on standup bass, or the electric, stage friendly trio where they are joined by Liam Crill on drums. A few years ago, I watched them play on a subway platform, and Olivia told me that she had she just began to play bass a few weeks earlier. I knew then, and have since become fully convinced, that she can teach herself how to do anything. Her latest endeavor is knife making, and we spoke on that and other self learnt skills.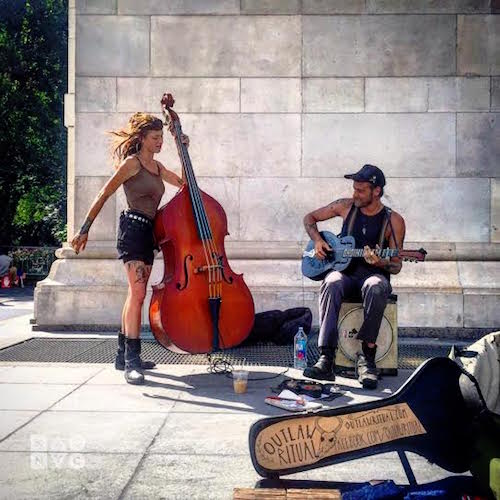 Paste: I've know you to make your own jewelry, busk for a living, draw and make screen prints for clothing and give tattoos—how does your DIY education/lifestyle fit into knife making?
Olivia Garriga: Since I was a child, I have been obsessed with knives. My mom collected really nice knives, so my fascination stemmed from her. I've always made art, but I was never proud of anything I made, it was just a way to make money on the street at the time. I have always wanted to make my own knives, but didn't think I had the resources, education, or money to do so—after years of fantasizing about getting into blacksmithing, I tried reaching out to get an apprenticeship, or take a class, but I couldn't find anything. So I said, 'fuck it, I have taught myself every other skill I know, and this should be no different.' I saved up my money and bought the basic tools, and, through trial and error, books and YouTube, that's how I learned.
Paste: Is there an overriding drive to be self employed? When was your last day job?
Garriga: I feel like I don't really have another option, but to be self sufficient. It's all I know how to do. I've been supporting myself for almost 10 years now, just on the street. If I've made it this far, then I just have to keep going. I worked for my dad for as long as I can remember, he owned a feminist run sex shop in my hometown. When I dropped out of school at 15, I started working for him full time making and designing leather sex whips to sell in the shop, so that was a pretty steady day job. I worked there until I moved to Brooklyn when I was 17.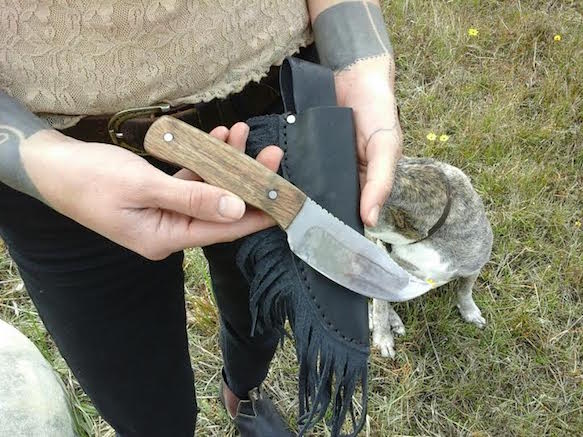 Paste: Is there overlap between your worlds of interest? Do people come to your shows wanting to buy knives?
Garriga: That's one of my problems. I have so many interests, and sometimes I try and do everything at once. I have extreme anxiety about running out of time. After years of travelling alone and self destructive behavior, I met my husband. He pulled me out of the pits of self induced hell. so now I try and utilize every moment to create something useful or inspiring for myself and others around me.
Paste: Do you go to knife shows? Who is buying knives from you?
Garriga: I have set my knives up at shows, but it's not like people are flocking there to buy them. It's hard enough selling a $10 CD. I've sold at a few craft fairs and my Etsy shop. My main customers are "tough biker looking guys," but I'm hoping to get more female customers. I make a living off music, so I'm not to worried about profiting off them. I have attachment issues with my knives, so if I can't sell them for the price I think they are worth, I hold on to them. For now, I've just got a whole suitcase of hand forged knives I travel with.