McDonald's Testing New Crab Sandwich, The Crabby Patty We Never Wanted
Image via McDonald's
Food
News
McDonald's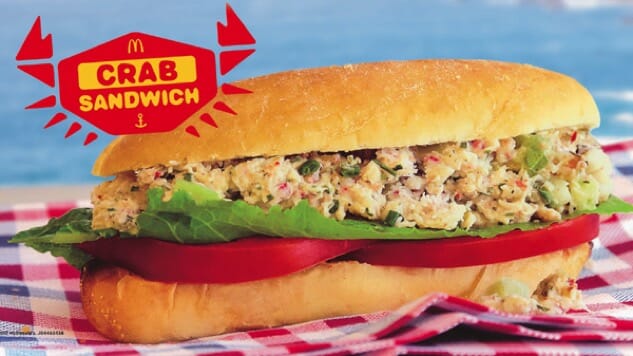 On Thursday, McDonald's announced a new entree: The McDonald's Crab Sandwich. (Cue screams of terror.)
This isn't the first time McDonald's has dabbled in creating something that shouldn't exist. Last summer at New England and Canadian locations, the fast-food chain released the McLobster, a lobster roll for only $9 that many people thought was surprisingly okay. In the 1960s, McDonalds briefly tried out the Hula Burger, which was basically a slice of grilled pineapple with cheese—needless to say, it failed spectacularly.
Now, the Crab Sandwich will make its West Coast debut at four select locations in San Jose, Calif. The Crabby Patty, if you will, consists of snow crab meat topped with mayo, tomato and lettuce on a toasted sourdough bun smeared with herb dressing. It is the brainchild conceived between McDonald's and celebrity chef Ryan Scott. Scott is the owner of the restaurant Finn Town Tavern in San Francisco, so if you're in the area and feeling nervous about diving straight into the McCrab, considering trying Finn Town's Lobster and Truffle Cigars for $17 a pop—unfortunately, we were unable to find anything containing crab on the menu.
If the Crabby Sandy turns out to be popular, McDonald's said they would consider expanding the entree to as many as 250 restaurants in the Bay Area. In a statement, McDonald's Co-op President of the Bay Area Nick Vergis said, "After the overwhelming success of our local favorite, McDonald's Gilroy Garlic Fries, we wanted to test our own take on the beloved crab sandwich. We're excited for our customers to try it and share their feedback." For the record, said McDonald's Gilroy Garlic Fries do look pretty tasty.
If you happen to be living by one of the select locations serving the new Filet-O-Crab, and you're feeling particularly adventurous, try it and let us know what you think. We may be looking at the next Big Mac, or the next soggy pineapple pretending to be meat … only time will tell.