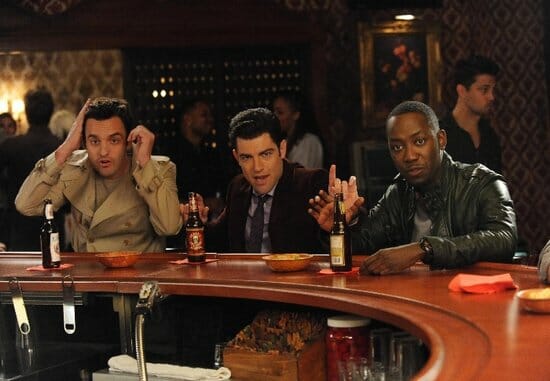 Ever since New Girl started, I've worried that the show would handle the pairing of Nick and Jess in the wrong way. Putting them together in a romantic way has huge consequences for where this show goes from here. In "Cooler," we learn there is a right way and a wrong way to do this sort of thing. For the two seasons so far, the writers on New Girl have had so many chances to put Nick and Jess together, yet it would have never felt right—much like how Nick and Jess can't kiss while behind The Iron Curtain with their friends shouting at them. But with Nick and Jess' kiss in "Cooler"'s final moments, the writers have found the perfect moment, building slightly in the first season and moreso in the second to this exact time, where now it sort of makes sense for these two to finally lock lips.
There is a large part of New Girl's audience that has been clamoring for this moment since the pilot, but as Nick says, it's not the right moment. But when Nick finally makes the leap—and confidence-jacket free, no less!—and says he was waiting for "something like that," it almost feels like the writer's saying to the audience, "your patience has finally paid off for this perfect moment."
Now, granted, I have been very vocal in my lack of interest in seeing a Nick and Jess hookup. I've always thought of New Girl as a look at a family consisting solely of friends, rather than one based around romantic entanglements. Yes, Cece and Schmidt kind of ruin this theory, but during most of the first season Cece wasn't much of a part of the main group. So many sitcoms have gone with the will-they-or-won't-they storyline, part of me hoped that New Girl wouldn't. As great as The Office-Friends-Happy Endings-etc. can be in that arena, New Girl seemed intent on setting itself apart without having this level of relationship. But now that we are in the thick of it, Nick and Jess finally coming together, it doesn't feel as egregious as it could have been. Here are two people who have been growing closer and closer, so by the end of "Cooler," maybe I would have preferred that the show never even addressed the possibility of these two as an item, but since I'm clearly in the minority here, I'll say "Cooler" did it in just the right way.
But "Cooler" isn't solely about the final two minutes; it also gives us plenty of insight into the rest of the loft inhabitants. The three guys, the Band of Brothers, have decided it's time to go out and get laid. Jess has to stay behind, since her attempts at getting Nick some action have always ended poorly. After getting kicked out of a discothèque thanks to Nick's new trenchcoat clearly made for a woman, the three meet a pair of women. After stuttering when trying to hit on Brooklyn Decker's Holly, Winston finds solace in the possibly engaged Daisy, played by Brenda Song. Daisy tries to build up Winston's game, then when she announces that she isn't really engaged, he finally has the courage to make his move on her.
After Winston's fail with Holly, Schmidt and Nick battle over her. Holly is attracted to guys who are sad, so she's instantly attracted to Nick, yet Schmidt tries to pass himself off as a sad guy in order to win her over. When Jess freaks out that there's someone scratching at the door, interrupting her fantasies of losing first place in track at the Olympics, she calls Nick to come protect her.
This is where the first signs appear that something is up. Instead of calling Sal—her boyfriend—to come help her out, she calls the person she trusts the most, Nick. But she doesn't see it as romantic at all. On the contrary, she even brings back television's most unclear game, True American, to help Nick out with Holly. But this time, True American is back with a sexy twist: the Clinton version.
Thanks to the magic of True American, Winston gets closer to Daisy, who it's easy to assume we'll see more of, since she seems like a great way to make Winston more confident in himself. Jess proves her "cooler" status when a mistake in True American leaves her and Nick trapped, only able to escape if they kiss. Schmidt takes this opportunity to successfully pick up Holly, after telling her the story of him and Cece. When Cece comes to the loft, with her date Skivrang, played by Satya Bhabha (Cece seems to have a thing for supporting actors from Scott Pilgrim vs. the World), she admits that she has and always will love Schmidt.
But all this seems so natural; it's a testament to how great New Girl's writing is. Not only is "Cooler" the episode that so many fans have been waiting for, but it also is able to bring back the much-loved True American and it gives us interesting arcs and growth for all five characters. New Girl is now in a zone where it has to be incredibly careful with how it handles Nick and Jess. Yet if they can handle their story with as much care and patience as they did in "Cooler," I have complete confidence in their plans, and maybe—just maybe—a Nick and Jess relationship could be a great thing.