Rare Footage of 1966 Beatles Performance Found, Remastered for Viewing
The 92-second clip shows the Fab Four performing "Paperback Writer" on Top of the Pops
Photos by Central Press/Getty, BIPs/Getty
Music
News
The Beatles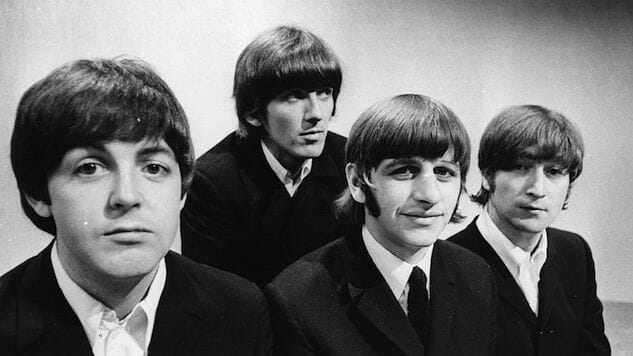 The Beatles. Arguably the band of the 20th century, influential and popular in ways most musicians can only dream of. You'd think music historians and super-fans alike have seen every speck of band-related material, right?
Wrong. A 1966 clip of the Fab Four performing single "Paperback Writer" on the U.K. music chart television show Top of the Pops has been discovered and will soon be made available for public viewing. Collector David Chandler recorded the 92-second clip using a wind-up camera, recently rediscovering the film after digging through his attic. Chandler then donated the 8mm reels to Kaleidoscope, a group focused on restoring decades-old film and television. After some professional remastering, the performance is now ready for the rest of us to witness.
Chandler's find proved exceptional in more ways than one. Also included were performances by Dusty Springfield, The Hollies, Ike and Tina Turner, Tom Jones, The Shadows and The Troggs. All in all, the extra reels contained nine minutes of material.
Kaleidoscope's chief executive Chris Perry described the find in a statement given to The Guardian:
Kaleidoscope thought finding 11 seconds of "Paperback Writer" was incredible, but to then be donated 92 seconds—and nine minutes of other 1966 Top of the Pops footage—was phenomenal.
The Beatles' 1966 appearance, which will make its debut in a screening Saturday at Birmingham City University, occurred two months before the group's final performance at San Francisco's Candlestick Park in August 1966.
Hear Paul McCartney perform Beatles hits circa 1990 via the Paste archival audio below.