Shia LaBeouf's Anti-Trump Art Installation Gets Nixed
Photos by Robin Marchant/Getty, Clemens Bilan/Getty
Politics
News
Shia LaBeouf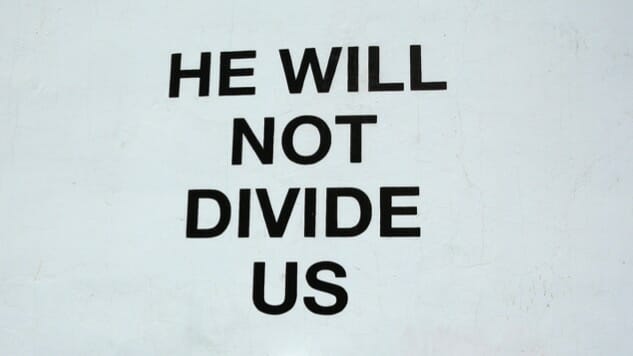 Like safety pins, the phrase "fake news," Pepe the Frog, parentheses and just vast swathes of social media in general, the totally facacta alt-right has managed to ruin another good thing.
So maybe "good" is a bit generous in describing Shia LaBeouf's HEWILLNOTDIVIDE.US project for the Museum of the Moving Image in New York, but the former famous person's anti-Trump art installation was at least compelling.
Started on Inauguration Day, LaBeouf's installation was conceived to run throughout the entirety of Donald Trump's presidency. It had a running camera for people to share messages of hope into and collected those inspiring words for others to see.
But of course, some people can't stand anything cool or nice or communal. So neo-Nazi shitbirds started picking fights with LaBeouf and spouting nationalistic MAGA nonsense into the feed. LaBeouf was actually arrested after a skirmish with one fervent neo-Nazi, which was probably the beginning of the end for the installation.
Now today, the Museum of the Moving Image has announced it is putting a kibosh on the entire project: "The installation created a serious and ongoing public safety hazard for the Museum, its visitors, staff, local residents, and businesses," a carefully prepared statement on the site reads. "'The installation had become a flashpoint for violence and was disrupted from its original intent."
In response, LaBeouf simply tweeted an image that reads, "The Museum Has Abandoned Us," while an addendum to the project's website reads, "On February 10, 2017, the Museum of the Moving Image abandoned the project. The artists, however, have not."
So there you have it: the alt-right's continuing to prove why we can't have nice things.