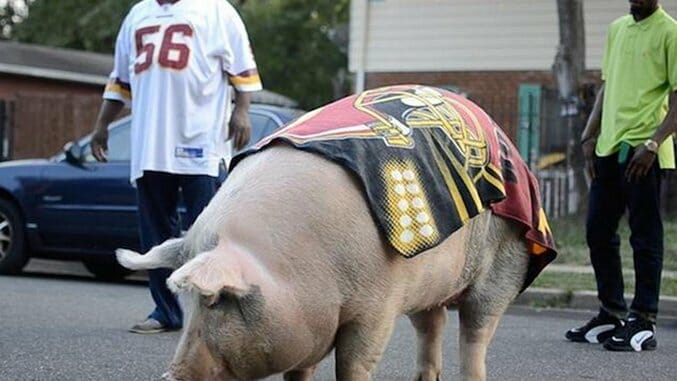 From Do the Right Thing to Menace II Society, from Boyz n the Hood to Don't Be a Menace (in South Central While Drinking Your Juice in the Hood), a recurring narrative in mainstream black cinema deals with surviving in a society where the rules of success are rigged. Institutionalized racism, political bankruptcy, financially fraught school systems and low-income neighborhoods provide the backdrop to countless storylines about the cycle of crime and violence perpetuated by those conditions. Whether they demonize, glorify, spoof or engage in a combination of the three, these films tend to be high concept, with central characters determined to get out of the 'hood or die trying. To varying degrees, their "home" is an obstacle to overcome—a prison from which to break.
Directors Zack Reed and Joe Frank unfold another narrative, a much quieter one that speaks to the slow heartbeat of their tight-knit, unsung community. Sweaty Betty is the first installment of a planned series charting the daily grind of their Maryland hometown, and joins Sean Baker's Tangerine as the year's second film to use a handheld camera style to follow two 20-somethings around their neighborhood for a day.
Sweaty Betty opens with Rico, a 23-year-old single father whose partner ran out when their son was two years old. He introduces himself as a youth outreach coordinator, and gives a quick tour around the one-bedroom he shares with his mom and boy. Initially he speaks into the camera, positioning himself as the audience's surrogate, but he abandons his post several minutes later after joining up with his best friend Scooby (Seth Dubois), also a single father, shuffling the audience from the front to the backseat for the remainder of the film.
The first of two storylines begins with Scooby and Rico welcoming a young female pit bull into their midst. The pup's owner deposits her at their feet, citing her need for training and the owner's lack of time and/or patience. The duo accepts ownership and parades her around in search of a proper leash while discussing plans for the night. It's Father's Day weekend, after all, and prospects are high.
The second storyline stars Floyd Rich and his half-ton hog Charlotte, the unofficial mascot of the Washington Redskins and the pride of the neighborhood, not to mention Rich's heart. The scenes with Rich outside the football stadium, hauling his girl around in the bed of his truck, draped in Redskins apparel for all to admire while the camera shakes with each bump in the road, lends buoyancy to the film while mining its integrity. When Charlotte's resident status is revoked on account of zoning restrictions and Rich launches a campaign to get her back, one neighbor in an interview pleads the case for not just Charlotte but also for Sweaty Betty: "We just want everything to be good…and just be thankful for what we got, what we did."
Quick and thick regional dialect is translated via subtitles, a welcome aid in deciphering Scooby. His story, a tragic culmination of events involving the death of his girlfriend (and mother of his daughter) poses an opportunity to ramp up the film's drama—but instead is touched on only briefly. Sweaty Betty's interests don't lie in collective nor individual grief, sorrow, anger or even justice. It doesn't dwell on the past or worry about the future. Like Rico says in the opening minutes, "As long as I get through the day, I'm cool."
The 90-minute runtime, chaptered out over six segments, transpires on the front porches, in the backyards and at local food marts of Hyattsville, just outside Washington D.C. The soundtrack, absent from the scenes shot in real time and employed only for montages and transitions in and out of chapters, texturizes Sweaty Betty with a part-Brooklyn nightclub, part-desert festival vibe through an eclectic mix of Al Green, French synth-pop and post-hardcore that seems stylistically devious but complements the experimental atmosphere. The slim storylines are nothing if not authentic, but they do challenge even the most resilient attention spans. The script is bare: Not much happens technically, narratively, visually or emotionally. It's clunky and unsure of itself but it has fun in the process. But that fun seems all the directors' own.
They premiered their loving tribute earlier this year at South by Southwest, but not before it was turned down by a handful of other festivals closer to home. The no-frills docu-style film plays like a home video—the actors play themselves, and with light direction, minimal editing, flat photography and largely improvised dialogue—with long pauses and longer takes—commercial appeal is nigh. Reed and Frank may have overcommitted to capturing life as it happens, taking the cinema clean out of cinéma vérité. But it's a courageous first effort, and a lot of people should be genuinely interested it what they come up with next.
Directors: Zack Reed and Joe Frank
Writers: Zack Reed, Joe Frank, Seth Dubois, Rico S., Floyd Rich
Starring: Seth Dubois, Rico S., Floyd Rich
Release Date: November 27, 2015