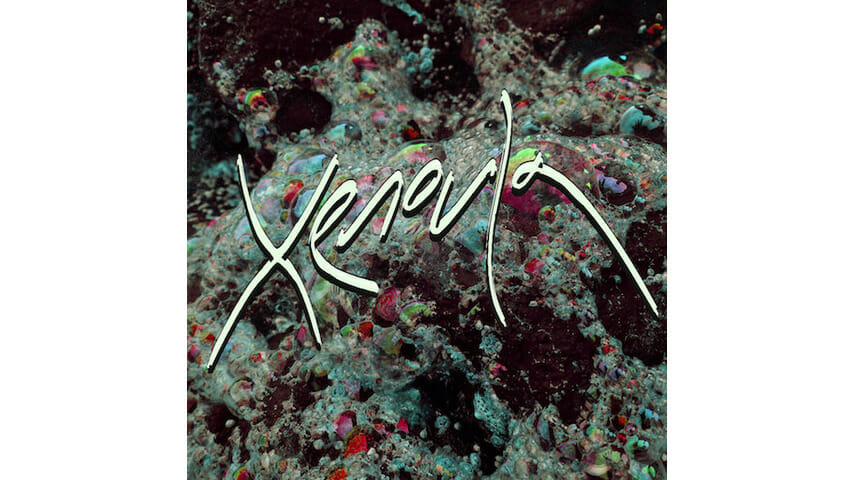 Xenoula has decided to play coy.
Her official press photo offers just a portion of her face surrounded by pinkish-purple bubbles. The video for her song "Chief of Tin" features a woman hatching from a womb-like pod and exploring a verdant forest while covered head to toe in a tarry substance. (It's a pretty cool video. You should watch it.) Her other video, for "Caramello," is a bunch of wide shots of what appears to be the same woman walking across various landscapes without ever showing her face.
Xenoula told the website Dazed & Confused that performing live makes her "uncomfortable" and that she'd like to "create a new sort of live show that changes the traditional role of performer and audience around a bit." The Fader called her "mysterious," and when they asked her a question, she replied with a poem. (Ha! Good one, Xenoula.)
She does have an official bio. It says her name is Romy Xeno, that she's from South Africa, and that she moved to the U.K. as a teenager and started making music as a way to communicate her feelings about the culture shock she experienced.
It also says she has an "introspective affinity with flora and fauna rather than with man and machines."
Now that part make sense. That part sounds pretty good.
One more thing we know for sure about Xenoula: She released her debut full-length album last week, via Domino Records. It's self-titled and was produced by Sam Dust, aka LA Priest, who collaborates with Kiwi pop chameleon Connan Mockasin on a strange lite-funk project called Soft Hair.
Dust brings a similar sort of slanted funk-pop feel to Xenoula, blending in some mild global flavor to reflect Xeno's cosmopolitan background. The beat that drives "Chief of Tin," for example, feels tribal and subdued, like a skittish set of gulps. This provides ample room for sounds to warp and whoosh around, with Xeno cooing breathily in the spaces between. By comparison, "Luna Man" is almost garish, with its assertive beat, bright synths and Xeno's more forceful vocal. Sounding somewhat Bjork-ish, she sings of wild winds and full moons as the track bounces and wiggles below.
Elsewhere, "Cyan Water" features a pretty melody floating atop a paper-thin reggae rhythm. "She Ghosts" builds into a legitimately beautiful jumble of rubbery tones and baying drones. "Honey Priest" is either lurching, experimental electro-pop or it's the sound of Dust messing with studio toys while Xeno chants nonsense. They're all interesting, but they're hardly vital. Only "Caramello" — a woozy, '70s-reminiscent synth-funk number — feels like a fully formed idea.
To its credit, Xenoula ends on two strong notes: "Leyline Ogres" and "Toraroi," two lopsided landscapes of bloops, knocks, chirps and sighed Dadaist poetry. Throughout much of the album, Xeno and Dust sound stuck between pop and avant garde. Here, the commit to the latter, with promising results.
That's Xenoula in a nutshell: Often weird. Oddly pretty. Always full of promise. It'll take work—and focus—to fulfill that promise, but it's definitely there.