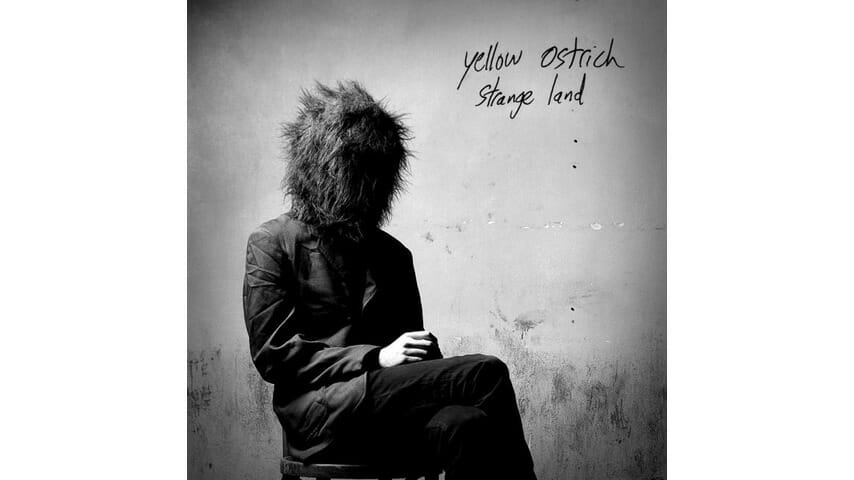 Millenial musings bursting like bubbles
Yellow Ostrich mainstay Alex Schaaf likely has some rather itchy feet. After spending about two decades in his home state of Wisconsin, he pulled up his roots and replanted them to cover Brooklyn's coordinates. At only two years in, it's still applicable to call a new album Strange Land. It could be for the obvious reasoning—moving to a new timezone with far less dairy and such—but it could also refer to a brand new artistic dynamic. All during Schaaf's time in the Midwest, Yellow Ostrich existed as a solo effort. However, since his relocation, two new minds gradually came into the equation. Be it a slow adjustment to Brooklyn's coconut water bottle-littered streets or just to the dynamic of working in a trio, Schaaf's working through his discomfort through melodic, guitar-heavy pop. Lucky for us.
Strange Land marks Schaaf's third full-length under his Yellow Ostrich moniker. His first, the totally solo-crafted Wild Comfort, dropped in 2010 and works as an adorable example of bedroom music. The next year, he enlisted help from former Bishop Allen drummer Michael Tapper to craft The Mistress—and cue the blog crowd group wave. The Mistress certainly got certain pop aficionado circles vigorously nodding heads with its accessible, carefree jubilee. It was evident that Schaaf and new drummer Michael Tapper meshed artistically like a dream—as a duo, it flowed. However, be it because the addition of new energy (multi-instrumentalist Jon Natchez added circa last fall) or some environmental confusion, Strange lacks the same immediate coherency Mistress seemed to glean effortlessly.
Schaaf keeps repeating how Strange is different because it's not just him, it's a band. And right now, the album kind of sounds likes just that—several people's ideas polarized in certain elements and songs. However, be it because the addition of new energy (multi-instrumentalist Jon Natchez added circa last fall) or some environmental confusion, Strange lacks the same immediate coherency Mistress seemed to glean effortlessly.
This record might even be Schaaf's Showgirls, an attempt to prove that despite his baby face, he's definitely less inclined to privacy or sugar-coating. We know he can be quite the hopeless romantic from his past of effectively woo-ing songs like "I Think U Are Great" and "Hold On" from Mistress. Schaaf pushes on down the adorable trail he blazed since Yellow Ostrich started releasing tunes, but now he's making mention of backseats, sheets and secret boot-knocking bonds.
But most importantly among the mood change with Strange, Schaaf lets his guitar rock. And it's awesome, especially on "The Shakedown," which pays mad tribute to the shoegaze appearing to guide his fingers along the neck.
Single "Marathon Runner" feels a little unbalanced at first with its tom-heavy percussion and semi-urgent finger-tapped guitar. It entertains the allure of gypsy life ("I am a hot air balloon / Not a sailboat / I'd make this my home if I learned to float") and despair of a wondering heart ("I can't stop putting on other people's clothes / I love them till I leave").
Another bubbly seductive track, "I Want Yr Love," requests to rekindle with an estranged former lover. It's almost the follow-up track from Mistress' "Hold On." Sparing, despaired piano and single-note horn stamps build layer upon layer. He also mentions an alternative to reuniting: "You won't know me if you tried / Cuz I'll make you a stranger / That's how I'll get by." It's a pretty harsh promise. And then there's: "If I could take one thing back / I would have known you sooner." Perhaps he left a potential soulmate in Wisconsin—an idea he clearly wonders aloud about throughout the track.
The unsettled feeling resounds heartily in the above track along with "Wear Suits" and "Up In The Mountains."
Asserting "adult status," "Stay At Home" either glorifies existing as a bed potato or and awesome, clandestine carnal relation—who the hell knows? Either way, it proves itself as one of the most fun cuts of the album.
Beau Sorenson produced the joint, which is something worth noting. "I Got No Time For You" prevails as the most evident example of this, with creeping percussion and especially haunting vocals.
"When All Is Dead" prevails as a worthy closer. Coming in like a lamb but at around the two-minute mark, instruments swell into a thunderstorm of scrambled guitar and grandiose horns. "If you had no choice but to like me / Would you settle down? / Would you come around?"
Although the album seems disjointed during the first few listens, further pressing reveals a pattern—a third potential meaning. It could be a simple mirror held to some of the charming generational attributes assigned to the millenials. Where should any of us be right now? And doing what? With whom? These are questions stereotypically assigned to 20-somethings like Schaaf, but they should still be asked among all ages. And often. And it's something that apparently Schaaf's figured out. So while this might indeed be a coming-of-age record, it's very clear that this is an acknowledging age and existence experience.