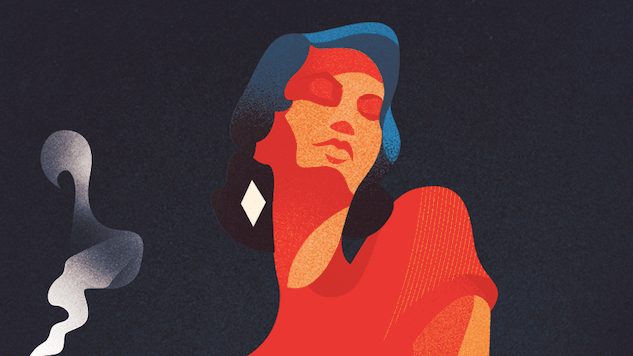 Marketed as Boardwalk Empire meets The Night Circus, Alaya Dawn Johnson's latest novel follows an assassin fighting her fate at the dawn of World War 2. The book, titled Trouble the Saints, already boasts N.K. Jemisin's stamp of approval on the front cover. And with Johnson's prose drawing comparisons to James Baldwin's and Jesmyn Ward's writing styles, we can't wait to read this gritty alternate history from the Nebula Award winner.
Intrigued? Check out the description from the publisher:
Amid the whir of city life, a young woman from Harlem is drawn into the glittering underworld of Manhattan, where she's hired to use her knives to strike fear among its most dangerous denizens.
Ten years later, Phyllis LeBlanc has given up everything—not just her own past, and Dev, the man she loved, but even her own dreams.
Still, the ghosts from her past are always by her side—and history has appeared on her doorstep to threaten the people she keeps in her heart. And so Phyllis will have to make a harrowing choice, before it's too late. Is there ever enough blood in the world to wash clean generations of injustice?
Tor Books will release Trouble the Saints on June 2nd. We're excited to reveal the stunning cover and share an excerpt ahead of the release, which you can view below.
Cover design by Jamie Stafford-Hill and art by Charlie Davis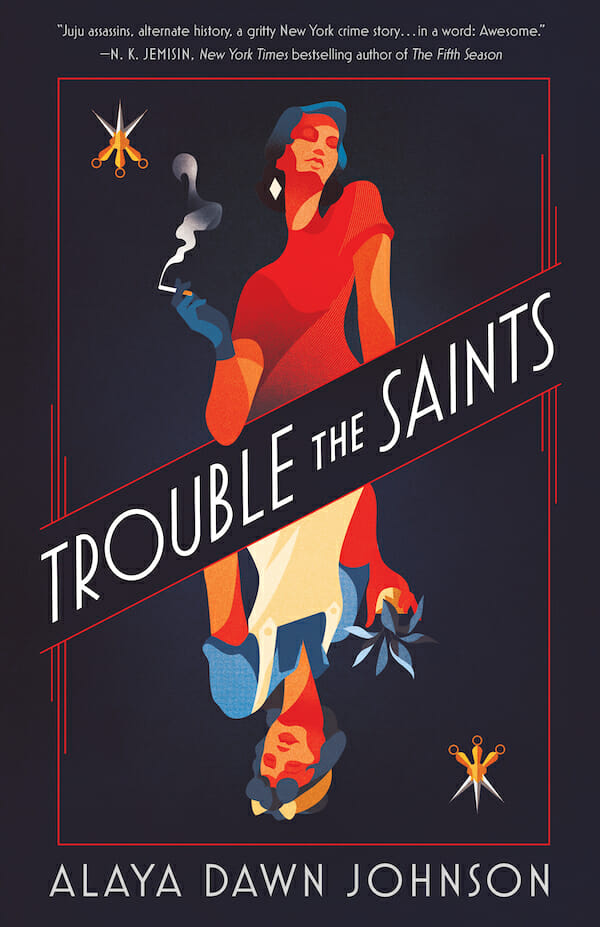 You can pre-order Trouble the Saints here.

Angel joker. Seven of spades.
Seven. That's what we're starting with.
I woke with the dream late on a Thursday night, sometime in July.
It's a good one, as far as sevens go. The angel joker for the zero, plus seven of spades, that's seven, clean as the air you breathe. Well, cleaner, if you breathing in Harlem.
"Tell me," the dentist said, while he lit my cigarette. He was using the lighter Dev gave me after I'd dropped mine in the Hudson, the one I kept by my bed still. I blew a shaky plume that scattered in the crosswinds of the fan and the raunchy east river musk slinking through my open window.
"Was I in it?" he asked, when I didn't say anything. The dentist was nervous, which made me laugh a little, considering, and he eyed the holster hanging easy and louche on the post of my bed.
"Nope," I said. "But Vic was."
The dentist squeezed my shoulders. He was looking at me like anyone might, or at least anyone who heard that Victor's angel had, at last, just dreamed her second dream. Like he was working out which runner would take his numbers on the day, hour and minute of my death.
You get the hands with a dream, a dream that runs true. In Harlem, we might throw a party or we might keep it real quiet—sometimes that extra dose of juju doesn't go over well with the neighbors—but we always play the numbers. The dream that gives you the hands never fails, they say.
Well, what the Lord giveth he can taketh the hell away.
You get a second dream, you and your uncanny hands better play the numbers, so your widow can pay for your casket.
"Victor came up to me in the Pelican with Red Man just behind him. He said, 'here's a job for you, Phyllis LeBlanc,' and then I was standing next to him in this long white dress. I had on my holster, but there were two severed hands in it instead of my knives. And then Red Man pointed to me and said, 'You killed that man!' Just like the end of some Charlie Chan flick. Can you believe it? As if that would surprise anyone, let alone Red Man."
The dentist didn't laugh. "And then?"
"A wind blew through, a hot wind, and it was so bright and blue I could hardly see. Just Red Man's silhouette. He lifted his arms and said, 'Don't fail us.' And then I heard—someone's voice. Calling my name. That was it."
"Don't fail?" Now the dentist laughed. "Have you ever failed at killing someone, darling?"
My heart puckered like an old wound. "No."
"Are you sure it was really…that kind of dream?"
My hands still ached from the memory of it all. The last time the dream came down I'd been ten years old and my easy knack for throwing darts had become, overnight, the uncanny force that makes folks slide away from you at church but come up to you after to ask for their numbers.
They said we had saint's hands, called us jujus and witches and confidence artists. You believed or you didn't; no matter to the hands. They were our latter day flood—or our plague—descended upon us after Emancipation. Ever since we moved North, the extra had run in my family: my great-uncle could tell a card just from touching it and my great-great-grandmother could pick up lightning in a storm. Mommy used to say that there were fewer of us in every generation, so she didn't know why the dreams had struck two of her three children. I think she wanted to believe that it wasn't her fault. Especially after my brother died.
Especially after I went downtown.
But now—I hadn't done a job for Victor in nearly seven months. I'd told the man who gave me my past that I was thinking of a different future.
He hadn't said no.
This little number in the first position, it's the past sticking its fat nose into your present business. Might even be a good thing, but see these cards? They could mean some trouble just as easy. Those spades got sharp edges and no one likes a joker with a knife.
"It was," I said, soft, "that kind of dream."
---
Used with permission from Tor Books, an imprint Tom Doherty Associates, a trade division of Macmillan Publishers. Copyright© 2020 Alaya Dawn Johnson.