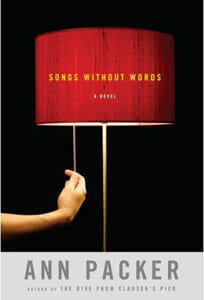 Women on the brink
In Songs Without Words, Packer follows the mold of her debut novel, The Dive From Clausen's Pier. First, crisis. Then, ensuing varieties of emotional experience. Relationships are questioned, jettisoned, bartered.
Sarabeth and Liz are lifelong friends. The former is the funky, fortysomething Berkeleyite real-estate stager and lampshade artist. The latter is the Stanford-educated suburban stay-at-home mom. Liz's daughter Lauren provides crisis; Liz and Sarabeth's friendship reels.
Packer is a dirty realist of the Ann Beattie school, best when describing the everyday, the "miniature but somehow engulfing work of making tea." With its dense surface of yoga, aromatherapy, instant Swiss Miss, J. Jill and iTunes gift cards, the book will be a handy guide for future cultural historians.
No one seems to suffer enough though, despite sprinkled references to Anna Karenina and Emma Bovary. Ultimately about whether two middle-aged women will remain friends, the book rings too book-club good to be true.